Keeping your home clean is your duty and you will have to do it with utmost care especially when it comes to cleaning the large glass surfaces at your home. This is because glass is as it is quite fragile and very prone to cracks and breakage. At the same time, it is sharp enough to hurt you and make you bleed a lot. So, when you are cleaning the glass surfaces, you have to be cautious enough to not damage the glass as well as not hurt yourself in the process. Cleaning large glass surfaces like large glass windows, glass shower doors, large dressing table glasses etc may sound like too complicated, especially when you don't know how to get it right. We have received many questions on how to clean large glass surfaces at home and hence this post. In this post, I am sharing a few of the best glass cleaning hacks that you can use to clean large glass surfaces at your home easily and on your own.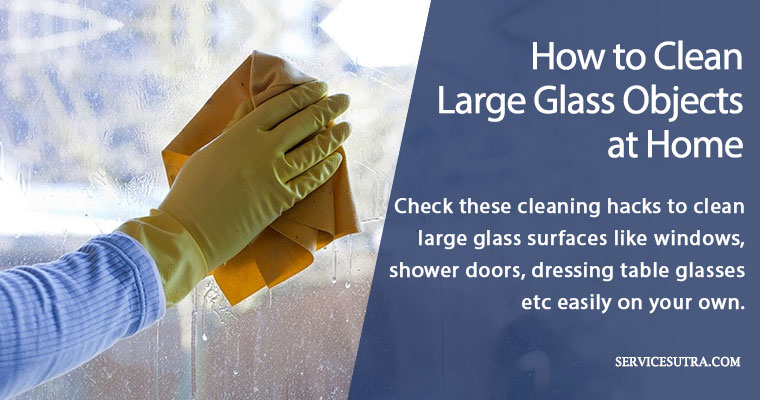 Many individuals prefer to keep many items made of glass in their home as glass not just looks beautiful but its transparency often make the area look spacious. Like for example, many consider keeping big mirrors on their home walls as it gives an illusion of the room being bigger than its actual size. Also, when there are too much glass objects all around, they reflect light and keeps the surrounding bright and lively, which is why also people often prefer homes with many items starting from window panes to tables to showers to doors etc. made of glass. In addition to that, there is also a self-obsessed set of people who prefer lot of mirrors and other items made of glass all around them so that they can actually see themselves wherever they go. This may sound funny but this is actually a fact.
Besides the various advantages that glass objects offer, there are also a set of disadvantages it bears, especially when it comes to cleaning the glass. Glass is fragile and you will have to be very careful while cleaning the surfaces and use such cleaning ingredients which will clean the surfaces efficiently as well as will require minimal effort on your part. And if you have lots of glasses all around in your home and you are wondering about how to clean glass surfaces, then here's the post worth checking. Today I am sharing 6 easiest ways to clean large glass surfaces.
Cleaning glass is tricky so when it comes to cleaning the large glass surfaces, you have to be very careful with the cleaner you are using, brushes you are using and amount of pressure you are applying on it, or else you may end up damaging the glass. Glasses are prone to scratches, so you need to get your cleaning techniques right as well as use good cleaning agents which will not leave any kind of marks on the glass surfaces. Besides, you yourself need to be safe so you do not hurt yourself and bleed while cleaning.
When there is accumulation of dust and dirt particles or there is any kind of mark or stain like for example water stain or soap stain etc on a glass surface, it will be prominently visible. So, you need to clean the glass surfaces especially the large ones time to time so that they remain shiny and beautiful. And, to make your cleaning task easy, do take the help of these smart glass cleaning hacks to clean large glass surfaces easily. If you follow these cleaning hacks properly, I am sure you will be amazed with the end results.
Best ways to clean large glass surfaces at home
Glass looks best when they are sparkling clean. But if they are not maintained and cleaned properly, they will lose their spark in no time and I am sure you don't want that. Cleaning large glass surfaces has always been challenging, especially when you want to do it on your own. But did you know that you can easily clean large glass surfaces on your own, when you know how to do it, which types of tools and cleanser you need?
Listed below are the 6 best ways to clean large glass surfaces easily on your own:
Use natural ingredients to clean glass
Natural ingredients are best as far as cleaning the glass surfaces are concerned. They are cheap, safe and are quite effective and most importantly they are easily available in your kitchen.
Cleaning the cooking utensils made of glass can be easily done using the dishwashing liquid, and the smaller glass items can be cleaned by simply dusting or rubbing them with a dry clean cloth. It is the larger glass surfaces like dressing table mirrors, shower doors, windows etc. that need a little more effort and care. I will be suggesting some natural ways to clean such large glasses. Take a look.
Here's how to clean glass shower doors on your own:
Ingredients you need for cleaning:
Baking soda
Vinegar (you may avoid using it in case you got marbles or stones in your glass shower)
A non-abrasive sponge
Water
Squeegee
Cleaning method:
At first, you will have to combine the baking soda and water in adequate amounts and make a thick paste out of it. Then rub the solution on the shower doors using the non-abrasive sponge. After that, you will have to rinse the doors properly with vinegar. Lastly, dry the doors using a squeegee.
Preventive measures:
Now, prevention is always better than cure, so in order to avoid soap scrums from accumulating on your shower doors, you can actually use a squeegee to dry the doors every time you take a shower. Few swipes on a regular basis can actually keep the shower door clean and will save enough of your cleaning time in the long run.
The soap scrum build-up can also be prevented with the help of lemon furniture oil. All you need to do here is to rub the oil over the glass using a soft cloth, allow it to stay for few minutes and then remove the excess using a rag or a clean cloth.
How to clean glass windows on your own:
Ingredients you need for cleaning:
A homemade solution of water and liquid dishwashing soap or any window cleaning solution
Bucket
Squeegee
Squeegee wet cover
Dry cloths
Cleaning method:
Take some liquid dishwashing soap in a bucket and mix it with adequate water. Attach the cover of the squeegee to it and then dip it in the solution and apply it on your glass windows properly. Now remove the cover of the squeegee and use a dry cloth and rag to wipe the squeegee. After that, you need to drag the squeegee from top to bottom of the windows and curve it downwards at the end of the stroke. Make sure you wipe the squeegee with a dry cloth in between every stroke. Once the cleaning solution is removed, remove the excess water mainly from the windowsill and the corners using a dry cloth.
How to clean the large glass mirrors easily
Ingredients you need for cleaning:
Vinegar
Water
Spray bottle
Microfiber cloth
Rubbing alcohol (optional)
Cleaning method:
Take some vinegar in a spray bottle and mix some water in it. Shake well for the ingredients to blend well. In case you have got hard water, it is better if you use distilled water and avoid any kind of deposits. Now, if your mirror has marks like that of makeup, toothpaste, or any other kind of buildup on it, then remove that by rubbing alcohol and clean cloth. After that, take the microfiber cloth and spray the solution on it. Try to avoid spraying the solution directly on the mirror as it may leave streaks. Then wipe the cloth in a zigzag motion across the glass mirror very well and you are done.
Clean from top to bottom
One of the important strategies to keep the large mirror surfaces clean properly is by always cleaning it from the top to bottom direction. The simple reason behind it is that the cleaning solution that you are using will obviously drip downward due to the force of gravity and so you need to use the gravity in your favor so that the liquid drips in areas where you have not cleaned yet. Start cleaning from the top of the glass surfaces and slowly move downwards clearing all of the dirt, dust and other marks in the way. Remember this technique as it is one of the best ways to keep large glass surfaces clean.
Clean the glass windows on a cloudy day
You may be a bit confused as to why I am suggesting you to clean the glass window on a cloudy day. In fact, you probably thought that I would suggest you the opposite. Well, the reason why I suggested you to clean the glass windows on a cloudy day is because if you have got many outer glass windows to clean and there is too much of sunlight outside, then that actually can prematurely dry out the liquid solution that you are using to clean the windows. You will literally have to clean the windows really fast so that you can cover the full area before it dries which in turn, may result in the cleaning quality getting compromised.
In contrast to that, on a cloudy day, you will get enough time to clean the window panes as the solution will not get dried up unless you wipe it properly.
Use cotton swabs to clean the corners
No matter how much you try to clean the large glass surfaces, there are portions which are hard to reach and so the dirt often remains accumulated there even after cleaning. So, in case you want that not to happen then I would suggest you to use cotton swabs. Cotton swabs are of apt size and will do the trick in cleaning the dirt and dust particles from the hard-to-reach corners of your large glass surfaces especially in case of large glass windows.
Use clean cotton clothes
When you are cleaning the large glass surfaces, you often invest money buying paper towels. But if you really want to do some cost cutting as well as want to give that perfect cleaning touch to your glasses, then you can always use your old and clean T shirts or other cotton clothes. These are ideal because there will not be any lint residue on them as well as they are quite absorbent to keep your glass surfaces polished and clean.
How to keep your woodworks safe?
In many cases the wooden frames surrounding your glass windows or mirrors get damaged while you are busy cleaning the glass surfaces. Well, you need to stop that from happening and so you will have to be careful that the cleaning solution does not drip upon the wood. The best way to avoid that from happening is by placing cloth over the wooden frames so that the cloth will absorb the solution in case it falls on it.
Also, remember that when you are spraying the liquid solution, avoid spraying it too much all at a time. Instead, it is better if you do the spraying over small sections working from top down to the bottom of the large glass surfaces.
Over to you: how do you clean large glass surfaces at home?
Cleaning small glass items like cups, dishes or decorative items are comparatively easy to be cleaned, but maintaining the larger glass surfaces like shower doors, large mirrors, windows etc. is a little tricky. That is why I have today talked about 6 best ways to clean large glass surfaces easily. I have explained you in details about the natural ingredients you may use while cleaning so that there is no harm done to the glass as well as the surfaces gets cleaned properly. The techniques of doing it is also mentioned properly do check the steps properly and implement them perfectly.
Since it takes good efforts to clean all of the large glass surfaces at a time, I will request you to go for some regular or frequent cleaning so that the surfaces do not get too dirty and you do not have to handle too much of cleaning work load all at a time. Like for example, you may wipe the shower doors with a dry cloth or squeegee after every shower, then do some weekly wiping in case of your mirrors and go for monthly cleaning as far as your glass windows are concerned.
I hope these cleaning tips work for you perfectly and you are able to keep the large glass surfaces clean and shiny all the time. However, I will be waiting for you feedback and suggestions, so do not forget to share your views by commenting below. Also, if you like my post, please do like, comment and share it with others and help me reach out to as many people as possible.
Until then, stay happy and see you soon with some other exciting topic.