Properly functioning drainage system at your home is a must. Naturally, it requires periodic maintenance and unclogging. There are various drainage related concerns, but the most common and frequently occurring problem faced by each one of us is the drains getting clogged badly leading to water overflow, accumulation of dirt and foul odor all over. Besides, all of these, what is even more concerning is many a times, the working of one drain is connected to several others and so when one gets clogged, the functioning of the other drains often gets disrupted as well. So, the need to unclog the drain at the earliest becomes all the more necessary. And today, I am happy to share a few super easy ways to unclog drain quickly. If you are tired of calling cleaners to unclog drain and pipes, then here's the post worth checking.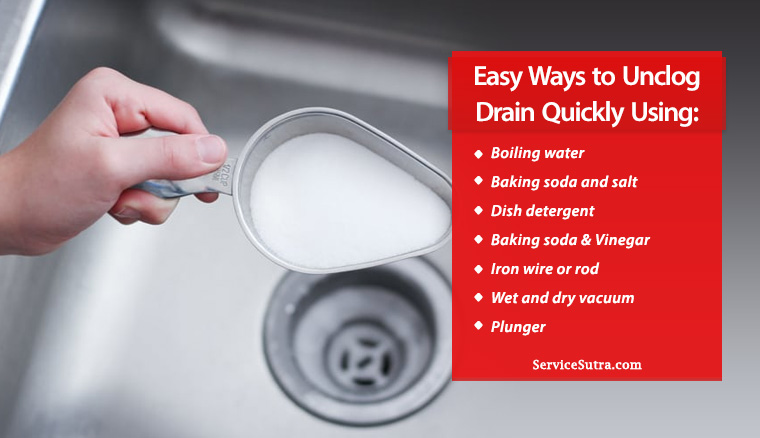 Honestly speaking, not all of us are professionals in this field and so unclogging the drains fast is not a cup of tea for many of us. But, good for us, that there are some easy tricks that can help you to unclog a blocked drain much easily.
Clogging of the drains is very common in rainy seasons when there is too much of water logging all around. It also happens when you throw too much hair or other bigger dirt particles which could not pass through the drain and eventually lead to the clogging. And, as far as the kitchen drain or sink goes, it mostly gets clogged due to too much of grease and oil accumulation.
Now, in most cases, the clogging of the drains does not happen overnight. It is basically a slow process. So if you can keep a frequent watch on all of the drains at your home and make sure that each and every thing you throw gets drained properly, then you will be able to prevent the occurrence of the clogging of the drains. At least, I can guarantee you that clogging will not occur so frequently.
Most of us do call up the professional cleaning companies to get it unclogged. But it is always better to know the tricks yourself. This is because it will come to your great help while handling emergency situations, like for example, when there is no time to wait or in case the professional is not available that day leaving you in a mess. Therefore, without wasting much time, let us learn about the easy ways to unclog drains fast.
7 super easy ways to unclog drain quickly
Periodic cleaning and unclogging of drains is seriously important or else it may create many hassles. If you are a do it yourself person like me and want to give it a try on your own, then just read on. Unclogging drains will become very easy if you get to know the easy steps to get it done. Listed below are a few of the easiest ways to unclog drain pipes fast.
Boiling water to unclog drains
Here, all you have to do is to take a large container and boil as much water as possible. Then pour the water slowly in 2-3 stages. This is because you need to give some time, at least few seconds to enable the hot water to work in between each pour.
Unclogging your drains cannot get easier than this because here you need just boiling water to do the magic. Using hot water is probably the easiest and best option for small clogs and it works most of the time.
Iron wire or rod to unclog drains
The second best way to unclog drain is to use a straight iron rod or a wire. You can also use bent wire hanger, if you don't have a rod. You simply have to take out a regular wire coat hanger from your closet and try to straighten it as much as possible. Now put it inside your clogged drain and prick it. Remember, you must try to get all of the nasty and dirty stuffs out of the drain in order to unclog it. Hence, be a little careful not to push the things inside as that will make your drain all the more clogged.
After you have taken out all of the dirt that was inside, run enough hot water (with force), so that any remaining dirt will get completely washed away and unclog the drain pipe.
Wet and dry vacuum to unclog drain pipes
If you have a wet and dry vacuum at your home, then do not even think twice before using it because it is one of the easiest ways to unclog drain pipes fast. First of all, you need to set it to vacuum liquids. After that, make sure that you have covered the vent properly to avoid any mess. Then, try to create the tightest seal over your clogged drain (You may adapt an old plumber head to get it done). Now, turn on the vacuum on its highest setting so that it has enough power to draw the dirt inside the vacuum bag. This is the most common technique of using it but, you may be having a different type of wet and dry vacuum, so I would recommend you to read the instructions on them first and then follow this trick.
Undoubtedly, the wet and dry vacuum technique is a great technique but at times, it also fails to work especially when the condition of your drain is too bad. But, if it works, it will be great, so it is best if you can give it a try, in case this tool is already there at your home.
Plunger to unclog drain pipes
One of the other easiest ways to unclog drain pipe is by using a plunger especially when it comes to unclogging kitchen drain, toilet or bathroom sink. The reason why it is so effective in unclogging drain pipes is, because it can lift up the debris in the pipe by creating a vacuum which enables the water to go down.
The steps of using the plunger to unclog drain pipe are as under:
At first, you need to cover the floors near the clogged drain or sink using some newspapers or old cloth.
After that, try to remove the excess water from the sink if possible. Also, in case of toilet, make sure there is enough water for the plunger to suck upwards. If you do not have, then add some water using a bucket.
If you are unclogging a toilet, then do not forget to switch off the main water supply of the flush.
Now, press the plunger down and continue pushing it upwards and downwards for some time. Soon, you will hear a sucking sound.
The water will start receding. Repeat the action till all of the water is gone.
Baking soda and salt to unclog drain pipes
The reason why the salt and baking soda mixture is recommended along with boiling water to unclog drain pipes is because these 3 ingredients when combine create a chemical reaction that usually is able to dissolve most of the nastiest blockages in the drain pipes. So, you can definitely use this trick to unclog the drains at your home.
To get it done, take around ½ cup of table salt and mix it with ½ cup of baking soda. Now pour the mixture down the blocked drain. Allow it to stay for at least 15-20 minutes and then pour the boiling water down and you are done.
Dish detergent to unclog drains
If your toilet is clogged, then you can use the dish detergent which you already have at home. Take ¼ cup of dish detergent in a bowl and pour it in the drain. Now, start boiling some hot water. In the meantime, the dish soap will work as a lubricant and break any greasy residue. Then pour the boiling water down and do some plunging using your plunger. If the plunger does not work for you, then you gotta take your gloves out to complete the task.
Baking soda and vinegar to unclog drain pipes
When you got these two ingredients at home, do make the most use of them as far as unclogging your drain pipe goes. Take a measuring cup and mix around 1/3rd cup of baking soda and 1/3rd cup of normal white vinegar in it. Immediately, you will notice a fizz and then without wasting any time, pour the solution in the clogged drain. The frizzing of the mixture will lead to the removal of the hair, grime, junk that has built in the pipe. Now, you have to allow the solution to sit for 1 hour or even better if you can keep it overnight. Then flush hot water in the drain to unclog it completely.
Alternatively, you can pour as much as baking soda in the drain first and then pour some vinegar into it.
How to prevent drains from getting clogged?
Now, that you have already known about the easy ways to unclog drain, it is equally important for you to know about how to prevent drains from getting clogged. And it's fairly easy to prevent clogging. Here are a few of the tricks that can help you to prevent drains from getting clogged. If you do these in the first place, then you need not take the pain to unclog the drain later.
Try to avoid pouring grease down your sinks
Also, throwing coffee grounds in the sink must be avoided
When you are using kitchen garbage disposal, then make it a point to use enough water to properly flush down the food bits
It is best if you can pour some hot water or baking soda solution in the sink once weekly to cut the grease present there
In the bathroom, always clean the hair from the pop-up stoppers.
Avoid throwing big and heavy items in the toilets as that can lead to massive clogs
Be careful not to pour waxes, paints and any chemical wastes down your drain
It is advisable that you use non-caustic cleaners in a gap of 2-3 months to make sure that the drains are working fine
And lastly, in case of the septic tank, do take professional help to clean it at least once in a year. This will prevent overflowing of them.
Over to you: which one is your favorite trick to unclog drain?
Drain getting clogged is a common thing that every household face so there is no need to panic about it. Because unclogging drain pipes are not so difficult, especially when you know how to unclog it fast and easily. But knowing the right techniques to unclog a drain is important. This is because in case you have an emergency and the professional you are trying to contact is not available, and if you are unable to unclog the drain yourself, then you will be in a mess. In contrast to that, if you know the easy ways to unclog drain, things will be very easy for you and you will not need the help of a professional cleaner anyone. And by doing it yourself, you can easily save a few bucks.
I have already shared the list of 7 easiest ways to get drain unclogged. These drain unclogging tricks are really easy and will give you fast results. And, the best thing is most of the time you will have some tool or ingredient at your home (to get your work done) as all of the things I instructed you to use are quite easily available in the market. Simply, try to follow the steps properly and hopefully, you will be able to unclog any clogged drain and pipe easily.
However, we all know that prevention is always better than cure and so I have also discussed about how to prevent drains from getting clogged in the first place. These are nothing but some dos and don'ts which will help you in keeping the drainage system at your home proper and prevent frequent clogging.
I hope that above list of simple and easy ways to unclog drains fast will help you. Don't forget to share with me about your favorite hack to unclog drain pipes. And if you know of any other effective ways to unclog drains, then feel free to share by commenting below. I will be happy to add that in my list. Plus, it will help my other readers too.
Until then, stay happy, I will see you soon with some other interesting topic.