People have started to understand the importance of caterers in India. Not only in cities and urban India, but even in small towns and villages, people want to book caterers instead of hiring the normal cooks from a sweet shop. People book catering service in a number of occasions like wedding, birthday, corporate meets, kitty party and in other events. Indian people are very passionate about food and we just love to taste various cuisines and lip smacking foods that will tickle our taste buds for a long time and remind us about the person who have given the treat. Hence when we think of hosting an event, we leave no stone un-turned to satisfy their guests by offering them the best food they ever had.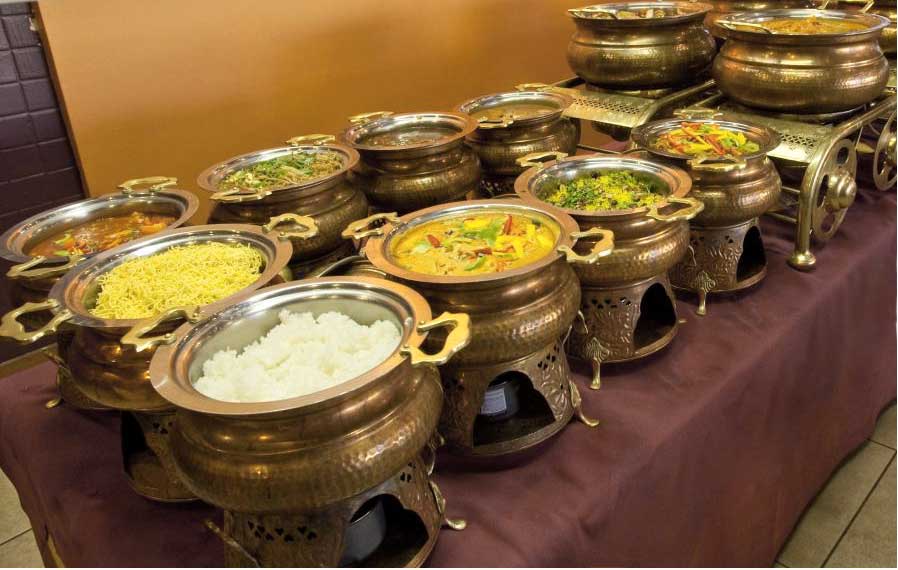 But in order to serve good food, it is extremely important for you to find and book a caterer for your event. I am sure you don't want to pay for catering services which do not make an impression or fails to please your guests. Although in India no matter how hard you try people will never be satisfied with the food and often pick a hell lot of flaws in it (matter of fact though). You cannot help that, but from your end you need to ensure that your investment on the treat is worth your money.
Continuing from my previous post on catering services in India, In this post I want to talk about everything that matters when booking a cater for your event.
Decide what type of catering service do you need?
At first determine for which event you want the services. Then ask your friends, family, recent brides and other wedding vendors for their recommendations. Then speak with several caterers over the phone before setting up a personal interview. Provide them with your basic details about your event like date and time of day when the event is going to be held, the style and formality of your event, an estimate number of guests and the location of your event (if hiring an off-premise caterer). This will also be the best time to request sample menus and pricing information, which they can usually send you via email. You will find that rates are typically charged on a per person basis.
Caterers in India offers different options for catering
You would probably be flooded with lots of brochures emerging on your email from various prospects whom you have earlier called (especially if your budget is high). You will get various options for the way your reception meal can be served.
Buffet
Various cuisines are set out on long tables, which are located in a designated area of the room or garden. Guests serve themselves in buffet system where an assistant is assigned to every counter to assist the guests. Buffets are quite popular and it is a great way for offering a variety of food options for the guests to choose from.
Sit down dinner
Sit-down-dinners are generally more expensive than buffets. Wait staff serves each course of the meal (this is why the price is high due to the service charge) and guests will usually have at least two meals to choose from.
Food stations
It is somewhat similar to buffet system. A variety of foods are set on tables which have been dispersed throughout designated areas of the events room. Guests serve themselves and each station can have its own theme or menu (i.e. ethnic food station, carving station, dessert station, etc.)
Hors d'oeuvres
Hors d'oeuvres can either be passed around to the guests or set at tables throughout the events room for guests to serve themselves.
Now you have to arrange a personal meeting with the caterer and discuss each option in detail and the best solution to your style and formality of your event.
Must ask right questions when booking caterers in India
There are so many catering companies out there and it is important for you to hire a caterer who fits your need. You can do that by screening and asking them right set of questions. So to being with, pick at least three caterers which you feel is suitable for your requirement and discuss about your plans and requirements for event. It is always better if you can compare the services and prices of multiple caterers, because it'll help you to decide whom to hire when you have lots of choices.
A reputable and established caterer should be able to offer you a portfolio of past weddings and other events they have catered (they might give reference of their websites or pictures from any social networking fan page).  This will allow you to visually discover the caterer's style, work and talents.
Here are the top questions that you should ask the caterer before booking
You may like to ask these questions when discussing your needs.
About their background
TO being with you should have some knowledge about the caterer like how experience they are, what are their specialization and do they serve the type of cuisine you want to be served in your event? Some caterer may have specialization in north Indian food, other may have specialization in south Indian food and hence it's important to know these basics.
Can you taste there food before booking?
Ask the caterer if they can arrange for a tasting session of the specific foods you're interested in prior to hiring. It will give an idea of their skills in cooking. Tasting food is usually the best thing you can do to be double sure that the quality of food will be awesome. Also ask them about their past events and kind of clients they have served.
Rates of catering services
What is the average price range for your specific requirement? Whether the costs are itemized based on the foods you choose, or there is an all-inclusive flat rate? Look for any hidden rates like linens, tax, and gratuity. Some caterer charge on per plate basis inclusive of materials and other may charge a flat fee for cooking and managing the event and you have to source and provide the ingredients and materials according to the recipe you want to serve.
Value added services
Now a day caterers are literally becoming event organizers as they are taking the whole responsibility of conducting the event, from providing tables, chairs, plates, table linens, silverware, salt-and-pepper shakers, and more, ask to see these items to make sure they're acceptable. Many of them also arrange for the rentals or property where the event is going to be held along with few miscellaneous items like lights, speakers, setting up a stage if it includes some event like dancing or singing, etc.
Management
Ask them how involved they would be while your event is going on. Does they work like a event coordinator or banquet manager, cueing the band, telling the kid when to cut the cake, adjusting the schedule if guests don't seem ready to sit down to dinner etc. You will need to find someone to fill this role, if your site manager or caterer isn't going to do this, think about hiring some one for this specific purpose.
Devoting sufficient attention to you
Ask them whether they have other events to attend on the same date of your event (Common during festive and weeding seasons, they usually take multiple contracts and mess everything up). Make sure they are not already preoccupied with other events on the same time.
Whom should you contact during the event?
Who is the main contact during the event who will respond to all the queries and requirements after the commencement of the event?
Where will the food be prepared?
Can you arrange on-site facilities (If you already have possession of a room that you will be allocate for them to cook the food), or the caterer and the site manager need to make additional arrangements? In case caterer brings in his own cooking equipment, will there be any additional fee for it?
Custom recipes
Ask the caterer if they are willing to include a recipe you provide, like a special family dish, or an appetizer with some sort of sentimental significance or festive specific cuisine. Can they prepare special vegetarian or kid's meals for few of your special guests?
Hygiene and freshness of food
Ask them how they maintain the hygiene while cooking and serving food, it includes use of proper utensils, clean cloths and hankies, clean and tidy place of operation, where they are preparing the food. Also ask them about the quality of raw materials they are planning to use, ask them to avoid using frozen food and opt for using fresh food.
Special Requirements
If you require to provide cocktail or hard drinks to your guests, ask them if they have that provision or atleast if they can arrange it or not.
Last but not the least don't forget to ask them about their previous works and ask them if they can give you reference of client they have earlier worked with, or any testimonials they have got or letter of appreciation etc.
Over to you
These questions would be enough to judge whether you should hire the caterer or not. Remember, you have lots of choices but not all caterers in India have specialization to manage all types of parties and events. Some of them may be a premium caterer and other may be the mid level kind. So give it a good thought, ask them relevant questions and once you are sure that the caterer you are talking to will be able to pull of the events that way you want, you can go ahead and book them.