The wall is the reflection of beauty of the whole room. The wall art or classy colors will help you to make it interesting and vibrant, that collectively contributes to the elegance of the whole room. But the most interesting and useful fact about DIY wall decoration is that, it will completely transform the way it looks. Complete makeover might intrigue you and it will be difficult to believe how it looks before wall painting and application of various decorating elements.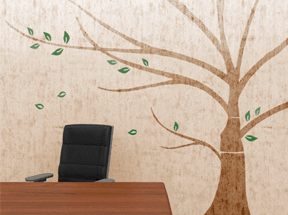 I have recently made an extension of my home by adding an extra room with attached bathroom on my top floor. I wanted to make sure that I transform its look and feel with nice wall painting and other home decorating tricks. It's a 4 X 4 room with an attached bathroom. I have colored it with white paint (plaster of Paris), added two black wooden tribal statues that I have recently bought from South Africa. I also installed a beautiful chandelier with matching colors and light. I bought my white furniture set made of Beth to suit it. After doing all these still I felt like something is missing. Then I applied few creative ideas to transform the looks of my room.
I have been working with several interior designers and industry experts and I have seen a lot of their work. I am sharing some awesome wall painting and decorating tips and ideas that you can use. You ready? Let's get started then.
Since my room was not that big, I have got limited options but I still managed to give a proper makeover to my room. The idea is to cover the open places of the wall and do something creative to make it interesting while retaining the simplicity.
Hang mirrors on the wall
No matter what, you got to stick to the traditional basics, I have done that too. I hung a beautiful wall mirror on the opposite side of the door entrance. Mirrors not only reflects the right amount of light to make the room glow with a pleasant aura, but also make the room look bigger, the colors also look more vibrant if the mirrors are placed in the right places. Anyone coming inside will directly face it and the light will reflect to their eyes creating a welcoming effect. Remember one thing though; that you should avoid placing the mirrors opposite to your bed from where you can directly face them while sleeping. It is not recommended according to the Vaastu. It can also scare the hell out of you if accidentally you woke up in the middle of night and see an image staring at you in the dark (I have experienced it, although it is my own image I got very nervous the first time it happened to me).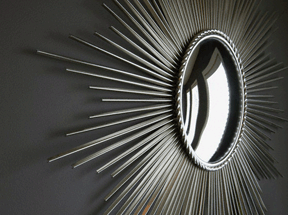 Color
Colors are the matter of personal choice, my personal favorite is plain white, you can also experiment a lot with colors as various kind of colors are available in the market for various purpose walls. Just make sure it is not too loud and suits the overall looks of the room and while matching the upholstery colors like your sofa or other furniture. Also consider the color of your floor before finalizing the color for your walls. Since it is one of the most important factors of the whole process of decoration you should not proceed if you are confused with the color. Just seek the advice of a professional home decorator in that case.
Porcelain plate DIY wall art
You can also use porcelain plates to cover big portion of your walls. It looks very classy on walls painted in your favorite color with matching porcelain plates. Just make an attractive pattern of the plates and place them gently over the surface of your walls. If you have a sofa on a particular room, it will be wise to place the setup over the sofa set.
Yarn Scraps
When you have made your mind to throw away your old warns scraps as now a days no one is interested to weave sweaters. But you should think again before throwing them out, as they can be a great way to give your wall a colorful delight. Just get hold of a broad and wide glass frame which has got enough space to fit the yarns inside it. Then fill it with a pattern of yarns with different colors.
Fancy DIY wallpaper mosaic
If you are okay with pasting mosaics on your walls then you can try this. You can use your custom wallpaper mosaic to transform the looks of your wall completely. A beautiful wall art is the perfect combination to the walls decoration, you can experiment a lot with it.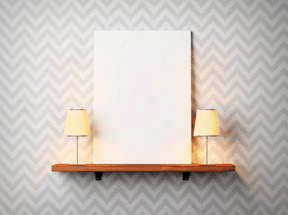 Canvas map wall décor
A wall map along with a well placed globe on your study table is the perfect addition to your wall décor especially if one of your hobbies is to travel places around the world (I am one of them). It is a very meaning full addition to your wall decoration.
Paper-silhouette art
A paper silhouette art is a very creative addition to your wall décor as you can experiment with a lot of ideas. It looks exactly like a framed picture but with a creative touch.
Geometric painting
Another innovative wall art is geometric painting on a wooden board hung over the wall. You can draw some interesting geometric patters with various colors that will look cool on your walls.
Use your old window like a picture frame
I have recently come across an extremely innovative decorating idea. If you have got an old worn out wooden window, then it is the best thing you can use to make a very creative addition to your wall decoration.
Over to you
You are free to experiment with the above tips as well as applying your own creativity to decorate your wall like a professional. If you are obsessed with beautiful home decors but still not sure how to do it then you might take the help of professional designers and home decorators to give your home decoration a beautiful finishing. You may also like to check these tips on Interior designing to learn more.
What else do you think one should do to do a good makeover of the house?