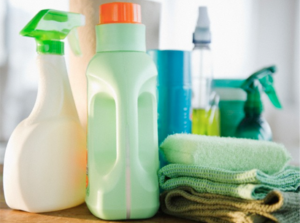 After kitchen, if there is any place which gives you creeps, it is the bathroom, no? Cleaning the bathroom is something that you have avoided since a long time, and finally the day has arrived when you no longer can tolerate your own dirty bathroom. The tiles are mostly used in bathroom, and they can be cleaned very easily, and also in less time. In my article, I will describe how to clean bathroom tiles at home.
The tiles look shiny, and are also not that slippery like the marbles. The tiles are easy to maintain, so cleaning the bathroom will not be that painful as you think. You can clean the bathroom tiles naturally too, using home remedies which are readily available.
Quick and simple cleaning tips to clean washroom tiles
In the next couple of paragraphs, I will discuss how you can clean the bathroom tiles easily at your home. Scroll down the page please.
Prior preparations: Put on some rubber gloves and make sure that the bathroom is well ventilated. Switch on the exhaust fans and also open the windows. Run the shower at high temperatures to open up the ceramic pores. You can use your old toothbrush to scrub away the tile grout. You can test your cleaning solutions on a small area to see that there is no damage.
Baking soda and vinegar: Dilute a mixture of baking soda and vinegar in water. Pour this solution in a spray bottle. The baking soda helps in removing the greases, while the vinegar helps in eliminating odors. For better results, keep the solution for a few minutes on the bathroom tiles, and then wipe it off with microfiber cloth.
Bleach: Bleach functions as a very powerful disinfectant. It can whiten the tiles and bring the original tones, but it also emits some nasty gases. If you decide to use bleach for cleaning the bathroom tiles, the make sure that the place is well ventilated, and you must also wear masks and gloves while cleaning.
Bathroom cleaners: There are many bathroom cleaners available in the market with the instructions given at the back of the containers. You can follow the instructions and then clean the bathroom tiles accordingly.
Sprinkle baking soda: You can sprinkle baking soda on the tile floors and then let it remain there for 30 minutes. Then scrub it out with a brush. All the rigid marks, dirt and gunk will be clean with just one swipe of the brush.
Over to you
These are some of the simplest ways by which you can clean the bathroom tiles easily. You can make your bathroom shine and sparkle like new, and the bathroom will smell fresh too. I hope, after reading these tips, you no longer are afraid of cleaning the bathroom. Follow these tips and share them with your friends too.