One question that is frequently asked, by most of the customers is about the 'cost of moving a house in India'. There's nothing strange about the question at all. People work hard and earn money for themselves and their family. Hence, before hiring a service they'll definitely want to know about the amount that is required to invest behind it. But, while moving a house, one must be concerned about the safety measures and the credibility of the movers and packers more than the amount they charge, for moving and packing all the household items.
This post will explain everything that matters while packing and shifting a house. The post will give you a clear picture of the criteria involved in the cost of moving a house by yourself, or by hiring a professional packer and mover service.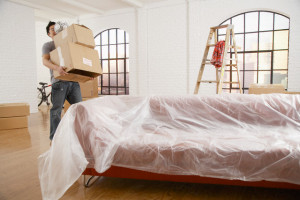 Myth: There are fixed rate cards for home shifting; It's not true.
People think that the Packers and movers companies have a fixed rate card, but that's completely a wrong perception! They don't have a fixed rate card for services. The rates and charges for your home shifting assignment has to be calculated based on the service that you are hiring, along with other major factors like inventory of goods, distance, insurance, season and etc.
Packers and movers industry in India as of now, is not regulated at all. Every year hundreds of new service providers are joining this business category. If you feel free or are ready to experiment with a newbie, then they will definitely charge you much lesser than an experienced, and professional packers- movers company. So, please get rid of the invalid perception, and compare rates of multiple packers and movers companies before taking a final decision.
Cost of moving a house depends on inventory of goods
Before moving to a new home, try to make a list of inventory. This list is vital because, it can help you decide which items/goods to carry, which to sell, or which ones to donate or dispose. The cost of packing and moving is very much dependent on the number of goods you want to shift because according to that, the service providers will buy materials for packing, charge for packing, ask for labor charges, and handling other costs which includes loading, unloading, and etc. If you are fully loading the service provider's truck with all your items, its going to be much costlier than half loading it. Hence, its better to list down all the necessary items which you'll like to carry to the new home.
If you want to save some extra money, then just take a look at your inventory, and you find may things to get rid of. You can then donate those unwanted things, sell them out through a garage sell or through websites that can help you sell your things. Also if possible, try carrying some of your the goods in your own car, or atleast along with you.
Distance between source and destination
The distance between the source and the destination is very vital, when it comes to deciding the cost of moving a house. You cannot do anything about this particular point. When you are relocating, or asked to relocated for the sake of job, you have to move. Usually when you are moving from one metro city to another, the cost of transportation shrinks a lot. But, in case you are moving to an odd destination, then costs may go higher because the truck will return without any load. That's why, in the odd routes they charge more. These things can be discussed elaborately with the mover for further understanding.
Other Costs: Labour and handling charges, insurance and etc
Another criteria that decides the cost of moving a house is the charges for handling the goods, by the expert or trained labours of the company. If you want to ensure that all your goods are being shipped safely without any damage, then try doing an insurance from the Packer and mover company. It will increase your budget, but would be worth it. Is money more important than your household goods? No, right?
Over to you
Before you start calling the packers and movers companies in you town, take a good look at your inventory and make a list of goods that you want to pack and move. Once the list is done, search for atleast three or more packers and movers companies, and get quotations from them. Getting recommendations from friend or colleagues would be great as well, or else post your requirements here on ServiceSutra to receive instant calls and offers from three different movers and packers companies, that are already screened and handpicked by our team. Once you have the contact details, you can call all the three of them. Infact, if you use ServiceSutra to hire Packers and Movers in your city, you wouldn't have to make a single call. Rather, the service providers would call you instead and give quotations to you. You can then ask them to survey your goods and give proper estimates for packing and moving. Do negotiate with them, comparisons them with one another, and then take a decision. Safety and timely delivery of your household goods and appliances should be the main concern, isn't it? Then do not ponder over the money again and again.