Household furniture shifting in India is way more complicated because neither you can do it yourself nor you can find a mover who can help you furniture shifting especially when you just have a couple of sofa set or cupboard to relocate. Packing and shifting of entire household goods along with home appliances and furniture is a different thing. But finding a mover to shift a just a couple of furniture is difficult because usually no mover would easily wish to handle single furniture item. Some time it's not feasible for them to shift just one cupboard because of the costs involved.
But if we focus specifically on our country, we'll find that furniture shifting in India is way more complicated than you can imagine. Reason? It's over crowded streets, jammed road, pot-hole here and there and we don't have a concept of hourly rates for moving services. You can find a labor on hourly rates here, mostly they will charge you for full day and hence whether you involve him in packing one sofa or the entire house, they won't mind. This is one of the main reason why a mover won't take single item relocation assignment.
The entire process of shifting furniture, right from disassembling large size bed and cupboards to moving the old classic bed which can't be disassembled, is not a simple task.
Most of the furniture people have in their homes are larger in size, and have odd dimension, especially those that cannot be disassembled like old cots, sofa sets, and dining table with glass top and others. Packing these large sized furniture could drive you crazy. On the other hand, packing your books, music system and other smaller items is comparatively easy. But, this does not means that packing large furniture is impossible. Furniture shifting requires a lot of preparations, and careful planning too.
For some it's an exciting thing to do, but for others, it could be a stressful thing to handle. Whether you have planned to hire a professional packer and mover, or have decided to do it yourself, a proper planning is much needed. Proper planning will make your work easily, and in an aligned way.
Here's how to do furniture shifting in India
First of all, if you have just a couple of items it would be better to find a local van because that's the most cost effective way to shift furniture in India. But if you are moving your entire house and need someone to help you pack and move all f the household goods along with furniture shifting services then it will make sense to look for movers and packers. Movers packers agencies offer for furniture shifting services as well as packing and relocation of other domestic items like TV, fridge, AC, cooler etc. Or else you can do it yourself. Here's what you can do for hassle free furniture shifting in India.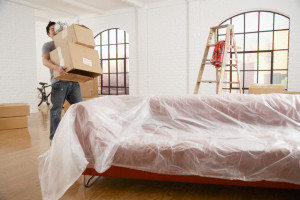 Packing and Wrapping Materials
Before packing all the large furniture and its components, you have to find out the major goods and its accessories, or other components. Some of your furniture can be disassembled, and once they are disassembled you can pack them up in a large box. So, take a look around and list down the furniture that has to be packed.
Irrespective of the size and the materials of a furniture, there are some common packing materials like sofa cover, mattress cover, wrapping sheets, tapes, bubble wraps, plastic wraps, cardboard rolls and etc, which are easily available in the markets. So, buy them up according to the furniture's sizes and start wrapping them up.
Clean and disassemble your furniture
Clean all of your furniture before packing them up for a move. Cleaning your furniture is suggested before a move, so that you don't carry any dirt along with you. Try cleaning them up from inside. For instance clean the drawers, cabinets, and other corners which are prone to dirt. After you are done with the cleansing part, start dissembling the parts which can be dissembled. Items such as glass top, legs of the bed, drawers and etc, can usually be dissembled. Please do both these tasks properly, and pack them individually.
Packing accessories and components of the furniture
Any component or piece of hardware, that you took out from the main furniture should be packed separately. Packing smaller items is easier, but they must be kept carefully. If a tiny hardware is lost, it'll be difficult for you to set up the furniture. Once you are done with packing these components, you must label them properly so that it can be easily identified.
Pack Larger Components of Furniture
Most of the modern furniture can be disassembled and packed quite conveniently. Since you have already disassembled or detached some parts of the lager furniture, you can start wrapping them up using bubble wraps, packing sheets or plastic wrapping sheets. Wrap it in such way that, it does not procure scratches and remains fully covered. Once you are done with wrapping, it's time to seal them using tapes. After packing and sealing them up, mark the boxes clearly for easy identification. Proper labeling is an integral part of furniture shifting.
Packing Glass Table Top and Mirror
Some furniture may have mirror attached to it, just like your dressing table. In such cases, detach the mirror from the body of the main furniture, and pack it up separately. Use foam wraps followed by bubble wraps to make good layer over the mirror, and then you may also use other wraps to make it even more safe and secured.
Loading furniture on the truck
Before you start loading all your furniture on the truck, you have to create a good soft layer on its floor. You may use your mattress, and other soft materials for proper cushioning. Once you are done with this task, it's time to start stacking your furniture one by one. While loading, put heavier items at the bottom and lighter one at the top, in order to protect them from colliding. Also try to cushion the sides of the truck nicely.
Conclusion
To make sure that all your furniture are safe and secured while shifting, follow the tips we have already discussed. And if you still feel unsure about packing them yourselves, hire a professional mover for furniture shifting in India, they will taking care of all the required tasks to ensure everything is packed and moved properly. You may request for quotes in our site to hire a packer and mover service, for furniture shifting in India. Do you find these tips relevant, or want to add some more things? Then share it with us in the box below.