Everyone loves and wants to decorate their home, in order to make it look neat, gorgeous, and worth drooling. Therefore, when you love to keep your home decorated, wouldn't you want to keep your office equally decorated? You would definitely want to decorate office space to make it look good and functional, right?
An office needs to be designed in such a way that it's functional and comfortable and if you are looking to decorate office space to make it user friendly, comfortable and functional then I can help you. If you are starting up and planning to decorate office space perfectly then this post is for you.
Office is almost like a bee hive, and the employee working there are like bees. Just instead of producing honey what they do is, work hard according to the office's target, stay busy on some or the other assignments, running from this cabin to that cabin and lastly, follow certain decorum. Therefore, since the employees are almost like 'busy-bee', it would be wise for you to design and decorate office space perfectly. Properly designed and decorated office space will help you improve the productivity of your team and also help you impress your clients and associates when they visit your office.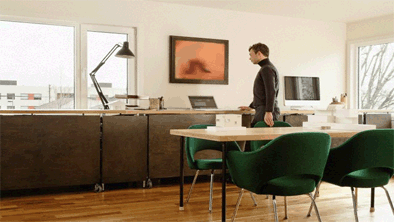 So how do you plan to decorate office space to make it a perfect place for your team? I will tell you how.
Here's how to decorate office space perfectly
In my humble opinion you decorate office space in such a way that everyone in your team should feel comfortable. It should be decorated in such a way that they can move about freely and enjoy their work.
The best way to design an office perfectly is by hiring a professional interior decorator. But if you don't feel like hiring an interior expert then you should try some of these tips to design and decorate office space:
Proper furnishing
Proper furnishing is an integral part of decorating an office space to make it fully functional and comfortable. Buy good quality office furniture which are modular and user-friendly. In the busy atmosphere of an office, the employees have a common tendency to lose out important documents, sheets, CD's/DVD's, bills and etc. This is why; a well furnished office is much needed. You can choose furniture employee wise too. Employee wise means, according to the task of an employee. If an employee has to deal with too many important documents and papers, then his/her cabin has to be well furnished, or if he/she is having just a desk, then the desk must have sufficient drawers, or cabinets fixed to the wall near him/her.
Lighting
The second most important requirement of an office is lighting. Most of the time, what people do is purchase tube-lights, normal bulbs, and now as per the new trends they buy power-saving bulbs. But, they actually don't have any idea about 'proper lighting'. You must always buy and fit lights in any room of a house, or an office according to the room's utility. Therefore, purchase lights and fit them in the right places, instead of randomly fitting them anywhere you want.
Soft–boards
In schools, everyone must have seen soft-boards fixed to the walls of their classrooms, corridors, outside the staff room, and even outside the office room. Do you know its utility? Surely you must know quite well that the soft-boards are used to pin important notices, important lists and etc. Your office too needs such boards. If you have soft-boards in your office, it will be easier for you to pin important things. If you pin things on a soft-board, it will easily be visible to the employees and they will automatically get attracted towards it and read the important announcements or what's so ever. So, this board will be quite helpful for an office, and you'll not need to call the staffs individually and inform about things.
Cabinets are must
No matter whether any particular staff is dealing with documents and heaps of sheets or not, it would be your duty to call a carpenter and make as many cabinets as possible. There is no harm if your office has extra cabinets, some or the other day, those cabinets will be definitely used for storing something or the other. Keep one thing in mind, important documents and bills will never decrease in number, they instead increase. So, cabinets are a must and they are extremely essential.
Proper electric connections
In an office, there are plenty of electronic appliances that keep running simultaneously, especially the Air-conditioner and the desktops. Therefore, it is very crucial to make sure that the electric points/plug points are made near the electronic appliances. If the plug points are placed far from the appliances, then there would be a great problem, as you won't be able to increase the length of the wires. However, you can use extension cords to cover such a problem, but still, while making a blue-print design of your office, make sure that you instruct the electricians to place switch-boards near the crucial appliances. And also as them to see the plugs of the appliances, and then select the light sockets for the switch-boards.
Decorations
Office decoration is much different from home decoration. In home, you can use plenty of decorative items to make the rooms look stunning, but placing those decorative items in an office will make it look very informal. So, do not buy too many charms and other decorative items for your office, it would destroy its formal look.
If you are very much willing to decorate office space, then probably you can decorate just its corners. If you have empty corners in your office, place a big decorative metal or porcelain showpiece, or a potted indoor-plant can make all the difference. You can also place a table in the corner, and utilize it as a side table by placing a flower-vase with fresh flowers. You can also place a floor lamp in the corner for decorative purpose. But, the best idea would be to place a magazine rag so that, people visiting your office will be able to read magazine and papers, when they are asked to wait.
Over to you
Aren't these tips amazing to decorate office space? You can easily follow these tips and renovate your current office, or design the new one perfectly. If you aren't confident to do all the things required to design and decorate your office space then hire interior decorator. Since they are experts, they will easily design an office perfectly.