Our homes are supposed to be the most secure place on planet Earth. But sadly with the increase in number of crimes everywhere, every home is not that safe today. I am sure you have heard about cases, where burglars invaded home and took away all the riches. Even hurting and killing people who came in the way have become quite common these days.
And, if you are a single woman living alone, it definitely gives an impression that you are an easy target which puts you at more risk. And therefore, while you are investing to buy a new home, it is seriously important for you to invest a little more in securing your home and make it theft proof before moving in.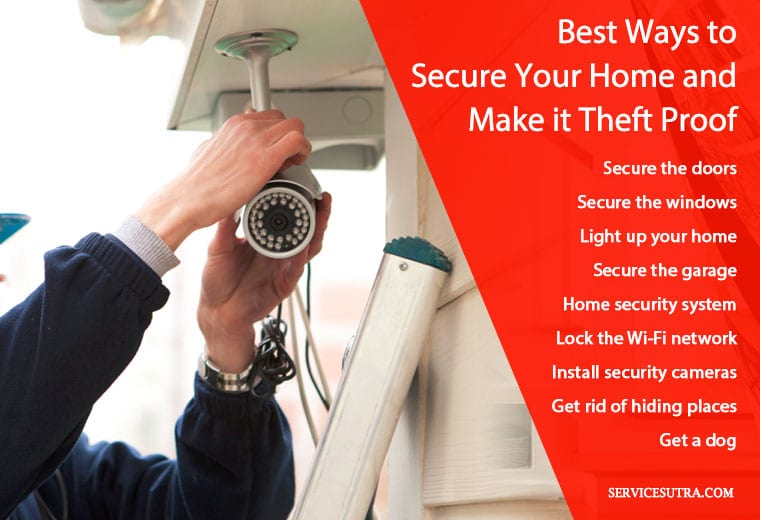 To help you out, I have already put together a list of important ways to secure your new home if you are a single woman. I have tried explaining every possible detail so that it helps keeping you and your home secure.
And if you are moving to a new house and wondering about how to secure your new home and make it burglary proof, then here's a must read post for you. Moving into your own new house can be an amazing experience, especially if you have purchased it on your own. But if you really want to enjoy your new house and live peacefully, then it is important that you secure your home in every way possible.
It is not that, securing your home with latest technologies always guarantees safety. Today, thieves and burglars have also updated themselves with new techniques to open locks and attack homes. But, securing homes at least lessens the risk to a good extent.
This is because the burglars look for low risk homes where their chances of success will be more. So, they mostly target homes where security is not that tight and where number of living family members are less.
Now, as far as the latter case is concerned, you may not be able to help yourself much if you are living alone. But, you can easily increase the security of your home and make it safer and better for you to live in.
How to secure your home and make it safer for living
When it is about safety and security of yourself and your family members, you can't really afford to take risk and chances. Moreover, I am sure you are aware of the various crimes women and seniors are subjected to already. And therefore, it is seriously important to secure your home and make it safer for you and your family. And, if you are not sure how to do it right, then try some of these home securing tips and ideas:
Secure the doors
The first thing that you need to do after moving to a new house is to secure the doors. You should inspect all the exterior doors and see to it that all the door frames are quite strong, and the hinges are also well protected. If the door has a mail slot, then you should see to it that it is thin enough to prevent someone from reaching inside.
Second, whether you are moving in an apartment or a home, if it's a rented property, which was previously occupied by someone else, then it is advisable that you change the main and important locks immediately.
It has nothing to do with someone else owning the home previously, but it is just that you never know how many more people have got the keys that presently you call home, so it is just a primary safety measure.
To make it even more safer and secured, it is better to add a strike plate, install a deadbolt, then change to smart locks, and then go for a video doorbell. These high security features are absolutely amazing, and the best thing is you can monitor your home and keep it secure even when you are out and away.
Secure the windows
If the burglars are not able to make their entry through any of the doors, then their next target to enter the house obviously becomes the windows. Now, sadly, manufacturer latches are not that effective all the time. Most of the time they are flimsy which are not enough to prevent break in.
And therefore, if you see that they are not good, then it is important that you go for some up gradation like increasing the security using locks or key-operated levers.
Here are a few of the best ways to secure the windows:
Add window bars
You can reinforce the glasses using window security film
You can install window or glass break sensors
Opt for windows that do not even open more than 6 inches.
Plan prickly bushes under the windows of the first floor, and trim it from time to time
You can use blinds and thick curtains to prevent unwanted eyes from looking into your home and surveying it.
Light up your home
Light not just enhance the beauty of the home interior design, but it also can help you to secure your home. Well, this is because the burglars usually do not attack a home that is well lit as they do not like to be in the spotlight. Since they prefer working in the darkness, it is advisable that you go for ample outdoor lighting. Be it in front or back yards, near the garage, along pathways etc., make sure there are enough lights all around. For more security, you may opt for motion activated lighting that goes on when someone come close to the lights.
One more trick that I would like to suggest you is that, if you are going out on a long vacation or will be away from your home for a long time for some other reasons, put the lights on the timer because that will give the impression that you are still at home.
Secure the garage
Garage is slowly turning out to be a good entry point for the burglars, and even if they cannot enter inside the home, you may have stored important stuffs in it which they also can take away.
Therefore, make it your daily habit to check that both the interior and the exterior doors of your garage are locked. You may secure the garage doors with extra keys, and even better if you get a smart door opening installed.
A security code to open the door is also a good idea. And, yes, also make it a point to cover the windows all the time, so that no one can see what's inside the garage.
Home security system
Installing a home security system definitely help you to secure your home to a great extent. Be it a basic DIY home security system or an advanced security system with professional monitoring and home automation, choose whatever works for you, and get it installed to secure your home. The good thing is today we have plenty of home security options available, so you can easily choose one as per the need and your budget.
Lock the wi-fi Network
Well, you may not be aware but your home wireless network might actually become a doorway for others to know your financial and personal information. And, in case of home automation, it may also lead to break-ins. If your wi-fi is connected to your security system or smart home gadgets, then that can give direct access to the burglars. So, in order to prevent that from happening, here are a few of the best ways to lock the wi-fi network and make it even more secured:
Hide the home network after renaming it
Use a firewall system
Secure the router with a password
Make sure the passwords are very strong and complex
Use anti-virus and anti-malware protection tools
Install security cameras
Security cameras are a must to secure your home and office. You may get the security cameras that are a part of the home security system or you can go for those which work on their own.
But, whichever security camera you decide to use, it is recommended that you use the security camera with a mobile app. This is because here you can get real time footage even when you are not at home. There is also the option to save the footage if you see something suspicious, and want to keep it as an evidence to show the police later.
Get rid of the hiding places
Many times our homes have got spots that act as good hiding places for the criminals. And therefore, eliminating such spots to whatever extent possible is one of the easiest ways to secure your home. Usually the trees and the shrubs become the common hiding places, so you should trim them time to time so that they do not become too big to be used as a place to hide.
In fact, it is better to opt for smaller plants. Also, if there are trees near the windows, then make sure the branches do not come too close to the window, because the burglars can use that to enter your space, if by chance they are able to break the windows in some way.
Get a dog
Well, this may not come directly under the ways to secure your home, but indirectly having a dog at home helps a lot in keeping the criminals away. The barks of the dog startle them and usually the thief would like to avoid homes having dogs.
Moreover, dogs have got a great intuition to sense trouble easily, so if they bark, you yourself will get alarmed that something is wrong and accordingly act out.
Conclusion
Whether you are a single women or a senior citizen or you are living you're your other family members, tightening the security of your home is seriously important. The buglers keep finding out new ways to attack homes. And as they are evolving it is high time, we also upgrade our home security system. By securing your home properly, you can prevent theft and burglary easily.
Even if no security measure is unbreakable, we can't afford to not secure our home properly. I have already shared a few of the easy and best ways to secure your home that you may like to try and make your home safer.
There are many more home security hacks that people are using these days, but the one we have discussed are the easiest and basic home security measure that will work for most of us in securing our homes. By applying these home securing tricks, you will be able to keep yourself and your home safer and better for living.
How do you ensure maximum security at your home?
What other home security measure you are using at your home?
Feel free to share your home securing tips and hacks by commenting below. Happy living!