Most people find packing to be the most difficult part of the entire apartment moving process. And it is actually true to a good extent. If you are living in an apartment for many years, you'll obviously accumulate a lot of household goods. And when you have those many goods to pack and move it's going to take a lot of efforts and time to get things packed and moved safely.
Now, even before you start packing these goods, you have to a good packing strategy in place, because if you start packing things randomly, then it's going to be even more chaotic.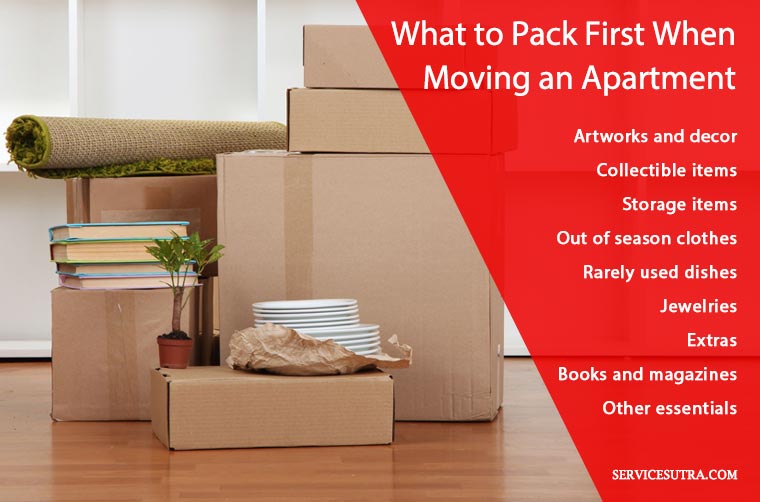 Knowing what to pack first when moving an apartment can help you get things done correctly. If you are moving for the first time, and wondering where to start and what to pack first when moving an apartment, then worry not. As today in this post, I am going to discuss it all and make packing easier for you.
If you have decided to pack your belongings for moving an apartment, then make sure you to create an inventory of goods that is to be moved. This is important as you will then get a clear idea of what household goods and belongings you want to pack and move.
After that, take a pen and a paper and start jotting down the list of items that you plan to carry to your new apartment. Make sure you get rid of the useless and unimportant household items, and choose the ones that are important, useful, and rare and are in good shape.
The simple logic of packing for apartment moving is to pack the items that you do not use on a regular basis or are extra in number first, and keep the ones that you will be using till the last moment for the last. Also, the arrangement of the items while packing must be done in a way so that all the items are safe and well protected. Place the items as per shape, size and weight. Like for example, the heavier ones should be kept at the bottom while the lighter ones over the top.
What to pack first when moving an apartment?
The non-essential things should be packed first and the essential or the crucial items can be packed later. However, the importance of the items may vary from person to person, and it many also depend on situation you are in. Like for example, if you are moving in summer season, you may pack the winter clothes at first and vice versa. So, you can make changes as per the priority and need.
The list of items to pack first when moving an apartment that I am sharing here-under is a general list to help you pack and move safely and easily. But, please feel free to adjust the order as per your need and convenience.
Artworks
Artworks are one of the first things that you can pack when moving an apartment. As the artworks are for decorative purposes only, you pack them first, because it's not going to disrupt your day to day living in anyway. So, paintings, framed pictures, photos as well as souvenirs, vases, holiday decorations, and other decorative items can be packed at first.
Collectible items
If you have collectible items at home, then they come next in the list of what to pack when moving an apartment. These include the photo albums, model sets, coin collections etc. During the early days of packing, you will have better concentration and these things require special attention, so chances you will pack them right.
Items in the storage
Items in storage are one of the first things to pack while relocating an apartment. Whether they are packed in your garage, your storage unit, or in your walk in closet, take it out, dust it and pack safely for transportation.
The good thing is, most of the time, these are already in the boxes so that makes them quicker to pack to a certain extent. However, do not forget to take all the things out, get rid of the items you do not want to relocate and try to consolidate the boxes accordingly.
Out of season clothes
There is no point in keeping the winter clothes outside for long if you are moving in summer or vice versa. And therefore, you can pack these out of season clothes next.
Rarely used dishes and cookware
Unless you are not hoisting a party before the move, the rarely used or the specialized dishes that you do not use so frequently, can be packed next. Most of the time these items are quite fragile, and therefore it is better to pack them with a lot of care and attention. And that is why it is best to pack these fragile items carefully, when you have time in hand.
In fact, while I was relocating, I used paper plates for the last few days before the move. If you also plan to do the same, then you may pack the other dishes early as well.
Jewelries
You are most likely not to wear jewelry on you moving day, so there is no point in not packing them at the last. Instead, if you pack them in the beginning, you will have enough time to pack them nicely. In contrast to that, if you keep them till the very end, there is high chance you may pack them in random boxes that may cause the damage, or misplace it when you are in hurry.
Extras
When you have things in extra, you can always pack them first. These include all your extra towels, linens, bedding, blankets etc. Since you already have these extra sets, packing these items should not hurt and affect your daily life.
Books and magazines
The books and magazines come next in the list of what to pack when moving an apartment. You can keep the ones that you want to keep easily accessible and pack rest of them. However, make sure you do not mistakenly pack the borrowed ones and try to return them to their respective owners before time, be it the library, or friends etc.
Packing other essentials
Now that, you are done with the packing of items that does not affect your day to day routine, it's time to pack other items that you are using and may disrupt your daily routine.
But again, while packing these goods, follow the golden rule of packing items that are less frequently used, and you can do without first and then continue till you get every other household items that is to be moved packed.
From the above list of what items to pack first when moving an apartment, you must have got a good understanding of what to pack first.
Room wise packing list for apartment moving
Now, there is another way to do it that most people follow while packing for apartment moving and that is room wise packing.
Instead of picking the non-essential items first, you many simply go for room wise packing, and it works well especially when you are in a rush.
In other words, you may start packing items from the least used rooms and slowly move to the items in the most frequently used rooms.
Although there will be certain problems while packing items room wise, especially if your household is not well organized, but you can still manage to get it right. But if yours in an organized house and you have kept things in order, then room wise packing will work very well for you.
Here is the packing sequence that you may like to follow when moving an apartment:
Basement, garage, closet, attic
Generally, the basement, garage, closet etc contain the storage items and so the items kept here might be packed first. One very valid reason to start with the storage items is because you will take maximum time to sort and pack items from these sections. And therefore, there is no point keep items stored at these places for packing at the end.
Spare rooms
The next in the room wise packing list for moving an apartment should be the spare rooms or the unoccupied rooms like the guest room. Like you may have a separate guest room, and if so, pack the items stored in these rooms first. The good thing is such rooms usually have limited items, so you will find them quick to pack unless you have turned the spare rooms into storage rooms.
Kitchen
There are three reasons why kitchen comes third in room wise packing list. Firstly, most of you have a lot of kitchen items starting from small breakables to heavier and larger appliances. So, choosing what to take and what not to, may take a lot of your time.
Secondly, it is better to pack the fragile items carefully and with a cool mind, and that will only happen when you are packing them first and not at the end when you are in hurry.
And third, many kitchenware stays hidden in drawers, cupboards, cabinets so you will need time to find them as well.
Living room
You may use it a lot and feel like keeping it for the last, but that will not be a wise thing to do. So, it is advisable that you pack the stuffs in the living room after you complete with your kitchen.
Bedroom
You will have to sleep and rest till the end so packing bedroom stuffs can be kept for the last. You should concentrate on the heavier furniture first and then move on to packing goods from the bedroom.
Bathroom-
It is hard to live without using bathroom so I have kept it for the last. But, just do not be too late to pack them.
Over to you
Packing is the trickiest thing to handle when moving an apartment, and that is why, it's always better to avail professional packer and mover service for apartment moving.
But, if you want to pack on your own, it is best to follow the golden rule of packing items in right way and in right order.
Firstly, do not move useless items because it'll help you reduce the packing burden and overall moving costs.
Secondly, know which items to pack at the beginning and what to keep for packing towards the end.
As far as the latter rule goes, I have already discussed on to pack household items when moving an apartment by following a proper packing sequence. But do not hesitate to make changes to the packing order we have discussed as per your need and convenience.
But is advisable that you make a list of the items you plan to carry at the very beginning, because that is something which will help you not to miss out important things. Also, when you are doing it yourself, try and finish with most of your packing well before time and avoid keeping it till the last moment.
Hopefully you will be able to get it done properly. End even if you are not too confident with that, there is nothing to worry because there are many professional packers and movers ready to help you with end to end packing and moving service for apartment moving.
What else do you think one should keep in mind while packing for moving an apartment? What the right sequence of packing that has worked for you?
Feel free to share your tips and hacks by commenting below.
Happy packing and relocation!