The task of moving or relocation evokes a mixed feeling within us, which includes sadness for leaving the current home or your native place and leaving behind the relatives, and happiness for getting an opportunity to explore a new place. But apart from these emotions, there is another type of emotion that's bound to strike you, and that is the feeling of physical as well as mental stress. Yes, physical and mental stress or pressure is inevitable when you do the packing and moving part on your own.
But it becomes easier when you involve a full-service moving company to help you relocate. wondering how and why? Because a full-service moving company provides you with end to end moving services including disassembling, packing, loading, insurance, transportation, unloading etc to ensure you enjoy a hassle free home or office relocation.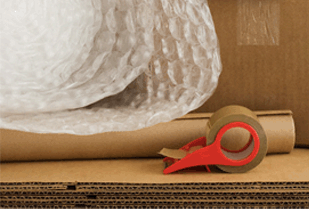 Full service moving company in India will provide you with a complete package of services that is essential for moving within a city, or from one state to another. You can no doubt do the packing yourself and hire few labours, and a vehicle to move your goods to the destined place. But, don't you think that's way hectic, especially when you have a tight schedule and no time to breathe? So, if you want to just subtract all your stress, then don't think much and simply hire a full-service moving company. If you still have heaps of doubts about hiring a full-service moving company, just go through the benefits listed below.
5 benefits of using a full-service moving company
Basically, until and unless you hire a full-service moving company for relocating all your goods, you won't really understand or realize the benefits of hiring a full-service moving company. Still, just for your peace of mind and knowledge, we are listing you the top five important benefits of hiring a full-service moving company. So, here it goes:
1. Saves your time
Time is perhaps an essential element in everyone's life. But unfortunately, in today's era, no one has time in hand to rest or have fun. And especially when you are an office goer, there are no chances that you will be able to manage to pack your household stuff before moving. Even if you manage to do so, you'll have to do it quickly in order to keep everything under the balance. But when you hire a full-service moving company, you'll not have to do a single task related to moving or packing the household stuff.
2. Relieves stress
The task of packing as well as moving, both are extremely hectic. And after returning from your workplace, if you have to start packing your goods or search the internet and call up the transport services for moving your goods, then it is obvious that you'll be under extreme stress and pressure. Therefore, the wisest option would be to hire a full-service moving company for packing and moving your goods. Let them do whatever is needed to pack and relocate your goods at ease.
3. No worries for packing materials
If you hire a full-service moving company then you don't need to purchase any materials for packing. The full service moving company will be providing you with all the packing materials needed to pack your goods that includes boxes, bubble wrapping sheet, packing tape, foam wraps and everything else needed to pack all the goods safely. Professional moving companies uses good quality packing supplies for extra safety and if you think you can pack it all yourself, then just double check. No matter how you pack, the quality of packing done by a professional will be much better and safer than how you are going to pack your home appliances, furniture and glassware.
4. The safety of goods
There are two main reasons that actually help the full-service moving companies keep your goods safely are their skilled staffs, and the proper materials they use to pack things. Unlike the normal labors, a full-service moving company employee men who are completely skilled in packing all types of goods, and handling light as well as heavy goods. So, if you hire a full-service moving company, your goods are bound to stay safe because they are packed with the appropriate materials in the right way, and will be under the supervision of skilled men.
5. Get transit insurance
What if your goods sustain a dent, scratches, or any other massive injury? How would you deal with such kind of accidents? No idea? That's why, it is better if you hire a good full-service moving company because they'll provide you with an insurance for your goods. If your goods sustain any kind of damage under their supervision, then they'll pay you an amount that will help you repair the damage. So, isn't this great that you goods will have an insurance?
Over to you
Moving can really be a very painful task if you try to take up all the tasks on your shoulders. But, if you hire a professional and reliable full-service moving company, you can just flush away all your physical and mental stress, and get relocated without hassles.
But since you are depending on a full-service moving company, just be a little sure to check the credential of the relocation company before engaging. You may like to check this post to learn more on how to verify and this one to hire movers in 3 easy and simple steps.
Working with a full-service moving company is the best gift you could give to yourself and your family. DO you feel there are other benefits of working with a full service moving company, feel free to share by commenting below.