Moving and shifting in India can be a hectic and time taking process, and settling and adjusting at a new place may further add to it. If you are wondering about how to settle down after moving to a new city, then I think I can help you out. We use to move out to new city every three years and I know how to settle down easily in a new city.
Moving to a new city along with your family and kids has its own complexities and getting used to with the new place is equally difficult. Sometime it may be smooth and at other times, you may find it difficult. You have to start all over again, from buying brooms to buckets, lightings and fittings to extra power plug in the kitchen, not so easy especially when you are in a new city and less familiar with the neighborhood.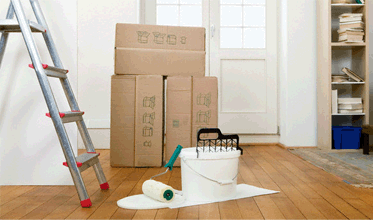 When we want to send a group of files to another computer we just zip it and send via email and at the receiver end we unzip it and it becomes ready to use. Although we can relate to this situation while moving your household goods and relocate, but in real world, relocating your life at a new place is not that easy. Hence proper strategy and arrangements are required to pack, move and relocate properly, and get yourself and your family accustomed with the new location quickly.
At first you should get hold of a good movers and packers company who can pack and move your goods safely to your new home. But there is a lot that is to be done post delivery of goods such as unpacking and re-arranging, fixing and sorting basic amenities and much more before you settle down properly in your new house.
In this post, I want to share some easy to follow tips on what to do to settle down easily in a new house when moving from one city to another city in India. I may not reduce all your troubles in settling down, but for sure i am going to tell you how to settle down effortlessly.
Check major items before signing the delivery acknowledgement
Assuming you have hired a movers and packers company and your goods are packed and moved. It's time to get the delivery and the movers and packers have arrived with the truck. Your goods are unloaded and delivered to you. But just before signing the delivery receipt, here what you should do.
First of all check that everything has arrived in one piece and nothing had gone missing. Just check with the inventory list you have made earlier while packing. Appliances such as stoves, dishwasher, washer or dryer, boxes, furniture, glass wares, TV, Fridge, washing machine etc, should be checked. Make sure all appliances and electronics including the lights and other miscellaneous electronic items are up and running to ensure nothing was damaged during the move. This holds true especially if the mover has packed these goods for the move. Your insurance policy may have a limited time for making a claim. Since you should make sure they're all working fine if not immediately call them.
Here's how to settle down post move in new city
Now when you have received your goods and you are happy that your goods have been delivered safe and sound, it's time to settle down. Here's how to do it right. There are lots of issues which are most common when you shift to the new location, like dirty and untidy house, irregular water supply, pest problems, lack of electronic fittings required to run all your appliances.  Listed below are some important things that need your attention.
Get your house clean before unpacking
Now a day's most of the horror movies start with a family moving in to new apartment or bungalow where the ghost resides in the backyard or some hidden room on the basement or above the false ceiling. Well in real life you don't need to look for a ghost but you should clean up all the mess, like unwanted wares left by the old tenants (usually an old mirror or a dirty and scary doll from where a horror movie starts off), debris of old furniture, pests like termites, colony of ants, big fat stomach spiders etc. The best and effortless way to do this is to hire a house cleaning agency or hire a pest control agency, ask if they can provide you any combo offers to clean your house and free them from pests as well, since many of the pest control and housecleaning agency works jointly. After you clean your house from unwanted junks and pests, you can return to your old routine and hygienic practices.
Check your water supplies
Well water is the most essential thing that you would need after reaching your new home, drinking water, for washing, cleaning, bathing etc. Hire a plumber and fix everything that requires immediate attention. Like setting the water pump, setting the aqua guard or water filter, make sure all the taps are working properly; check if the washers need any servicing. Try hiring a handyman instead, who provides both plumbers and electricians, this way you might avail some discounts as you will definitely need to hire an electrician later.
Electrical connection
Before moving your electrical appliances to a specific room check whether the rooms are equipped with proper electrical fittings or not, otherwise again you have to reposition your devices 100 times before you figure out were you have proper electrical connections. Just hire an electrician and ask them to fix everything according to your requirement. AC, TV, Fridge, Desktop PC, Microwave, Geyser, make sure all your appliances are connected before paying the electrician.
Carpentry services
You may also have to book a carpenter for some essential fixing or repair; in that case consider asking the electrician or plumber about a potential carpenter who can fix your wooden stuffs or help you with repairing any wooden furniture or installing some wooden fixtures. They can even help you in setting up your plasma wall TV, any drilling related work or setting up curtains at your windows and doors.
Pet treatments
In case your are moving to a house which was not in use since last few months, chances are there will be spider and other types of pests. Look around and if you feel, call a pest control agency and get your house treated for most common pests like cockroaches and spiders.
Re-arrange your home appliances and furniture
Now that your house is free from pests, cleaned properly, well equipped with electrical fittings, water supply problems are sorted, you can now continue with your usual routine, you can arrange all your goods according to the old setup that you use to follow in your previous place. For that to happen, you should measure the rooms and decide how you want to them to function. Walk through all the rooms and photograph them or take videos (If required). Check inventory list of your possessions, and plan exactly where you want everything to be placed. If required use Home design and room planning tools that lets you virtually place furniture and other stuffs, and provide you with a real time view of your possessions.
Get the documentations right
Register or update your vehicle registration number, driving license, voter id, address proofs or other such files and documents as soon as you move to another city or state within India. This is extremely important if you want to avoid any legal trouble and unnecessary hassles. When you are moving to a new city, you need a local address proof, so even if you want to get a new internet connection or want to take a phone connection, they will ask you for an address proof, won't they?
Here's a very good post on how to change address after relocating to a new city in India and you should check it.
Internet connection
The first thing you will require is a proper internet connection (if you already have a Wifi router then just contact with the nearest ISP to provide you with a fast broadband plan).Without which it is almost difficult to breath now a days.
DTH or cable connection
Depending on whether you use DTH or normal cable connection, you ought to get it in place. Your family member's could easily get bored and they need some sort of entertainment, especially kids. So go for it and get the cable or DTH connection restored.
Emergency medical facilities
This is the most important thing to find in case you face any medical emergency at your new place. Also get hold of a nearby doctor for minor health problems. Since you are at new location, it is important to ask your neighbors about the nearest medicine store and doctor's chamber.
Check the security arrangement
Since you are new in the neighborhood and you are unaware about the locals, you should install door locks, gate keepers, surveillance cameras if required.
Over to you
Adjusting to a new place is not going to easy, especially for your family and kids. There are certain basics that have to be fixed and fixed fast like basic cleaning, water supply, electrical works like hanging fan and lights etc. But you know what; different families have different needs and situation so plan and think of these basics and most importantly enjoy the process. It may take some time to get settled, but that's how it is.
How did you get settled when you moved to a new city?