Hiring housemaids in India is way more complicated than hiring other resources for your work. Not because there are lack of maid agencies, but because these agencies are not quite online yet and the process involves lots of checks and balances.
If you are planning to hire a housemaid who can help you with day to day domestic tasks at your home and wondering what to look for then I can help you.
But before we get into the process and what to look for when hiring housemaids in India, let's just understand about the job profile of housemaids.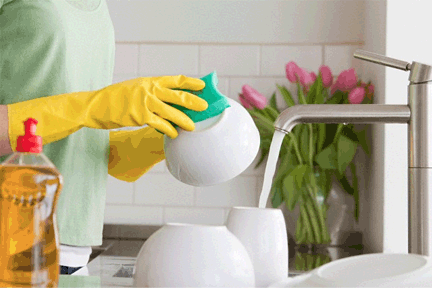 What to expect from housemaids and domestic help?
Housemaids in India may offer verities of services and thus it is important to understand what services they actually offer.  Here are some of the important services that a full time housemaid will offer while working at your home;
They will look after daily house cleaning tasks including mopping, dusting, sweeping etc
Basic kitchen cleaning and washing dishes and utensils
Cleaning, drying, ironing clothes, bed sheets etc
Changing bed covers and making
Preparing meals for your family
Managing daily errands for the family
Taking care of kids and elders at your home
Looking after other similar tasks
Apart from the tasks like day to day cleaning of house, dishes, utensils and cooking, you can find and hire housemaids for other purposes such as child care, baby sitting etc.
Here are a few other services they offer
Japa Maid
Japa maids are usually very experienced in taking care of new born babies and mother. Japa maids are very useful for families with no supporting hand or a senior to look after the new born baby and the mother. Newborn bay and mother needs special care, at least for initial 6-8 weeks and japa maids can be a great option.
Nanny
They also specialize in taking special care to the newborn child and babies between 0-1 years. They primarily look after the new born baby and take care of bathing, massage, feeding, washing clothes etc. Since they specialize in child care, you should not expect them to cook food for family.
Baby sitter
They usually become relevant when your baby is around 2 years old. They take care of baby, spend time with them, dress them etc.
So you know, there are many options out there and you can hire a help as per your needs
How to choose between Part time and full time housemaids?
This is another important call that you have to take when hiring housemaids in India. You may hire a maid just for a few hours of work every day. You may also hire a housemaid for full day from morning to evening or hire one for 24 hrs.
Since there are lots of options like full time maids, part time maids, live in maids it may be difficult for you to take a call. If you are unsure, then just consider following to decide better;
Full time maids will primarily work for full day. Part time maids can be hired for 4-5 hrs and live in maids will live at your home 24 hrs. Which specific maid do you need, actually depend on your requirement.
Naturally, depending on which type of maid you select, you have to pay them the monthly salary and also the consultancy fees to the maid agency which may be a flat fee or based on the monthly salary of the maid.
Ways to hire full time or part time housemaids in India
One of the best ways to hire housemaids in India is to hire one from a reference. Ask your neighbor, close friends and family to refer someone they know personally. Trust is of highest importance when hiring housemaids in and hence hiring from references is probably the best thing to do.
You can also contact a local agency that offers housemaid services. Housemaid agencies usually have an extensive database of available maids. But since there are lots of things to look for when hiring an agency, just be sure that you understand the terms and condition and that you are dealing with a reliable maid agency.
One of the best advantage of using such aggregator is they offer multiple options to you and you get to choose a maid as per your needs and lifestyle. So if you are looking for housemaids, then instead of getting stuck with one or two options that you can find by asking your neighbor, you may like to explore more options and find a maid that fits your needs.
You can find contact details of such agencies in daily newspapers or search for them online. You can brief them your needs and then communicate and evaluate the potential maids profile and take the final call about hiring a housemaid.
Maid agencies may charge you a flat fee for helping you in hiring housemaids, cooks, drivers, elder care and other resources. Some other agencies may charge you based on the profile of the maid. It's better to know the agency fee well in advance along with other terms.
11 things you must check when hiring housemaids in India
So this is what I was supposed to talk about primarily, but I ended up explaining other important things that matters about housemaids. But hope that will help you decide what kind of housemaid services do you need and how to hire a maid.
Assuming you have got the details of the maids from your friend or a maid agency, here's what you should look for when hiring housemaids in India.
Make sure she is proficient with services you need
The very first thing that you'll need to see is whether the housemaid you are evaluating can do the tasks you want her to do efficiently? If you want your housemaid to cook, do daily cleaning of house and kitchen then just ensure she offer this service. If you also want her to wash your clothes, then check if she is willing to wash and dry the clothes. Some maids don't wash clothes without a washing machine. The idea is to ensure that she meets your expectations and have the experience to work efficiently on the tasks you assign her.
Check if she fits in your budget
Depending on the number of hours and verities of services, a few years experienced housemaids for full day could easily cost you around Rs. 7000 -10000 per month. Obviously they charge based on number of services they offer and time they spend at your home. Housemaids also need a couple of days per month to visit their families, its important thing to know, especially when you are hiring a full time housemaid.
Experience of the maid
As I said above, experienced maids may cost you a little more, but that is worth it, especially when you hiring a housemaid for shorter span of time like 4 hrs. She has to be efficient in working or else, you will often end up eating your lunch in the office canteen. Jokes apart, experience of the maid matters a lot. Depending on the task that you assign her, unless she is experienced, she may end up messing it all like breaking utensils or other décor elements while cleaning.
Check hygienic practices
Make sure to check the hygienic practices of your maid, its important, especially if you have kids at home. You like it not, there are maids with dirty habits like chewing tobacco, spitting here and there. I am sure you don't want to hire such maids. If you observe any signs of being unhygienic, simply reject her. Don't take word for this; just meet the potential maid face to face to observe her properly.
Basic grooming
Sometimes, maids may need some grooming, especially if this is going to be her first job. Just check with the agency if need grooming or she has been trained. These days, agencies that offer maid service also offer grooming for their resources. Just check if you can find someone who has been trained. This becomes important because if there are kids at home, you would want someone who understands the basics on how to talk and behave.
Think of punctuality
You are hiring housemaids to save your precious time, what's the fun if your maid often get late and don't turn up on time? Unfortunately, directly asking your maid about punctuality wouldn't be really helpful because no maid would ever say she is not punctual. Therefore, it would be best if you ask someone who has/had appointed her in the past. They'll be able to give you a proper review of the housemaid and it's not a bad idea to check with one the past employer of the maid. If she is not punctual, then it will hamper your punctuality too.
Background and Identity verification
Naturally, you will be relying on your maid and have to trust her to a good extent. If you are hiring fulltime housemaids, then you may have to leave your house on her at time and hence it is important to ensure that you have hired a genuine maid with good background. Maid agencies usually do the background check, but it's better to be sure on your own. Hence ask for all of the genuine identity proof like adhaar card, ration card etc.  At times, maid agencies ignore police verification because it costs money to them, but you on your part should always get that done. You can always get police verification done to ensure you are actually hiring a genuine and reliable housemaid for your home.
Check for previous illness
It's important to check for any chronic illness because you don't want to end u hiring someone to help you who herself is not fully fit. If she has some sort of chronic illness, then it may not be appropriate to employ her and make her work.
Age of the maid is also important
We all know, employing minors is not legal, but at times they need work and people end up hiring one. Child labor should be discouraged and you can definitely help in this. Also different people have different kind of needs and age may be an important for some. Ideally, too young or too old is not a good choice, but you can take a call on this yourself.
Additional perks
Usually, your housemaid expects you to pay annual bonus, not sure if that's the norm across India. But in Kolkata, you have to pay your maid a full month salary as bonus after one year. So clearly understand this with the maid agency or with the maid before hiring. Apart from the annual bonus, you may have to provide them with food, clothes etc and so just check with her before hiring.
Service charges of maid agency
There are maid agencies who can help you in hiring housemaids and if you plan to hire a maid through them, then understand their terms and condition. As a general practice, most of the maid agency would charge you an amount which equivalent to the month's salary of the housemaid you have hired, plus applicable taxes. So if you are paying a sum of Rs. 7000 per month to your maid, the agency will charge you Rs. 7000 plus applicable taxes for their service.
But it's worth it, because maid agencies will ensure that the maid they have provided you work with you for the next six months to one year. If in case the maid leaves in between, then agency will provide you other maid within a week or so. And this is why, it's important to understand the terms and condition of the agency as well so you know about their charges and value added services.
Takeaways
If you are hiring a housemaid, there are few things that you have to keep in mind. First of all, set your expectation right and understand what the objective and what are the tasks you want your housemaids to help you with. Then look for a housemaid from references of your friend or family or else find a maid agency that can help you in hiring a housemaid for your home.
Once you have fund the agency, just look for probable maids who offer the services you need and check for the salary she expects and you want to offer. Next step is to look for basic things like hygienic practices, grooming, background, behavior etc and you are good to hire a maid.
Hope this post will help you in finding and hiring housemaids in India. If you have hired a housemaid recently and have something to add here, feel free to share with us.
Last but not the least; help us spread the word by sharing this post.