The day you choose to move your house can have a severe impact on overall house removal. From access of best moving resources to prices of service providers, everything depends on the day you choose for house removal. But sometimes, you don't really get the flexibility to choose your favorite day of the week to move house. And you are literally forced to move out by a specific date.
However, many of the times, you can choose a move date as per your convenience. Given a chance to choose the best day of the week to move house, you should choose a date that'll work well for you. And then plan everything around that move date.
So, should you move on a weekend or a weekday? Which day of the week is best suited to move your house – a Saturday, Sunday or a Friday? If you are stuck between choices and not sure how to pick the best day of the week to move house, then I have got you covered. Today, I am sharing a few of the quick and simple tips that'll help you to choose the best day of the week for your upcoming house removal project.
Although Fridays and Weekends are the most popular days of the week for house removal, this may not be the best day to move a house. So how do you decide and choose the best day to move a house? Here're the most essential things you should consider when finalizing a day to move house.
Are Fridays good for moving house?
Based on the data, I can clearly say that Fridays are the most preferred day of the week to move house. The reason Fridays are preferred by homeowners is because they get extended weekends to unpack and settle in their new house. So, if you take one day off on Friday, you'll get two extra days on Saturday and Sunday to manage the other crucial post move tasks.
House removal is not just about packing and moving your goods from your old house to the new house. It involves several other important tasks like post move cleanups, pre-move cleaning, and buying essentials things, unpacking and setting up your new house in order. So, you need time to manage all of these and therefore the homeowners prefer to move on Fridays.
However, this also means that Fridays are the busiest days for moving companies. Which means, the best moving service companies near you, may be booked already. Also, lower availability may mean higher moving service fees. And thus, Fridays may not be the best day to move your house, especially if you are moving a big house and you are paying the removal service fees from your own pocket.
Check the availability of the movers
Availability of the moving service is one of the key things, because you can't really manage to pull it off all alone. You need a professional house moving service team by your side to get your goods packed and moved safely.
However, if you are planning to move out on a Friday, then decide well in advance. And book a mover and packer service well in advance to avoid any last minute issues. Also, double check with the service provider to ensure that they have blocked the date. And they'll turn up as per the planned date and time to help you move your house.
Moving on a weekend
The next most popular day to move a house after Friday is the weekend i.e. on a Saturday or a Sunday. The reasons being, you don't have to take any off from your work. And if in case you need an extra day to manage pre and post activities, then you can take a leave on Monday, and you will be through.
However, as the weekends are the next preferred day for moving a house, you have to schedule your move well in advance. Most of the moving companies are pre-booked during the weekends, and therefore you may have to be really quick in booking a moving service provider for a weekend house move.
Moving on a Monday
If you are planning to move on a Monday because you get two consecutive holidays during the weekend to manage the packing and other tasks, then you are doing it right. Mondays are considered to be the third best day for house removal. Moving on a Monday will also work well for you if you are planning to do it yourself.
Some of the benefits of moving a house on a Monday, includes
Getting extra time to de-clutter your house and get organized
Get time to prepare your house before the movers arrive
Pack what you can pack on your own like clothes and other such things
Can easily find moving services available near you
Lower moving costs because of Monday being a work day
Mondays are not a bad choice, especially when the move size is big and you plan to do some of the packing on your own. However, just see to it that you have booked and scheduled the moving service in advance.
How about a mid week house removal?
If Monday as a move day does not suit you for any reasons, then you have to pick a day to move your house in midweek i.e. from Tuesday till Thursday. Although, midweek house move may force you to take additional leave from your work, this may be the right choice for you.
By choosing a day in the middle of the week to move your house, you get easy access to packer mover service. So you can expect to find the best resource available near you at the most competent prices. And if you have to choose a date between Mondays to Thursdays, then choosing a Thursday is always preferred. By choosing Thursday as your house move day, you only have to take one day leave on Friday and you get the extended weekend to unpack and settle in your new house.
When you can't pick a date
In certain circumstances, you can't get to choose a date of moving because you have to move by a predefined date. For instance, if your rental lease is expiring on a particular date, then you have to plan your removal around that date. This is the reason why most of the local house removal happens on the last day of the month. Usually, the monthly rental lease expires by 30th of the month and therefore the house has to be vacated on or before 30th of that month. And if you are moving to another leased property, then you may not get the house on 30th or on the first day of the following month. Therefore, in such circumstances, there is not much that you can do, except planning your move as per the lease schedule.
This can be an advantage, because you don't have to worry about the move date as the date is already decided for you. Whether you like it or not, you have to move that day and thus you should put in efforts to make your house move hassle free on that day.
Tips for hiring the best removal service on busy days
Removal service has a very crucial role getting your things packed and moved. But as you know, sometimes the best of the removal companies may not be available, especially towards the weekends and on public holidays. So, if you are planning to get it right, you must be very careful when hiring a removal company.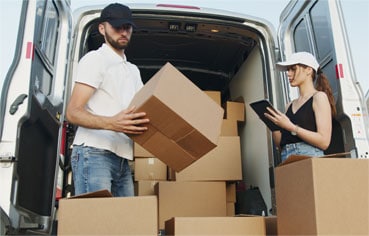 Here's how you can get it right.
Contact the movers well in advance
Check the availability of the movers for the date you are hiring them
Offer some flexibility with the date of moving if required
Evaluate their offer, check other terms and block the date
Do all the formalities in advance to avoid any delay
When possible, check prices with multiple moving companies before hiring
Finding a moving service company at the last moment can become difficult, and therefore always book the mover first, get the date blocked and then plan the rest of the logistics along the way.
Final thoughts on choosing the best day to move house
Which day of the week you choose as your move day can have a big impact on the overall house removal process. From easily finding a removal service to not having to take any extra leave from your work, choosing the appropriate day of the week to move a house is important.
Although Fridays are the most popular day for moving a house, if you are not well prepared and you did not manage to book a mover well in advance, you may not be able to find a mover at the last moment. Similarly, the movers are mostly occupied during the weekends.
And that leaves you with a mid-week move, which is not a bad choice, especially when you get easy access to all the resources, including the moving service companies.
However, in some cases, you may not have any control over choosing the day or date of moving, like in case of expiring rental lease. And in such circumstances, the best you can do is to plan everything as per the date you are left with and move carefully.
Which day according to you is the best day of the week for moving a house – Fridays, Weekends or a Thursday?
Share your favorite day of the week for moving house by commenting below.