As they say, one should learn from the mistakes of others, because this life is too short to make all the mistakes yourself. And when it comes to moving a house all on your own, you are bound to make many mistakes. The process of moving from one house to another can really be overwhelming and stressful. When you are stressed, you tend to make more mistakes. While some of the moving mistakes can be as silly as not labeling the boxes, some other mistakes like not packing the glassware properly could turn out to be the costliest.
I moved my house recently, and I did it all by myself and made many mistakes along the way. Although mine was a local household move within the same neighborhood, I ended up making many mistakes that I could have avoided. There'll be so many things to do while moving a house, and therefore it's common to make some mistakes. However, some of the mistakes can be irreversible and turn out to be costlier and expensive. So, if you are planning to move a house by yourself and you are wondering about which costly moving mistakes people make while moving a house, then I have got you covered. Today in this post, I am sharing five of the most frequently made moving mistakes that can easily be avoided for safe, secured and hassle free house relocation.
Mistake 1: Removal service is expensive and not worth it
I have been working in the moving and relocation industry for over a decade now. And one common house moving mistake I have seen people make is they assume that hiring removal service will be a costly affair. They presume that professional house removal service is too expensive and they can easily save tons of money managing the move on their own.
However, the truth is that, do-it-yourself house move is not easy and it might not be the cheapest option to move a house. It may not be the best and the cheapest house moving solutions, especially in case of a long distance or interstate relocation.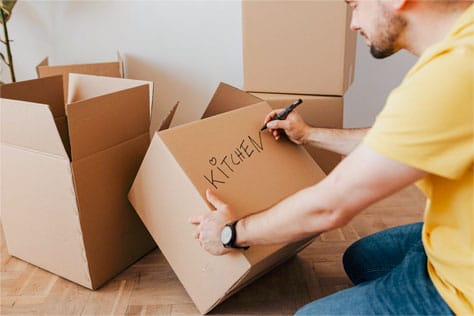 A do-it-yourself house move is easier
When you are moving within the same society complex or within the neighborhood you are living in
When you want to move just a few of smaller household items like clothes and kitchen utensils etc
You don't have labor extensive and heavy weight furniture and appliances
You have had some prior do it yourself moving experience
You can turn out to your friends and family for help in packing and moving
But, that's not the case when you are moving to a different state. Interstate home relocation is way more complicated and involves multiple steps, such as:
Arranging packing supplies to pack all the household goods including fragile items
Packing all the household items securely
Renting out man and van for loading, transporting and unloading
Buying transit insurance to insure your goods in transit
Tracking the shipment
Unloading, unpacking and re-arranging of goods
And it's not easy to manage all these tasks. And there's no guarantee that while doing so, you will not end up paying more besides risking the safety of your precious household goods.
So think carefully, and then take a call on doing it on your own. When you are double sure that there is a huge difference in moving cost in hiring removal service Vs doing it yourself, then only you should consider doing it on your own. Otherwise, hiring professional moving service is always better than struggling with the move.
Mistake 2: You can pack everything in one day
Although you know that proper packing is integral to safe and secured house moving, people often underestimate this task. This can turn out to be a huge setback and one of the costliest moving mistakes. When you are on your own, you can't afford to think of packing as the last minute task. And don't get me wrong, but it takes a lot of effort and time to pack everything securely.
You have to sort out all the household goods and make the list of inventory
There will be many items that you may not wish to relocate and these items have to be sold, donated or discarded.
You have to arrange different types of essential packing supplies in right quantity
Packing the entire house in one go may be difficult. And therefore, you have to make a pacing schedule that you can follow and something that'll work for you.
You have dust, clean and then pack these household goods securely.
You have to label each of the box correctly otherwise, you may have difficulties in searching and unpacking
If by any chance, you run out of the packing supplies like the moving boxes, bubble wraps or any other packing material, then you will have to manage that as well.
So, even if you are up for the challenge of moving your house on your own, you must avoid this common moving mistake of assuming that you can pack everything at the last moment.
Mistake 3: Not using right packing supplies
Packing all household goods securely is very important to ensure nothing gets damaged while moving a house. And to pack all household good securely, you need the best packing supplies like
Durable moving boxes
Bubble wraps and foam
Good quality packing tapes
Crates and other packing supplies
Not choosing the right kind and size of moving boxes can cost you badly during a self house move. When you hire a professional moving service, they take care of these hassles. They bring good quality packing supplies after inspecting your goods to ensure that everything gets packed safely.
However, when you are on your own, you may try and arrange packing supplies from a nearby grocery store or a shop. And by chance, if you are unable to find the right size packing supplies, you will try to manage with what you have.
But, that could turn out to be the biggest and the costliest self move mistake. If you have too many small boxes, you will end up spending more time in loading and unloading. Handling too many boxes may increase the labour charges. Also, if you don't have all the necessary packing supplies like foam and bubble wraps, then the safety of goods may get compromised. And therefore, you must avoid this self house moving mistake.
Here's what you should look for: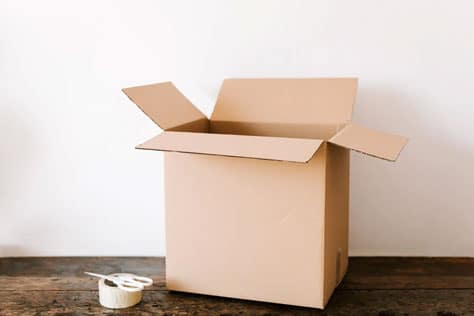 Arrange good quality, clean, dry and strong moving boxes in different sizes to ensure you can pack everything safely.
It is not hard to use cardboard boxes from the neighborhood store, as long as the boxes are in good and usable shape.
Make sure to arrange good quality packing tapes, and wrap the boxes horizontally at the bottom and the top to make it extra secured.
You need bubble wraps and foams to wrap the fragile items and you can't do without it.
While moving on your own, do remember that any compromise in packing may turn out to be the costliest mistake. And fortunately, this can easily be avoided by using the right kinds of packing materials and techniques.
Mistake 4: Choosing wrong size truck to transport goods
Once you have packed everything perfectly, the next important step is to hire a truck to transport your goods. Hiring the right size of vehicle for transporting household goods is crucial for a hassle-free do it yourself house move.
In case of a Do it yourself house move, most often you end up misjudging the kind of truck you would need. Maybe due to lack of experience or misjudgment, there is a high chance of committing this mistake.
If you end up hiring a mini truck, then you may have to do multiple trips and that may cost extra money. On the other hand, if you end up hiring a bigger size truck than what was needed, then again you will end up paying more.
So, it is very important to assess the size of your house and accordingly hire the right size and kind of truck for moving goods. Here are the most commonly available trucks and vehicles that can be hired as per the move size.
Smaller vehicles– like a TATA Ace or TATA Magic are best suited for relocating a small house. When you are moving just a few household and kitchen items, then these kinds of smaller vehicles will best fit your moving requirements.
Pickup – Mahindra pickup is a little bigger than smaller trucks and best suited for a 1 BHK household move. If you are living in a one BHK with a family, then these kinds of vehicles will work well.
10-12 ft truck – best suited for a furnished 2 BHK household goods move. But, you should still check the volume of goods you are moving and then hire the truck.
12-14 ft truck – best suited for a 3 BHK house move and ideal for long distance moving. These types of vehicles are best suited for most of the mid size house and office move.
Choosing the right size truck is important, especially in case of self move.
Mistake 5: Underestimating the importance of transit insurance
You may not match the quality of packing and handling of a professional moving service. The risk of damage is usually more when you are packing and moving on your own. And not insuring goods while relocating on your own may turn out to be a major moving mistake.
Irrespective of how carefully you pack and handle moving boxes, there's always a chance of some human error due to haste or something. Naturally, things can quickly go wrong and moving insurance helps you against such incidents.
Usually, when you hire a moving service, they insure the shipment and provide coverage for any kind of damage during the move. So in a way, your house move is protected against any mishap and accidental damages. However, when you are moving on your own, you may forget to insure your shipment, which could be very risky and a major house moving mistake.
Final thoughts on DIY house moving mistakes
The process of moving a house is already complicated. And when you are on your own, you have to be even more careful while planning, preparing, packing and handling the entire move. You can't take chances or else you will end up making the mistakes that could turn out to be very expensive. We have already discussed about the major self moving mistakes people make like:
Assuming that hiring removal service will be too expensive and so, it's not worth it
Assuming that you'll be able to pack everything in one day
Not arranging enough packing supplies in right size and quantities
Choosing wrong size truck for transporting your household goods
Underestimating the importance of transit insurance
If you are up for the challenge, and determined to move on your own then try not to make any of these do it yourself house moving mistakes.
What other mistakes do you think one should avoid while moving a house on their own?