Eating out occasionally is not a bad idea, but eating out frequently is. I realized this the hard way and decided on hiring a cook who can prepare healthy homemade food at home for me. Since I am not very passionate about cooking, I used to find excuses to not cook at home easily. But I knew, eating out everyday is not good for my health and pocket, so hiring a cook was the only option left.
But let me tell you, hiring a cook in India is not easy either. I tried reaching out to friends and family for references of cooks or even maids capable of cooking good healthy food. Usually, in India we hire maid who can do cooking and look after basic housekeeping tasks like cleaning, mopping, dusting etc. Later i realized, a multi tasker maid is costlier than a cook and hence hiring a cook is a better deal.
I finally ended up hiring a cook, but unfortunately she did not last more than a week. Thankfully I was still determined to not eat outside food, especially the breakfast and dinner and hence I managed to hire another cook.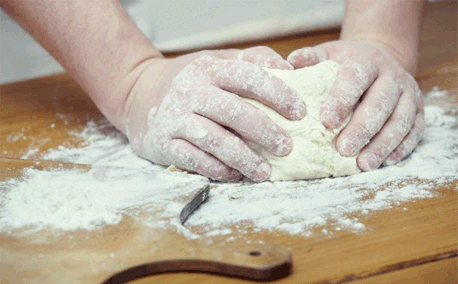 But I learned a few important lessons on hiring a cook for home cooking in India. If you are planning to hire a cook and wondering what are the things you should look at when hiring a cook, then I have some useful information to share and help you.
But how do you find good housekeeping agencies who may help you in hiring cooks?
Where to find and hire a cook for home cooking
Ideally, we ask for references from our friends and neighbors about cooks and maids and get with it. This work well to a good extent because you can trust the friend, family and neighbor who is sending the referral for hiring a cook.
But thankfully, there are number of specialist housekeeping and manpower agencies that provide professionally trained and experienced cooks with expertise in cooking all types of dishes and cuisines  including Vegetarian, Non-vegetarian, North Indian, South Indian, Chinese, Gujarati, Parsi etc.
You can find contact details of these agencies offline through Newspaper ads and or search for them online on Google or Facebook. These housekeeping agencies can help you in many ways.
First they offer you several choices so that you can evaluate and decide to book a cook that best suits your cooing needs and budget. They offer various packages like full time cook, part time cook, live in cooks etc. Obviously the salary of the cook will depend on their experience and time that they spend cooking at your home.
Second benefit which is even more important is they do most of the verification and background checks. They collect all of the basic identity and address related documents from them which you can ask for. They also do police verification and if in case there is no record of police verification, you can ask them to get it done. Police verification usually cost between Rs. 2000-3000 and you may have to pay for this.
Apart from the salary of the cook, the agencies may charge you a onetime flat fee as their service charge. And if they charge you a fee, they also guarantee a replacement in case the cook you hired through them leave within a specified period which may be three months, six months or even more.
7 things to look for when hiring a cook in India for home cooking
Before we get in to what is to be looked at when hiring a cook in India for home cooking, let me tell you that you are not hiring a personal chef to cook meal for a party or a special event. I hired a cook for my home that was responsible to cook breakfast, lunch and dinner for me. And this post primarily deals with hiring cooks (maids) not personal chef.
Here are a few of the most essential things you should look for when hiring a cook in India for home cooking.
1. Experience of home cooking
Since you are hiring a cook for home cooking, it's important that the cook you are evaluating should have some prior experience of cooking food like home made food. In my opinion, homemade food is one which is fresh and does not use access of oil and spices. It's better to hire a cook who has some previous experience in cooking at different homes.
2. Usage of oil, spices and ingredients
Some of us like spicy food and other may not like that. Hence it's important to know about the way your potential cook will be preparing meals. Ideally they should be able to use everything in limits. Some of the cooks have a habit of using lots of spices, red chilies, oil etc, which is not good. There is a reason you are hiring a home cook and that is to prepare healthy and tasty food.
3. Specialty in cooking
India is truly incredible – food and languages changes so frequently. We have different kinds of recipes and preparation and hence it is important to hire a cook who has the specialization in cooking the kind of food you like. There are Parsi food, Bengali cuisine, Odiya cuisine, Gujarati, Marathi and what not. Then there are pure vegetarian, non vegetarian, Indian, Chinese etc. So just check with the cook and ensure that he/she can cook home food as per your taste and likes.
4. Cooking for guests
It is essential to ask the cook beforehand whether he/she can cook for your guests as and when they visit your place. The first cook I hired left within a week because of this very reason. She was not comfortable cooking for two extra people for a week. Some cooks are okay with such situation and they handle it well. But there are others who are greedy and expect to get more money in case he/she has to prepared food for guests.
5. Salary and leave
Naturally, a cook will charge you based on the time and effort he/she is giving and hence it is important to get this right. Most of the issues arise due to salary and leave. Discuss the monthly salary, number of leaves and other such things way before hiring. There is no point waiting for your cook to turn-up and then find she has taken a leave today. They may be good at giving excuses for not coming to work.
6. Nail down responsibilities
Usually cooks are supposed to cook food for you. But some of the home cooks also offer other services like dish washing, basic cleaning in the kitchen etc. Whatever be the case, just make sure to nail down the responsibilities of the cooks so you know what to expect and what not.
7. References and background check
It's important to check the background of the cook before hiring. You may ask the cook to share the contact details of their previous employers, if any. Once you have the details, you may like to take genuine, authentic feedback from their previous employer. Getting real hand feedback on their cooking habits, punctuality, behaviors, hygienic practices etc will help you decide better. Apart from that, you should ask for photo id proof, local address, native address and other documents that they may.
Takeaways
If you are eating out frequently because of lack of time, probably hiring a cook for home cooking can be a better deal. You get to eat homemade food and get the liberty to eat something that you actually want to it, not what is available. But there are certain things that you should look for when hiring a cook in India like experience of the cook, salary he/she expects, specialty in various cuisines and obviously the references from their previous employer.
When you are hiring cooks through agencies, it's also important to check the credibility of the agency you are working with.
If you keep an eye on some of these things, chances are you will be able to hire a good cook for your home. If you have hired a cook recently and want to share some tips, then feel free to comment below.