When you choose the right rug with the right curtain for your space, it will simply change the whole vibe of the space while on the other hand, if you fail to get the right rug or curtain, it can make your room look very clumsy and dull. Therefore, you need to pick the right rug and curtain so that it perfectly complements the interior of your home. Now, if you are puzzled and wondering how to choose the right rugs and curtains, then this post is worth reading for you. In this post, I am sharing some of the easiest tips on how to choose rugs and curtains that will perfectly go with the interior decoration of your sweet home.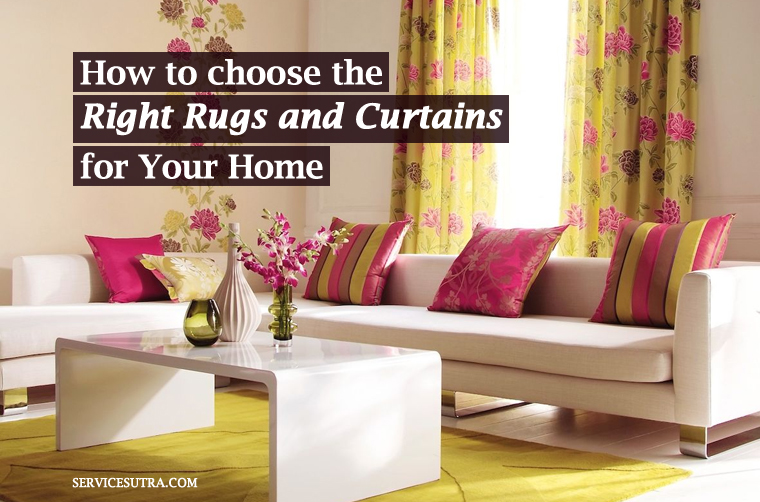 Any change, if done for betterment is always welcomed. Similarly, just as we undergo makeovers, our homes also need that transformation to look different and beautiful than before. Renovation of homes gives a soothing feel to our eyes as well as brings a change in our mundane routine lives. Any decoration in your interior space makes your old rooms look new and vibrant. However, not all can afford the costly interior decorators to fully renovate their rooms and make them appealing. For them, the easiest and the least expensive way to give a new look to their rooms is by changing the rugs and the curtains.
Everyone wants to have that dream home and interior decoration forms an important part of it. Homes, besides providing you shelter, are the reflection of your social status. So the more beautiful your home, the higher will be your status. It also is a mirror of your personality. In other words, the decoration or the condition of your homes especially the interior space shows the kind of person you are. For example, if you have neat, well-decorated colorful home, it shows the discipline in your life and the aesthetic essence of beauty you possess. Therefore, if you are planning to beautify your rooms with the rugs and curtains, I will help you with some of the easiest tips that you must keep in mind before selecting them.
Are you excited? I heard you saying yes.
So let us start the discussion on how to choose the right rugs and curtains for your home. First, I will talk about them separately and then I will also tell you about what else to consider when choosing rugs and curtains for your home.
Here's how to choose right rugs for your home
The area rugs provide warmth, comfort and cushion over your wooden, concrete or tiled floors. They also give an artistic touch to your entire space as well as define and delineate it, but only when you choose the right rug for the space.
Choosing the right rugs for your home may not be as smooth. There are a number of things that have to be considered when choosing the rugs for your home. Right from choosing the size to color and texture, everything is equally important. If you are planning to buy rugs and wondering about how to choose the right rugs for your home then here are a few pointers that will help you get it right.
Choose the color carefully
You will get to see a number of colors and easily get confused. The color of your rug can be chosen in two ways. Firstly, you can choose the color depending on the theme of your space. Or you can choose a particular area rug and then design the rest of the room around it. The later one will kind of set the tone and mood of your entire space which will help you get a unique concept for designing your room.
If you have an interior designer or consultant to assist you then they may help you choose the right color. Otherwise you should take the photographs of the space and the shop owners can assist you in choosing the right color for the rug.
Choose the size according to area
Go for the size depending on their functionality- Before choosing the area rug; keep in mind the purpose it serves.
If you want it to serve comfort purposes, then go for the larger ones that will give maximum floor coverage. In such a case, your rug will cover whole of your seating area with the furniture kept on it.
If you want to use it for decorative purpose and to define a particular area, then go for a size that is perfect to act as an anchor and will help to connect the furniture in your room together.
Choose the texture to keep it visually interesting
Many seem to overlook it but the texture also plays an important role and must be visually pleasing. The texture mainly is all about how you feel while touching it or how it acts as a contrast to the existing materials there. Contrasting your rug will make your space more rich and layered. People who love to live in neutral space must consider the texture of the rug well to give a pleasing look to the entire space. As far as the material is concerned, it is preferable to go for 100% wool, as it is very easy to clean and maintain.
Choose the style room wise
You can go for different styles depending on which room you want to keep it, whether it is your dining room, bedroom, kitchen or living room.
For dining rooms, you can go for the patterned ones. Generally, we have wooden tables and furniture in dining room where the patterned look of rug will make the room visually interesting. Moreover, it will hide the food stains as well.
For bedrooms, go for an area rug that is soothing to your bare feet. Bedrooms are all about comfort, so it is preferable to go for those that act as perfect cushion and gives a lot of warmth to the room.
For living rooms, you can choose depending on the existing furniture. If your furniture is patterned, then go for the solid color or subtle pattern and vice versa.
For kitchen, you may not go for too much expensive ones, as there will be more spills and stains. Instead, use an area rug that is durable and easily washable.
Prioritize well
In most cases, your design wants and your lifestyle will not match. Therefore, try to buy rugs depending on your priorities like durability, costing, maintenance as in cleaning, comfort etc.
Tips to choose the right curtains for your home
Curtains are one of the most important elements for designing your rooms. Besides, they also help to maintain your privacy as well as keep your rooms bright, airy and windy. But did you know that choosing the right curtains for your home can actually get tricky? I often feel confused about the fabric, texture and color of the curtains. It has to match the overall décor, theme and color palette of the space.
And if you are as unsure as I used to be in choosing right curtains, then here's how to get rid of the confusion. Here are some of the pointers that will help you choose the right curtains for your home.
Consider their functionality
Curtains serve many purposes starting from maintaining privacy, decorative purposes, insulation, ventilation to making your rooms cooler and darker during daytime and many more. Therefore, before you select the curtains for your space, you have to decide what purpose you want them to serve. Make a list of the functionality and accordingly decide the curtain fabric and style.
If you want to use the curtains for decorative purposes, it is always better to go for the sheer curtains. They not only look and feel great but also allow more light to enter your rooms. The visual lightness makes your rooms bright and refreshing.
Besides the decorative purposes, sheer curtains are good for ventilation as well. These curtains create cheerful, breezy environment all around and also help to avoid damps in the walls.
If you want curtains for privacy like for your bedrooms, then choose ones with heavier fabric. Sheer ones will not serve this purpose so if you still want to use them, then add another layer of solid curtains to serve your privacy needs.
Thermal curtains are great for insulation purposes. In winter, these curtains do not let the outside chill to enter your rooms and keep the inside heat of the rooms intact. On the other hand, in summer these curtains do not let the cool air from leaving the rooms, thereby keeping the rooms naturally cool. In fact, if your rooms remain naturally warm in winter and naturally cool in summer, it lessens the usage of heaters and coolers respectively, which in turn saves a lot of energy as well as electricity bills.
Take accurate measurements
If you mount the curtains correctly, it will enhance the whole look of the room. Therefore, measure the height between the rod and the floor before hanging them. Also, consider the hanging hardware or height of the rings or how much space you prefer between the floor and the curtains. In case of the width of the curtains, think how much fuller look you want to give them. In case of draped look, they should be 3 times wider than the window while for tailored look; they must be around 2 inches wider.
Make them a part of the room
Many use the same curtains in each room, which might work in few selected homes but will not complement the look of the contemporary ones. Your curtains should blend naturally with the entire surroundings and must be an extension of your space. What I mean by this is, choose the curtains depending on the style, theme and aura of the room, and this will elevate the beauty of the space.
Choosing right colors
Choose colors keeping the look of the room in mind. As far as the colors of the curtains are concerned, it depends on the way you want your room to look. The safest option that maximum people opt for is consider the color of the walls. Sometimes, they go for the same color or same shades of that color. However, if you want to give that different vibrant look to your room, you can opt for other colors as well. This is good for vintage, modern or Mediterranean themes. On the other hand, if you want to go for a monolithic look, then choose the neutral hues.
Choose patterns depending on the surrounding space
Curtains with different styles and patterns add a touch of elegance and romance in your room. So make sure they completely go with the surrounding look. If your room contains patterned bedding and furniture, then go for curtains of solid colors. However, if you have solid color bedding and furniture, then choose printed and patterned curtains. These will perfectly complement the whole look of the rooms.
Important things to consider when choosing rugs and curtains for home
So far, I have separately mentioned the tips on how to choose rugs and curtains for your home but now I will tell you some of the tips that you need to keep in mind when choosing both your rugs and curtains at a time. Make sure that when your area rug and curtains are in same space, they complement each other. Complimenting does not mean you have to match them fully every time, but just see that they are in harmony with each other.
Here are some of the options that you may like to consider before choosing rugs and curtains for your home.
If you really want to do some matching, you can go for neutral colors. With colors like beige, brown, black or white, you can always play it safe and will never go wrong.
Another option that you can opt for is to go monochromatic. What I mean by this is that you can pick colors from the same color family. For example if your area rug is of soft green color, you may go for lime green or hunter green curtains.
You can choose both with similar patterns. This will give a coordinated look between them and make your room look complete. Here, there is no need to opt for similar color curtains and rug.
Rugs and curtains of similar texture will also look fine. For example, you may pick shaggy curtains with a shaggy area rug or simple curtains with a Berber rug.
Complementary colors are also a good option. For example, a green rug goes well with purple curtains or blue rug with yellow curtains.
Lastly, you may not think of matching them at all. Choose whatever you want. You can do some research online and buy accordingly.
However, do not forget to fix your budget first and then accordingly buy your rugs and curtains. You may raise it a bit to buy a material that is really good but in general there is no reason to exceed it to a large extent. Nevertheless, in case you have a good budget, you may take an expert's help and follow your designer's instructions.
Over to you
Home decoration is an interesting task where simple things like rugs and curtains add to the beauty of your interior space. Not necessary that every time you have to spend lot of money decorating your rooms, instead, if you can choose the right rug with the right curtains, it will automatically change the whole look of your rooms. Just simply follow my above-mentioned simple tips on how to choose rugs and curtains and give that innovative touch to the interior space of your home.
There are many ways to decorate your rooms but rugs and curtains are certainly the least expensive way to decorate them. Besides decorative purposes, they also serve other purposes like privacy, comfort etc. So why not decorate your rooms with things that are beautiful as well as useful.
Are you planning to decorate your rooms? Have you read my tips on how to choose rugs and curtains for your home? Do share me your feedback and feel free to mention any other tip on how to choose rugs and curtains that has worked in your case.