Relocation is never an easy task. It requires thorough preplanning regarding how to execute the whole procedure. However, besides the several headaches like when to move, how to move, which packer and mover to hire etc, the thing that makes one freak out the most is when you think of what to do with your existing items. You may get confused regarding whether to move them into your new home or sell all or some of the items and buy new stuffs in new home. So in order to help you out from this confusion of whether to move or sell household items, I will guide you regarding what to do before relocating.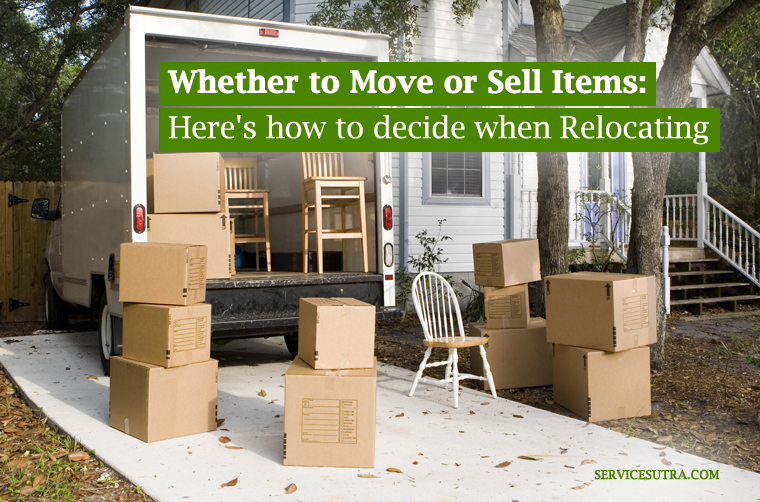 Frankly speaking, we all are different human personalities, each having our own perspectives. Therefore, before deciding whether to move or sell existing items, what matters the most is how you yourself view the whole matter of relocating. In other words, you need to think whether you take this relocation as a new beginning in your life or simply an extension of your old life. Confused? Come; let me help you out solve the confusion.
Are you ready? Let's get started.
Your perspective regarding household relocation
The first thing that you have to ponder over is that what you yourself want. You have to question yourself whether you want a complete reversal of your lifestyle or you want to lead life the way you were living so long. In order to realize what you want, you need to answer yourself few things first.
What is relocation for you? – Do you take it as a chance to build a new life for yourself? OR!  Do you simply view it as extending your own life with a little different perspective?
How much important are your existing possessions for you? – Do you think them as outdated stuffs that you desperately want to replace with new modern items? OR!  Do you feel too much emotionally attached to your existing belongings?
How do you take shopping in general? – Are you always excited about buying new stuffs?  OR!  Do you find it a headache and desperately want to avoid it?
These are the few parameters you must keep in mind before drawing any conclusion. If you find that in every case, you are agreeing for the first option, then you are definitely viewing this relocation as a new fresh start. In that case you are ready to leave your past behind and probably will love to get rid of old stuffs by selling them and decorate your new home with new modern items. On the other hand, if you are more interested in the second options in each case, then you are taking this as an extension of your existing lifestyle. You are not much ready to make drastic changes in your lifestyle. In such a situation, you will be more comfortable to carry most of your belongings to you new home and create the old familiar environment in your new space.
However, things are not that simple and do not depend on your whims and wishes always. If you practically think, you will understand that it is not really possible to sell all existing belongings and buy all new items at a time. On the other hand, it is also not possible to carry all the old stuffs in your new home. Moreover, there may not be that much space to fit in all the belongings and if you still want to accommodate everything, your room may look clumsy and over-congested. Therefore, what is actually important is the circumstance.
Many other factors decide whether to sell or move items, most of which I will discuss in my article. However, before that, let me give you an idea about what can be your advantages or disadvantages of entirely moving/selling existing stuffs.
Advantages and disadvantages of moving or selling old belongings
Before simply jumping into any conclusion, you need to view things from a neutral point of you. If you are thinking of moving all belongings to your new home or selling all of them before relocation, then think again. There are both advantages and disadvantages of moving or selling old possessions that you must consider before taking any impulsive decision.
Advantages and disadvantages of moving all items
These are the few things to note and remember before moving all your stuffs in your new home.
Advantages
Firstly, moving all your old stuffs is good, as you will not have to spend much time in buying the necessary belongings all over again.
Moving your old stuffs will be comparatively cheap that buying each item again
You tend to get much attached with your belongings that you are using for a long time. So it is good to carry the things which has many memories attached to them
You will get a familiar environment easily and will find it easy to accommodate stuffs in your new space as per priority.
Disadvantages
Moving all your old stuffs means you need to take the headache of transporting the materials from one position to another.
You will have to be extra careful as the important things can get damaged in the process of relocation. You need to take pains to pack them properly to reduce the risk of any accidents while relocating
You need to do lot of research work, compare rates and hire the right packer and mover who take reasonable charges as well as is trustworthy. In short, you need to put a lot of time and effort in arranging the whole procedure of carrying the goods.
You have to spend lot of money packing all of them, make proper insurance on them and find a convenient way to move all the belongings.
Moving your old stuffs also mean that you will not be able to set up your new home the way you want. You simply have to accommodate your existing possessions.
Advantages and disadvantages of selling all items
Consider the following points before deciding to sell all your old belonging before relocating.
Advantages
Moving all the stuffs is a time consuming as well as tiring task. Therefore if you have decided to sell all of the old belongings, you will save your time and effort required in the process
You can also save the amount required to hire packer and mover or the transporting or packing cost of the old belongings
Selling stuffs will give you money with which you can buys new modern items of your own choice
You can give a whole new look to your new space with all your favorite stuffs
It will also prevent your new home from getting stuffy and congested as you can only buy things which are essential and will easily fit in
Disadvantages
You have to remember that even though you are saving the time of transporting old items, you have to allot enough time finding appropriate items that will properly fit your new space
You will lose the old items which were so aesthetic and has a lot of your memories attached to them
Buying new items can cost much more as with time, things get costlier. Moreover you need to buy things at a time, so huge investment all at once
In order to save time and money, you may think of buying old stuffs online but that is not worth it as you are buying old stuffs again
Now that you know that moving all the items or selling all of them, both are not just right as they both have pros and cons. Therefore, what should you do? You simply have to take the decision logically based on few criteria.
So let's start discussing them.
How to decide whether to move or sell when relocating
It is very confusing to decide whether you need to move your existing belongings or sell all of them before relocating but if you take the decision based on the following criteria's, things will get easier for you. Not necessarily, you need to carry all the stuffs to your new home or sell all of them before relocating. You need to think practically and take the decision.
Type of relocation
This is one of the most important factor that decide whether you need to carry the old items to your new home or sell them before relocation. For example
If you are relocating locally, there is then no point in selling the old stuffs. In such a circumstance, it is preferable that you move your old belongings to your new space. The transportation will not cost much even, so there is no need to take the headache of buying new stuffs again.
If you are relocating cross-country, it will be foolish to move all your belongings specially the ones that are delicate or heavy and can get easily damaged while relocating. The cost of transporting them will also be high, so you must carry only your valuable possessions with you.
Lastly, if you are relocating abroad, the best option is to carry only your personal things and sell rest of the items.
The value of the item
When you are thinking of moving or selling the items, remember that not every item carries the same value. Some are valuable while keeping some may not be worth it.
Consider practically the worth of the item. If any item is durable, in good condition and you need it every time, there is no point in selling it and spending money in buying a new one. Also, if you sell it, there is no guarantee if your new one will be equally good.
Consider the value of the item on monetary terms. Any item which is expensive, vintage, rare and unique or of high quality must be moved to your new home. If you sell such an item, you will be at a loss. By selling, you will never get the money, which you have spend while buying it. In fact, may be you will not find such a unique piece again, so why lose it.
Any item that is your favorite, or gifted by someone special must never be sold. Such items carry an emotional and sentimental value. Sometimes, even though they are not that useful, you can keep them and cherish the memories attached to those possessions of yours.
Risk of moving the item
You can never ignore the risk factor in carrying any particular item to your new location. You need to consider it before taking the decision. If any particular item is most likely to get damaged like for example, if it is too big or delicate, then please avoid taking it to your new space. It is better to sell it off and buy a similar thing from your new location.
Expense of moving the item
Another factor that is important to note is the cost of moving any particular item. For example if the cost of moving is almost the same as of buying a new one, then it is always better for you to sell it and buy a new one. On the other hand, if you see that the cost of moving any item is far less that buying a new one, then it is preferable to go for the cheaper option. In order to find out which is more profitable for you, you have to follow the following things:-
Find out the cost of moving the items- In case of moving locally, generally the cost depends on the time taken for the packers and movers to pack the items, load them, transport them to your new home and then again unload them. For long distance relocation, it depends on the distance of travelling and the total time taken to complete the whole procedure. Also, the better the quality of packing for safety purposes, the higher the rate. Therefore, you need to do a good research, compare rates and find out a packer and mover that is trustworthy as well as offers reasonable rates.
Find out the cost of buying the new items- In order to know what's more preferable for you, you need to know how much your household items cost now. For that, you need to do a lot of net surfing and find out current rates. Just remember the cost of the items vary from place to place and country to country. Therefore, you can also take the help of the friends or relatives in case they live near your new home location or have an idea regarding the cost of living in that location.
What to sell and what not to when relocating?
By now, I think you have understood that the best option is to choose items based on their priority or profitability, and accordingly keep or sell them. However, besides the above criteria mentioned, let me make it more clear what items you can keep and move to your new home and sell the rest of them.
It is best to move items like:
Items that you use regularly and are in good shape
Furniture which are of high quality
Favorite possessions of you and of your family members
Items that carry emotional value
Unique or valuable art pieces or antique items that we rarely find now
Clothes that are comfy and of good texture
Things that give you a homely feeling
It is best to sell items like:
Things those are difficult to move. For example heavy furniture, exercise equipments etc
Sensitive and delicate electrical goods
Easily breakable dishes, plates, cups etc
Most books except the ones you value or you need in future
Items that you have more than one. For example extra bedding, extra pillows, extra curtains
Decorative items that are not that costly
Clothes, shoes, etc that don't fit you anymore
Childhood collections or toys that are of no use now
Items that are no more important to you
Things that won't fit in your new space or you won't be able to use in your new home
How to sell household items when relocating
In case of moving old things, you need to hire the right packer and move, discuss with them the detailed relocation procedure and decide what is best for you. However, if you need to sell your belongings then you must have a good idea regarding few things for example the market value of the items and accordingly sell it in reasonable price.
Fix rates according to its market value and present condition
Find out the market price of similar items in order to have a fair idea of how much in demand that particular object is. You can increase the rate a bit if it looks like some unique or vintage piece of work or if it is a piece of any famous manufacturer. Besides, if your possession is in good shape, you can definitely charge more in comparison to damaged ones. Remember not to have too much high expectations else, you will be disappointed.
Sell your goods online
This is an easy option. You simply need to write catchy ad, mentioning in brief about the items that you want to sell. Post clear pictures of the items you want to sell and give offers and discounts to catch the attention of the customers. However, keep in mind that people who buy old stuffs online know that you desperately want to get rid of the stuffs, so they might take that advantage and bargain the costs largely. Also, you need to have patience as the process of selling all of them online might take a lot of time.
Moving sale
You may have to give a little extra time and effort to organize the whole event but if you can really display the items in an attractive manner with discounts and execute your plan well, you can sell all your things in a day even. This is because people can directly see the items and buy. Therefore, there will be direct communication and you get a chance to convince them well.
Take them to consignment shop or dealer
You will not have to put any effort or time here and it is a very easy option of selling old stuffs. Nevertheless, the profit margin here is least and you will only get money after your items are sold.
Offer your relatives and friends
You can ask your friends and relatives whether they will be interested in buying your old stuffs with reasonable price. You can tell them personally or take the help of social media. However, dealings with known people are bit tricky as they might think that you are gifting them the items or selling them in free, so make it clear to them from before to avoid any misunderstanding.
Charity
After trying the above selling options, if you are still left with items, then the last option is to donate them in charity. This will give you a good feeling of satisfaction that you have helped someone who really needed it as well get relieved from the headache of carrying those stuffs and avoid paying extra tax.
Over to you
Relocation can be a real headache especially when you think what to do with your existing items but if you can plan the whole procedure strategically, then things will get easier. With my above-mentioned tricks, you will be able to execute the whole procedure in an easy manner. You just need to be a bit tactful dealing with the stuffs and plan practically keeping all the parameters in mind.
Selling all the stuffs at a time or moving all of them to your new home is practically not always possible. Therefore, keep the ones of utmost importance or the ones you use regularly and sell the rest. However, while selling, do not keep very high hopes that you will profit a lot as then you will never be able to sell them. Try to keep a minimum profit margin and fix prices accordingly. Remain flexible to bargaining, as this will help you sell items faster. For example if one is satisfied after buying from you, he/she will automatically communicate this to their known ones as well.
Another piece of advice that I would love to give you is that when you shift to your new home, do not rush and buy all the items at a time. Buying all things in a hurry will not give you enough scope to actually pick and buy things you really love. Instead, you will end up buying lot of unnecessary stuffs that will make your home clumsy and untidy. Therefore, in the beginning, buy selective stuffs that are must-haves or things that you really like. This will save your post relocation budget as well as help you decorate your home the way you have dreamt.
Are you relocating anytime soon? Are you worried about what to do with your existing belongings? Well follow my tips and make relocation hassle free. Do share me your feedback regarding how you benefited from my ideas and also feel free to suggest other ideas and tricks of relocation for my other readers who may have plans of relocation.
Until then stay happy, stay stress free.