Everyone wants to have that dream home which will look heavenly beautiful and be very comfortable to live in. Some prefer to make their homes beautiful by decorating it on their own with colorful curtains, carpets, having kitchen cabinets, to buying modern furniture and various types of decorative elements. Well, this is certainly a good way to make your home look sophisticated and beautiful. But, as you know that each one of us may not be the expert in every field, and so if you want to make it really good and make your home stand out from the rest, then hiring a good interior designer to design and decorate your home is the best thing to do. It is very obvious that professional interior designers can design and decorate your home and make it more functional and aesthetic for they have the tools, technologies and expertise in designing and decorating homes and offices.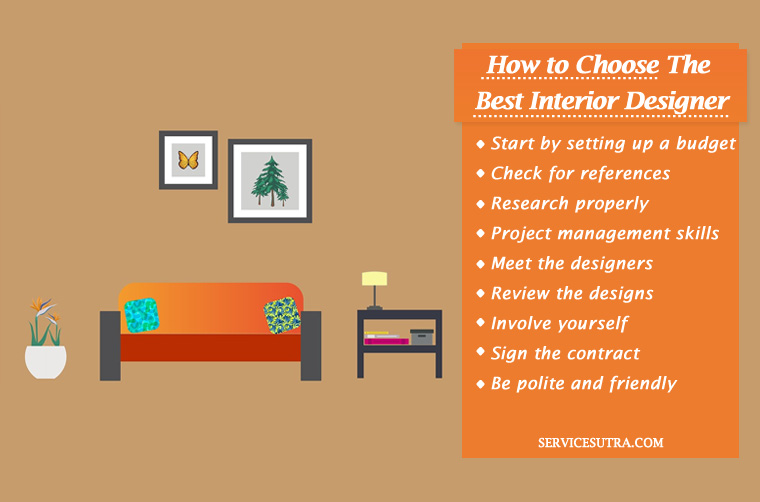 Interior designers can come up with various innovative design ideas which will make your home look great and functional. They are professionally trained to do so; they can optimize the space and make it more functional as per your requirements, lifestyle and priorities. But choosing a well experienced and expert interior designer in mega cities like Bangalore may not be that easy. There are a number of interior designing companies in Bangalore and if you are wondering about how to choose one for interior designing of your home or office, then here's the post worth reading. Today in this post, I am going to talk about how to choose the best interior designer in Bangalore, Karnataka for all types of residential and commercial interior projects.
In a mega city like Bangalore, there is no shortage of efficient and experienced interior designers. In fact, we often receive queries and questions about who are the best interior designers in Bangalore because the list is really long. But you know! There are no fixed parameters to rank interior designers in Bangalore. What is best for my budget may not suit you and vice-versa. Interior designing of a flat is a budget intensive project and then different people have different lifestyle and functional needs. Interior companies too have references and specialization as to what kind of projects they will work on. So finding the best interior designer in Bangalore, who can design and decorate your home within crossing your allocated budget, is not going to be so simple and straight forward.
But having worked with a number of leading interior designers in Bangalore and other major cities across India (through this platform), I can help you choose the best interior designer in Bangalore for all types of interior designing and decorating projects, be it residential or commercial. Whether you have purchased a new flat or looking for an interior consultant to design an independent home, bungalow or a commercial property, these tips and hacks, when used effectively can seriously help you find and choose the best interior designer in Bangalore.
A home with beautiful interior design grabs the attention of all and also creates a good impression on your guests. It also kind of reflects the personality of the homeowner and certainly makes living much more comfortable and stress free. To get your home properly designed and decorated, you have to hire a professional interior designing company, who can get it right and that too within the budget that you may have allocated.
It is obvious that when you invest in something, you deserve nothing but the best results. So, you need to be careful in choosing a trusted and well experienced interior designer for your project. And tips on how to choose the best interior designer in Bangalore that I am sharing below will certainly help you get it right.
However, Bangalore is just an example I am using here, because we receive lots of queries everyday about how to choose the best interior designer in Bengaluru from the users. These tips and hacks can be applicable for choosing best interior designer in any city across India.
So, are you ready?
Well, I feel you are. So let us dive in.
Tips and hacks to choose the best interior designers in Bangalore
Due to the industrial growth, Bangalore is a great place to invest on real estate which in turn makes the business of interior designer quite a competitive one here. So, if you are looking for an interior designer for your home, you will get many choices but the challenge is to find the best among the leading ones.
Before hiring an interior designer, there are many things which is worth knowing like:
Experience of the agency and the designer
Kind of budget they work on
Specialization in your kind of project (residential/commercial)
Quality of craftsmanship and raw materials being used
Design, execution and delivery time etc
Approach and flexibility to accommodate changes
It's not going to be easy to choose the best interior designer in Bangalore, when every other company is claiming to be the best and leading service provider among their peers. But there are ways to screen and choose the best and that's what I am discussing below.
Start by setting up a budget
Setting up a basic budget (with a little flexibility) for your interior project is essential and one should do this even before searching for an interior designer. When you set up a budget in the very beginning, then you will be able to approach the interior designing companies that handles project in your kind of budget. As you know, budget is one of the most important aspects of interior designing and it is equally important for both customers and the interior designing companies. Most of the interior companies in Bangalore prefer to work on projects with certain minimum budget like minimum 5 lakhs and above or so on.
Setting up a minimum budget for the project is important as the budget is a deciding factor in most cases and depending on your budget; you can choose the best interior designer in Bangalore. Some interior designing companies might be excellent and very experienced but their charges may be too high for you. So, before searching and hiring an interior designer, decide how much budget you have and how flexible your budget is for the project. Flexibility of 15-20% can help you get the best results.
As for my opinion, for full end to end interior designing of a 3 BHK flat, a budget of 6-7L is a decent budget to start with. The budget for interior designing need not be too high, but if you are expecting a certain level of quality and finish, then you will have to allocate the budget accordingly. Once designed, you are not going to redo the work for next 7-8 years, so spending money on good quality plywood, laminates, fittings will be the wise decision.
Obviously the budget depends on the scope of work, your functional needs etc, but having a budget in mind will help you get connected with the right kinds of interior designing companies in Bangalore or anywhere in India for that matter. So start by setting up a budget for the project to get it right.
Check for references
As you know, interior designing is a budget intensive project so no one wants to get it wrong. The ultimate finishing of the project will depend on the experience and expertise of the interior designing company you have chosen to work with, and hence you should not take chances in hiring the interior designer.
Always look for the best possible interior contractor and for that, you should start screening vendors from references. If you can get reference of an interior designing company from a friend, family or colleague, then you should give it a try.
If someone is recommending a professional service provider, that means they were happy with their work and that's a strong signal to consider the service provider for your project. But still, you should verify everything (process, prices, quality of work, flexibility in designing etc) on your own before you choose to work with interior designing company suggested or recommended by your friends or family.
The reason I suggest taking references from trusted sources is that, you can get enough advice and feedbacks from your source, which automatically reduces the chances of falling into wrong hands.
However, in order to get all these, the person from whom you are taking the reference should be relevant and reliable. So, please take suggestions from someone who is very efficient in making good selections in such fields or has himself/herself done his/her interior designing with the referred interior designer.
Proper research is important
No matter you get references from others or not, I personally believe that self-help is the best approach in hiring services. So, take out time and find a couple of options and evaluate them well at your level. Go through the portfolio of these interior designers and see which company suits your needs the best. Some designers are efficient in making the rooms look vibrant and colorful while others make rooms look very soft, aesthetic and soothing. So, try to identify which kind of work you prefer and accordingly evaluate all the available options.
However, make sure that you are checking profiles and offer from a few of them, and not just one; check all the feedbacks and reviews and then shortlist the best among them. After that compare them and then only come to the conclusion of choosing the best interior designer in Bangalore among them all. This will give you enough time and hence help you gather enough information to make the best choice on available interior designing companies in Bangalore.
Check project management skills
One of the most important tips on how to choose the best interior designer in Bangalore is to hire an agency that has good project management skills. The reason behind that are most designers set up a time target within which they confirm to complete the work, which is good. But what happens ultimately is that they work very slowly in the initial days and rush up a lot once the delivery date approaches. In such a hurry, the quality of the work is often compromised as they have to do many works in short time, so it is better to go for an interior designer who can manage the work properly and make the whole execution process smooth as well as on time.
Last minute finishing work takes more time, they have to do proper pasting of laminates etc and if they compromise during this phase to speed up the process, then it's going to become a costly risk for you in the future.
Meet the designers face to face
Once you have scrutinized and shortlisted some of the probable interior designers in Bangalore, it is always preferable that you talk to them face to face before coming to the final decision. Most of the interior designer companies in Bangalore offer free on site visit, and prefer to meet the potential clients face to face to discuss the requirements in detail.
The meeting with each one of them should be taken to your best advantage. Remember that communication is the key and you must not shy away from asking relevant questions. Whether it's about the scope of work, overall budget, payment terms or procurement of raw materials, ask everything that you want to know and then evaluate them based on the their answers to your questions. You should also ask for detailed, itemized quotation, with payment terms and all for better evaluation and comparison
Discuss with them about the designs, do take advice from them regarding the designs but be very open about the type of design you want as that will make the designer understand your taste better.
Once you are settled with the designing part, talk to him about the charges and delivery time. You may try for some negotiation and then come to a mutual understanding. It is also recommended that you ask him to show the previous satisfied client list and their reviews. If the designer is genuine, he/she will be more than happy to show you the reviews.
Also, clearly talk about the estimated time that will be needed to complete the entire interior project. Besides, you must also check with them whether they offer any additional services like remodeling, painting etc. or not as sometimes these things can actually make a lot of difference.
Review the designs
Needless to say, you are evaluating interior designers with a portfolio. That is, the interior designers must have completed a few of the projects in the past. So ask them to send you their portfolio and possibly end to end process or case study of a couple of project.
Looking at the complete case study should help you judge the designer. You will get to know about their process, design approach and the final work and that should help you in choosing the best possible interior designers in Bangalore for your residential or commercial interior designing project.
At the end, if you like their past work and feel comfortable with their approach and you are convinced that they are the best suit for you, then you may like to hire them for your interior designing and decoration project.
Signing the contract
After you have decided whom to hire for the interior decoration of your home or office, do not forget to do proper paperwork before beginning the work. Drafting and signing the proper work contact is seriously important. This agreement is going to act as the official contract with each and everything mentioned in it from payment terms to overall cost, timeline etc. It will protect your interest and designer will not be able to mince words later. In fact, some contractors have the habit of making false promises, so to avoid that, getting everything mentioned in a contract is highly recommended.
Make sure that the list of responsibilities, the charges, payment terms, estimated date of completion and all the other terms and conditions are mentioned properly in the agreement. Read the points carefully and then sign the contract. This is one of the best hacks to choose the best interior designer in Bangalore and will help you avoid many confusion later.
Involve yourself and monitor progress
Even if the entire work is to be done by the professional interior designers and their team, you should keep yourself involved a bit and monitor the progress. Plan for surprise site visits and check the progress of the work, materials being used, quality of craftsmanship etc.
Such surprise visits helps in ensuring the quality and timely completion of work. I had already given you a hint what goes wrong during the execution process, so you must always be updated at whatever work is progressing on a timely basis. This will automatically help in maintaining the pace of the work and will eventually help in its completion smoothly and on time.
Moreover, in maximum cases, there are bound to be changes during the implementation and if that happens, then you have to consult that with the project managers, interior designer and the engineers. So, your timely interference will help you get it right. By interference, I did not mean disturbance, but keeping proper detailed information regarding the progress and quality of the work.
You may actually request them to set up a system where you will be able to remain updated about the progress of the work. In most cases, the payment is linked with the progress of the work, so without verifying the progress, you should not make payments to the interior contractor.
Be friendly
If you want your work to be of the best quality, then you be on friendly terms with the interior designer. Maintaining a healthy relationship with your interior designer is important and so you must do that without fail. You must also keep your mind open so that in any case of difference in opinion, you both can talk out and come to a mutual conclusion. This help in the enhancement of the quality of the work as you can consult with them all the time and get the best outcome.
The bottom line
The demand for interior designing services is increasing on a rapid rate especially in major like Bangalore, Delhi, Kolkata, Pune, Mumbai, Hyderabad etc. However, with lots of demands, the number of interior designers is also increasing in these cities. While that is a good thing as it leaves the customers with lots of choices, it can also become a cause of concern and confusion. Hence it is always better that you yourself do a bit of research and shortlist a few of the best and leading interior designing companies. Properly review their past work portfolio, get some ideas on your project, followed by the estimates and quotation. Once you have all these details, you should be able to choose the best interior designer in Bangalore easily.
Home is not just a place but it is where our heart dwells. And, so we all want to make our homes look the best. Sometimes, little changes like buying trendy furniture or using modern decorative lights, changing the color of the rooms or placing the decorative items at the right place make a huge difference in the appearance of the place. But if you want to get the best results, then you should find and hire the best interior designer to design and decorate your home or office.
I have already discussed about how to find and choose the best interior designer in Bangalore in this post. You just have to do that proper research, ask for references from others, then meet him/her up and ask the relevant questions. Then compare the portfolio, rates, terms etc and then choose the one who you think will best suit your interior designing project.
Are you looking for the best and leading interior designers in Bangalore? Create a request for free estimates by submitting this quote request form, and we'll help you get quotations from a couple of leading interior designers and contractors in Bangalore. Once you hear from them, follow the hacks discussed above and get it right.
I hope you have a good experience in finding the right interior designer for your home. What else do you think one should do to find the best interior designer in Bangalore?