Chimneys have now become an integral part of the kitchen in most Indian households. Besides enhancing the whole look of the kitchen, chimneys are great in keeping our kitchen clean and grease free. In most of the Indian kitchens, we cook spicy fried foods in comparison to the boiled or half boiled foods. We use lot of oil and spices to add up the taste of the foods we cook, which results in plenty of smoke and grease. Kitchen chimneys clean all these smoke and polluted air and keep your kitchens fresh. But, after a certain time, the accumulated oil, grease and dirt make your chimneys dirty which sometimes can lessen their efficiency to absorb the cooking smoke. So, you must take proper care of the chimneys by cleaning it from time to time to get optimal benefits of using a kitchen chimney at home. However, cleaning the kitchen chimney is not so easy and so most people prefer hiring a professional cleaner to clean the kitchen including chimney. But if you are a do it yourself person like me, then you can clean kitchen chimneys easily on your own. If you not sure about how to clean kitchen chimney on your own, then read on this post. Today in this post, I am going to share a few cleaning tips that'll help you to clean kitchen chimney easily at your home.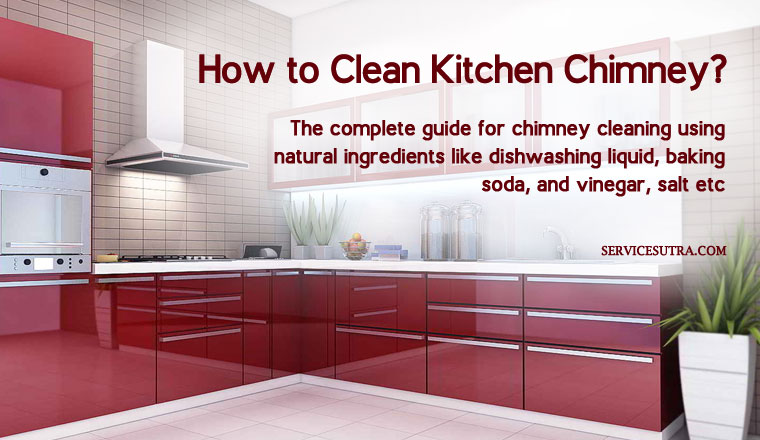 I am a do it yourself person and I like to take control of the things. I used to hire professional agencies, who offer chimney cleaning services in the past, but later on, I learned all those cleaning hacks and I clean the chimney on my own now. If you are willing to take control and give it a try, then trust me these cleaning hacks will certainly help you clean kitchen chimney at your home.
Kitchen is actually the heart of our homes and the Indians who are foodies have a special connection to it. Be it cooking ourselves or enjoying our mother's recipes, we love trying out different delicacies and hence we use various ingredients to make it taste delicious. And, this is one factor why kitchens in our household gets most dirty especially the chimney. It accumulates lot of grease and dirt and looks dirty if it is not cleaned properly and frequently. In fact, if you keep it uncleaned for a very long time then it may start to stink which can make your whole living atmosphere suffocating.
Now, the chimneys do a lot of hard work in keeping our kitchens smoke free and clean, thus it is our duty to clean the chimney properly and ensure it works perfectly. Kitchen chimneys must be cleaned twice a month or at least once every month to avoid it getting severely dirty. And I think selecting one day out of those 30 days and dedicating that to chimney cleaning is not much of an impossible task for anyone. As far as the chimney cleaning procedure goes, the chimney cleaning tips that I am sharing here will certainly help you to clean kitchen chimney at home.
Are you excited to know? I hear you saying yes and so without wasting much time, let us begin with the easy ways to clean kitchen chimney at home.
Easy ways to clean kitchen chimney at home
Indian kitchens get really dirty and cleaning it often gets difficult especially when it comes to the chimneys. Although there can be various kitchen models, most Indian homes keep the mesh or baffle filter type chimneys as it best suits the type of food we cook or the way we cook. However, whatever is the kitchen type, there are certain easy ways to clean kitchen chimney and that's what I want to discuss today.
Chimney cleaning is a complicated task especially when you don't know how to clean it perfectly. Here's the perfect guide about how to clean kitchen chimney on your own using natural ingredients like dishwashing liquid, baking soda, and vinegar, salt etc.
Here are the best ways to clean kitchen chimneys at home:
Use the dishwashing liquid to keep your chimney clean
We all use certain liquids to wash the dishes and you can easily use it to clean your chimney. It is readily available as well as effectively cleans up the oil and the grease stains from it.
Simply take out the filters and apply some dishwashing liquid on it. After that take a big bucket and fill it with boiling water. Immerse the filters completely in the water. Let it stay for 1-2 hours. After that, remove it and scrub properly using a non-abrasive scrubber. However, if you have got a big steel container then you may immerse the chimney filters in water and let it boil for 30 minutes. This is better as boiling helps you to get rid of the grease and the other stains easily.
Use baking soda to clean kitchen chimneys
As we already know that baking soda is the most commonly used kitchen ingredient and it is actually considered to be an all-purpose cleaner. The mild abrasive nature is excellent in removing the stubborn stains easily. I have personally used baking soda to clean my kitchen chimneys and I have mixed it with the other cleaning agent vinegar and salt to add up to the good benefits. And, let me tell you that the results were amazing. Moreover, vinegar and salt are also great disinfectants that keep your entire kitchen germ free.
Take a big tub filled with hot boiling water. Add 2-3 tablespoon of baking soda, 2 cups of vinegar and 2-3 tablespoon of salt into it. Immerse the filters into the solution for around 1-2 hours and then scrub it with scrubber. You may also boil it just as I instructed in my previous point. All these ingredients together will easily remove the dirt and make the chimneys new as before.
Use vinegar to clean kitchen chimney easily
See the mixture of baking soda, salt and vinegar works great but in case you do not want to use all of them or do not have all of them in your home at the time of cleaning, then you may use vinegar only as well. Besides, baking soda, it is another widely used natural cleaning ingredient that is used as an all-purpose cleaner and thus using it is one of the best tips on how to clean kitchen chimney easily. It is also mildly abrasive which helps removes the stubborn stains. Also, as you know it is a great disinfectant and so there will be no chance of the occurrence of germs there.
The method of using vinegar is all the same. You have to take a tub of boiling water and add adequate vinegar in it. Immerse the chimney filters in to it and keep it for 1-2 hours. You can also boil the water as per your wish. After that scrub the filter using a good soft scrubber and then wipe with a cotton cloth and let it dry naturally.
How to use paint thinner to clean kitchen chimney
Paint thinner is a good option for you to try as it effectively removes the stubborn oil and the grease stains easily. The process of using it is also very simple and so you must try it out once whenever you are free to clean your kitchen chimneys. And, in case you don't have the paint thinners at home, you can also use the nail polish removers to clean kitchen chimney. The removers also give similar effective results and hence it definitely is one of the easiest ways to clean kitchen chimney at home.
Take a piece of cloth and soak it in the paint thinner or the nail polish remover. Now use it to scrub the chimney filers and the other parts of the chimneys. After you are done with the scrubbing, wash the parts thoroughly in water and then keep them in the sunlight to naturally dry.
Use caustic soda to clean kitchen chimney
If your kitchen chimney is too dirty and cannot be removed with the above-mentioned ingredients, then caustic soda is a good option for you try. Caustic soda is acidic in nature and hence it easily removes the stains in just one use.
In order to clean your chimney using caustic soda, take a tray and place the filters there. After that, sprinkle some caustic soda on the filters. Then pour boiling water on them. You will see fumes coming out. Let it stay for 2-3 hours and then remove them, scrub to clean it and then let it dry.
You must be careful while using caustic soda to clean kitchen chimney. When the fumes start coming, stay clear from that and prevent inhaling those fumes. Also, you should not touch caustic soda with bare hands as it may burn your skin. Use gloves throughout the cleaning process.
Why clean kitchen chimney frequently?
Kitchen chimneys have become a necessity nowadays provided the amount of smoke that occurs while cooking most Indian dishes. Such smokes can affect us physically and so it is best to have chimneys in kitchen. However, cleaning of chimney may seem quite difficult but if it is done on a regular basis, then it won't be tiring. This is because too much accumulation of dirt, oil and grease makes chimney cleaning difficult. No matter how much you try, the oiliness remains. Also, if your chimney is filled with too much of oil and grease, it will not be able to perform properly. There will be more chances of getting damaged easily.
Moreover, whenever there is excessive dirt, there is the chance of accumulation of germs which may cause health issues. And, since kitchen is where the foods are cooked, it must be cleaned very frequently. Also, if your kitchen chimney is not cleaned for long, it will make your kitchen stink. That is why I recommend getting it cleaned on a monthly basis so that they do not get too much dirty.
You must also keep a thorough check that your chimney is performing perfectly. Note whether all the smoke is effectively cleared by it. Check out if there is any abnormal noise or any sign of malfunction. If you notice any such things, then immediately consult the manufacturer or an expert and get it fixed.
The bottom line
Given the type of dishes we cook, chimneys are really important. They take lots of efforts in keeping the kitchen smoke free. But in such process, they themselves accumulate too much dirt and grease. So, cleanliness is very important and you must clean them on a monthly basis.
However, it is better to use easily available ingredients like dishwashing liquid, baking soda, and vinegar, salt etc to clean kitchen chimney at home. These are naturally good cleaners and their mild abrasive nature, helps you remove all the dirt and stains from the kitchen chimney. They are quite safe to use and are also very cost effective and that makes it the best cleanser for home and kitchen chimney cleaning. Most importantly, most of these natural cleansers are easily available and hence you can use them to clean the kitchen chimneys whenever you want to.
I have also mentioned caustic soda in my list. Although, I am not a very big fan of it despite its great cleaning abilities, but in some situations when the accumulation of dirt and oil gets too much and there are too many layers that cannot be cleaned properly by the other ingredients, caustic soda appears to be a good choice. However, you must be careful with the fumes and never touch it with bare hands.
And, as far as the other chemicals in the market go, it is better to avoid them. This is because most mesh filters are made of aluminum thread made sheets which may get discolored if you very harsh chemicals, soaps, detergents etc while cleaning. So, using the natural products is probably the best thing to do and so you must try the ingredients that we have discussed here.
Here, I have also more or less explained the techniques how to clean the chimney filters. But, these are the general ways to get it cleaned and, there are many types of chimneys and not all of them may require the same technique. So, make sure you read the cleaning instructions well before cleaning. And, in case you are confused how to clean kitchen chimney that is in your home, then contact a professional to get it cleaned perfectly.
Do you use kitchen chimney and wondering about how to clean the chimney easily all by yourself? Then don't worry and try some of the chimney cleaning tips we have discussed above. Once you try these chimney cleaning tricks, don't forget to share your feedback by commenting below. Also, if you use any other hacks and cleaning techniques to clean kitchen chimney, then feel free to share those tricks and tactics.
And, if you are looking for the trustable kitchen accessories reviews, be sure to check Kitchenistic as they are covering lots of useful kitchen products and gadgets.
Until then, stay safe and keep your kitchen chimneys clean all the time. And, please do like, comment and share my post with others in case you find it valuable.