Are you planning to buy a new home and looking for cost effective design ideas or do you want to renovate and do a complete makeover of your present home to increase its aesthetic value? Well, whatever is the case, if you are planning to design and decorate your home without spending a lot of money then I have got you covered. As today in this post I am sharing a few of the best tips that'll help you to furnish your dream home in budget.
The very first thing that I want you to know is that although most individuals dream of having a big, spacious and luxurious home, it is the memories and the lovely people around that actually make the home dreamlike and worth living.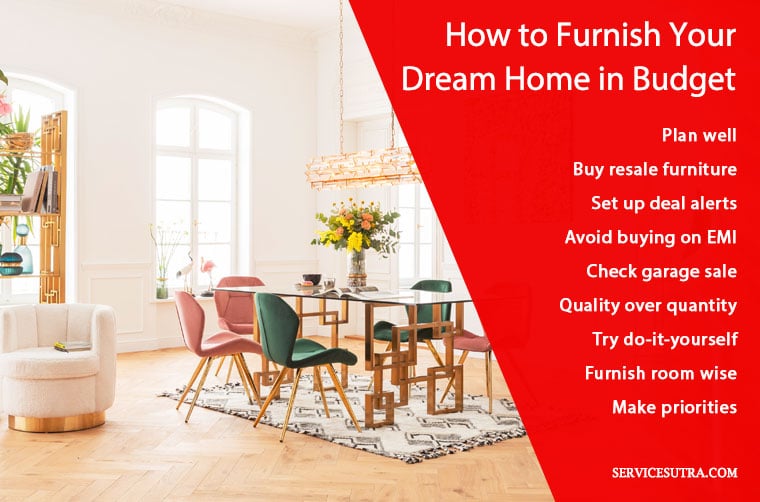 So, even if you don't want to spend a lot of money on top level furnishing accessories to decorate and furnish your home technically, you can always design and furnish your dream home in budget. Practically speaking, home furnishing does not always require you to spend a huge sum of money. You can easily go for some minor upgrades and make your house look aesthetically pleasing and also increase the value of your home and eventually turn it into your very own dream home. And therefore, if you are wondering about how to furnish your home without spending a lot of money, then check this quick and simple checklist to furnish your dream home in budget.
However, before starting with the checklist, I just want you to fix a budget first no matter how minimal it is. This is because having tentative budget to furnish your home in mind will help you plan your spending wisely.
I also suggest you to keep a tracker to keep track on your expenses time to time so that you are constantly reminded on how much is left for you to spend. In the meantime, you may cut off your unnecessary expenses and invest only on the essential aspects of furnishing, and do some extra savings for your home furnishing if possible.
Now, coming back to the checklist to furnish your dream home on a budget, here are some simple things for you to note and track to get it right:
Plan well
It is very important for you to visualize what your home must look like after the furnishing. For that, you can just visit every room in your home and note down whatever renovation or up-gradation or additions you want there to complete the look of the space. Trust me; this will help you start with the furnishing work, because by now you will have a clear idea of what you want.
Moreover, keeping a list of items to buy will also prevent you from making impulsive choices when you are shopping.
Get your priorities right
Once you have made the list, it is time to prioritize things. Since you are on a budget, it is necessary so that you can start the furnishing work with the essential things and then move on to your second priorities if there is money left. In short, get first things done first.
Buy resale furniture
All of us prefer furnishing our homes with new furniture and other items, but if you are on a tight budget, then sometimes you need to think otherwise. And, in this case, going for resale furniture items is a good choice. There are various stores that sell resale furniture and other accessories, which are usually in good shape and available cheaply. You may check locally in the store or even look online at classified websites as well. There, also you may find second hand furniture and other items at reasonable rates.
If these two does not work out for you, then you may ask your friends, relatives and neighbors if they have any unwanted furniture that they wanted to sell. Who knows they may be waiting to sell or throw away stuffs that may actually come handy to you.
Set up deal alerts and price checks
It will be good if you check deal alerts and price check websites. There are many websites like for example, SlickDeals.net that allow the customers to set up deal alerts for specific keywords like "mattress", "sofa" etc. You may also do the same and keep getting alerts time to time. Also, add your desired price range and your contact details. Trust me; this will really help you in furnishing your home on a tight budget.
Avoid buying on EMI
Stores that offer "0% down" or "no financing" deals are actually not worth it and you should stay away from them. The main reason behind that is because you may not require putting any money down at the beginning but in most cases, they do open a line of credits in the amount of your purchase. This may lead to hitting on your credit score and your credit utilization for that line of credit may get maxed out.
What is worst is when you miss any payment or is not able to pay within a certain time; your interest rates can skyrocket to as high as 20-30%. This can actually increase your expenses than what you might have originally expected. Moreover, it will also make things difficult for you as far as getting better loan rates for important financing in future is concerned.
Check garage and estate sales
If you want to do some major savings when furnishing your home, then checking local garage and estate sales is definitely a good idea. There are many families who are looking to get rid of furniture that are lightly used and who knows you may need just those only. Sometimes, people want to sell off many things when they are relocating due to job transfer or just want to buy bigger or costlier furniture, you can use such opportunities and buy furniture for less to furnish your home.
Quality over quantity
Too many household items will sooner or later turn your home into a clutter. And therefore when buying things especially on a tight budget, just make sure you put quality over quantity. Look for items that will be long lasting so that you do not have to spend buying similar items after some time.
Moreover, a home full of less items but good quality stuffs has got more value than a home crowded with too many cheap quality stuffs. It is also a good idea if you invest buying multipurpose furniture and items, and save yourself from investing in so many household furniture and stuff.
Also, while buying items especially furniture, make sure you put more emphasis on the comfort than the style. This is because you may sit on an old-fashioned looking chair but sitting on an uncomfortable one may give you severe back aches. So, choose wisely.
Try DIY options
Going for Do-It-Yourself home furnishing projects will save a lot of your money and when there are monetary restrictions, I think it is something which you can definitely consider. If you search the internet, you can easily get many innovative and interesting ideas, some of which are not that complicated as well. So, you can definitely give it a try.
Avoid doing all at a time
Unless there are any emergency situations, I feel there is absolutely no need to get your entire home furnished all at a time. In fact, if you hurry a lot, there is always a possibility of you ending up buying some mismatched furniture or items which you will want to get rid of within a year or two. And, if this really becomes your case, then your purpose of furnishing your home at a reasonable price will not be served here as all of the money that you have spent in buying those stuffs will go in waste. So, it's better to avoid that and take your time in making decisions.
Make priorities
The best way to do it right in budget is to divide the furnishing work. Focus on things that require your immediate attention, and concentrate on the most essential items first, and then take a break and carry on with the rest of the work later. In the meantime, you can save some more money as well and increase your budget if needed.
Instead of choosing randomly, you can also get the furnishing done room wise. The rooms that are more important can be furnished first and the other portions of your home can be left for later. Trust me; this will not put too much pressure on you all at a time. And, who knows by waiting, you may actually be able to crack more profitable deals as well.
Summary
A home is not fit to live unless it is properly furnished and decorated well. But, unlike popular belief, furnishing does not always necessarily require you to spend a lot of money. I mean, of course, you can if you are financially stable, but what I mean by this is that, you can actually get your home furnished really well even when you are on a tight budget.
We have already discussed about how to furnish your home in budget, and i hope you can use these tricks and hacks to get it right. But, the most important thing here is that you need to get rid of some of your inhibitions, not buying resale items, not asking anyone for their unwanted furniture, not bargaining etc. and once you are able to do so, trust me, furnishing your home on a budget will not be that difficult.
Also, if you are good at handiwork, then do use your potential to go for some DIY home furnishing project. If you are not too confident, you can take help from an expert interior decorator and then both of you can get some of the furnishing work done. This will help you get creative and save money as well.
I hope these tips and ideas will benefit you in furnishing your home. But, I will be looking forward to your feedbacks and opinions, so do write me back.
Also, feel free to share your suggestions and queries if any. And, if you found this article valuable, then feel free to like and share this post with others.
Happy home furnishing!