Are you planning to move to a new house, but not sure about what are the most essential things you should be doing before moving into the new house, then you are not alone. Moving in to a new house can be overwhelming and exciting, because the excitement and the feeling of contentment of buying a new house can be amazing.
I have also finally moved in to my new house and of course I was super excited about it. But you know what, no matter what, you are going to find it a little difficult to survive initial few days into your new house. Not, because your house is not good or that you are not excited enough about the new place and facilities, but you are going to often get into a situation where you will find something is missing.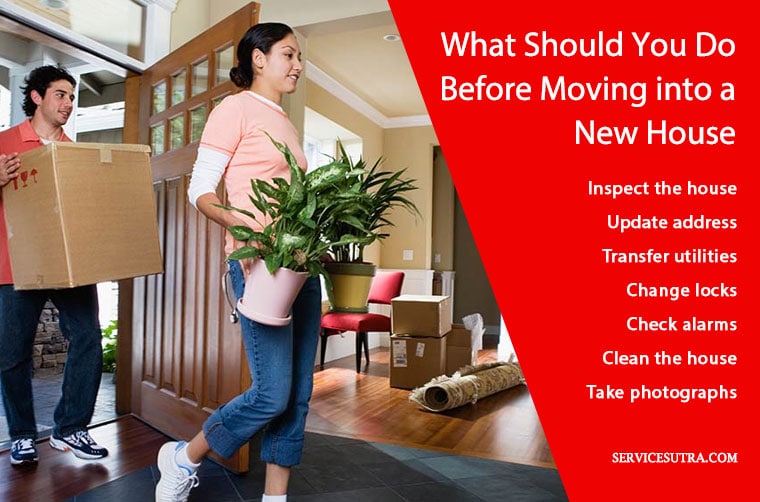 And therefore, it is important to ask this question on what should I do before moving into a new house? You got to take care of a lot of things and if you are moving to your new house anytime soon, then here's the answer to all your questions related what should be on your priority list of things to do before moving into a new house.
What should you do before moving into your new house?
You purchased a new house, and most likely you have brought an expert interior designer on board to design and furnish your new house. But, is your home fully ready for you to move in? If it is, then it's time to carefully look at everything and see what you need to do before moving in.
There are certain day to day things that you would require immediately after moving, and it's better to check these essentials and ensure that your house is fully ready to welcome you.
Also, if you believe in Vastu or Feng Shui, then you may have to prepare certain things as per your customs and belief. Here's a complete Feng Shui guide for moving house that talks about all the dos and don'ts that you should may like to follow.
Once that is sorted, you have to work on other things that may be crucial for you, and that's what we are discussing here in this post. Things like updating your address to ensuring that the interior designer has installed all the essential appliances and accessories properly, like the water filter, Air conditioner or ceiling fan etc.
Another important things to do is to find and book packer mover service for seamless moving experience, for they can help you get all your goods packed and moved safely and without any issues.
Once that is sorted, its time to move on to other important things that is to be done. So, here's the list of things to do before moving into your new house. Take a look at the things you should do before moving into your new house.
Inspect the house
And just before moving into the new house, you should do proper inspection for any error like leakage or missing installation etc. The interior designing team might have inspected everything at their end, but you should double check everything and ensure that your house is ready to move in. And if by chance, there is anything that is still pending, just ensure that it will be up and running by the time you move in. The new house should have all the appliances, gadgets, features up and running so that you can live comfortably after moving in.
Update address
Updating your current address for different subscriptions (and various documents) is an important thing to do before moving, and it is better if you get it done before moving in. This is because the living address is connected to so many things, starting from forwarding mails to maintaining subscriptions to insurance to banks to credit cards and so many things, so it's better you update the address at the right moment to avoid missing on any bills/subscription etc.
Transfer the utilities
Before moving into your new house, transferring all the utilities from your current address to your new house can be seriously important. For instance, if you must update the address with your local cooking gas dealer to ensure you get the delivery at the right address.
You should also ensure to set up all your physical utilities in your new house. By that, I mostly mean, gas, water and electricity. Well, it is true that the physical utilities companies are quite quick in as far as activation is concerned, but there will be no harm if you notify them about your move early. This is actually more important if you are moving in the peak season because during that time, they have lots of works to do in the other accounts as well.
Change the locks
It is important to ensure that the new house you are moving into is safe for you and your family. And, the first thing to ensure safety is to change the locks in your new house. This will give you a lot of mental peace and you can lie in your bed after the long and tiring journey without having to worry that a stranger is running around with a key to the front door.
Moreover, getting the locks changed before finally moving in with your belongings will also prevent your items from being exposed during that brief period of time while the locks are getting changed.
Change toilet seats
If you are moving into a rented apartment or have brought a home that was owned by someone else, then changing the toilet seats is always recommended. Trust me; this will give you the feeling that the home is fully yours now as you will not have to worry about what happened in it before you got the keys.
Now, if you are a clean freak like me, then I will definitely suggest you to go for a detachable toilet seat. This way you can actually take the whole thing off and clean every nook and corner of the toilet squeaky clean.
Do check alarms
You should check for fire alarm and carboxin monoxide detectors. For increasing the security of your home, it is very important that you check the smoke alarms and the carbon monoxide detectors.
So, before moving into your new house, go to your new home with a box of batteries and test every carbon monoxide detector and smoke alarm there. And, if you find that the building does not have a carbon monoxide detector, do get one. Also, remember when you are setting it for the first time, do it outdoors. This will allow it to get a clean reading of fresh air as the baseline.
Get your breaker box
When you have to find your breaker box using a flashlight, it is not much fun. So, it will be wise if you can dedicate some time to find it when you have your home's electricity. Also, find your main water shutoff and gas shutoff valves before you finally move in. It is better not to delay till a burst pipe gushes water into your apartment's floors.
Clean cabinets
It is always better to clean up the closets and the cabinets when they are empty. Once you start storing items there, taking all of the items out and then cleaning those spaces may be very time consuming. And therefore, it's better to get the cupboards and wardrobes properly cleaned when it's empty.
Clean the house
In fact not just the cabinets and the closets, cleaning the entire home is equally important. So, it's better to call a professional home cleaning service or get the house cleaned by any means before moving in.
Now since cleaning an empty home is easier than cleaning a home stuffed with your belongings. Therefore, I always suggest individuals to have a thorough cleaning of the entire home before moving in. Well, if you are able to get cleaning done on your own, then that is fine. But if you cannot, then it is better to schedule the cleaning with any professional from before.
Take photographs
While you are inspecting your new home, make it a habit to take clear pictures of your new space especially if you are renting. This is because, in many cases, there is a chance to lose the security deposit in future while moving out of that home in case there is any damage cause to your present space. But, if you have pictures of all the existing damages as proof, then you do not have to pay for those.
If you are buying a new home and you see certain damages that were not mentioned in the home inspection papers, then also, it is recommended that you take pictures of them. After that, contact the tenant, seller or the moving company, whoever is responsible for the damage and ask them to fix the damage or compensate you for it.
Also, be smart enough to take note of everything while conversing with them. This is because in case they do not want to fix the damages, you may consider visiting the small claims courts if the damages are quite serious.
Other tasks
Vacuuming the coils underneath or behind the refrigerator is an important task. These coils, over the course of time get ultimately clogged with dust and hair. This makes it difficult to release heat which in turn, makes your refrigerator work harder. So, better clean them up properly.
After you have vacuumed, with the help of a coil cleaning brush, clean them thoroughly. While you are at it, do flush the water heater in order to get rid of any sediment if there. Also, make sure you check if there is any need to replace the air filters.
Trust me, if you take care of all of these before moving in, it will help you set up a maintenance calendar from the day you moved in rather than remembering a lot of dates when easy task was last done.
Over to you
Leaving behind a familiar home full of memories can be saddening, but when the home relocation occurs for one's betterment, I think one should accept it gracefully. Besides owning a new home in itself is very exciting. It kind of reflects how much you have achieved through your hard work. So, simply enjoy the moment of success but at the same time, prepare your new home properly before finally moving in.
You may get some of the works done after moving as well, but if you want to lessen your work load after shifting, as it is you will be tired after the long journey, and then it is best to do a few of the essential things needed when moving to a new house.
Moreover, there will be a whole lot of unpacking and setting up work for you to after the relocation, so the majority of the other works you get done before moving you, the faster you will be able to settle down and get adjusted to the new space.
Moving in a new home is very exciting but in order to enjoy your stay in the new space, it is always advisable that you take care of certain aspects before finally moving in.
Simple things like increasing the security of your home, cleaning the new space, changing the address, transferring the utilities, inspecting your new space for any damages etc. makes huge difference, so better not keep them for the last minute. Understand that the more systematic you are from the beginning; the easier home relocation will seem for you.
I agree that if it is a long distance move or an international relocation, then at times, taking care of all of these is not possible but do whatever is possible. You may take help from someone who lives near your new home as well if you want to. The main thing is you will be too tired to handle so much workload after the relocation, so if you get things done early, it will be easier for you only.
Hapy