Buying a house is certainly one of the most beautiful decisions one can make. The process of buying your dream home can be exciting as well as overwhelming at the same time. Buying a house can be a long and lengthy process that involves finding the property, making financial arrangements, negotiating the prices, inspecting the property and finally getting it registered and making it a home of your dream. If you have decided to buy a house of your dream then you are up for a super exciting journey to buying a house.
Home buying process can be challenging and overwhelming, especially when you are buying your first home. Even though first time home buyers get certain benefits and advantages in terms of aid from housing schemes by the government (PMAY in India), the process of searching, choosing, making financial arrangements and finally registering the property is not going to be easy.
Irrespective of where you are in your journey to buying a house, I am going to help you get it right. To make things easier and worth for you, I am sharing everything you should know and consider when buying a house in 2021.
Here're the broad topics we are discussing in this detailed home buying guide:
Are you ready to buy a house?
Buying a house is a major financial decision as it involves a lot of money. And therefore, even before you start looking for available residential properties in town, you should think through well.
When you choose to buy a house, you must consider the financial commitments that you have to meet, not just once in terms of down payments, but every month in the form of EMI for many years to come.
Even before you start looking for properties on sale or approach a realtor or a property agent, you should prepare yourself financially. Carefully evaluate and look at your current financial position i.e. your income to expense and debt ratio.
Evaluating income to expense ratio is seriously important, especially if you are planning to avail a home loan to purchase your home. Just look at your monthly income from various sources, and subtract all the expenses and bills e.g. credit card bills, insurance premium etc to know how much you save every month. This will help you know your financial standing to a great extent.
Also, if you have any other debts like a personal loan or any other secured or unsecured running loan, then consider those expenses as well. Evaluating your financial position and income to expense ratio can help you decide if you are actually ready to buy a house.
Another important thing to consider when buying a house is to know what kind of property you need and you can afford. Buying a home is a huge financial decision, but it is an emotional decision as well, which means people often get carried away and ignore the affordability and their financial standing. Ideally that should not be the case.
So, after evaluating everything, if you feel you can commit to buying a house then you are good to go. Otherwise, it will be wise for you to wait a little, and increase your monthly earning and savings.
Buying an apartment Vs Independent house?
When you have decided to buy a house, the very next step is to decide upon the kind of house you want to buy. There are different types of houses available e.g. an apartment in a residential complex, an independent house like a bungalow or a villa in a developing society or a resale independent house available in town.
The default choice for buying a property is obviously a flat or an apartment, especially in major cities in India and around the world.
The simple reason to buy an apartment or a flat over an independent house can be summed up as:
Cheaper property price than independent house
The ease of financing through housing loan
Better lifestyle features and amenities
Safety and security of the family
Cheaper property maintenance cost
Let's check these factors in detail so that you can decide which is better for you, buying an apartment or buying an independent house.
Buying a flat is cheaper than an independent house
Usually, it costs less for buying an apartment than buying an independent house. Apartments are developed as multi-storied buildings, and the cost of development when divided into individual flats, comes a lot less than building the same size independent house. Another reason why buying an independent house can be costlier is because of the high price of the land, especially at good locations in a posh locality.
It's easier to get housing loan
Secondly, if you are planning to avail a housing loan, the chances of getting your loan approved and processed is much faster when you are buying an apartment than buying an independent house. Most of the private and public banks or lenders who offer housing loans approve major projects for housing loans. Also, the builders and developers approach those banks for pre-approval of projects. And therefore the banks can process and approve loans faster when you buy an apartment than approving a loan for buying an independent house.
Apartment offers better lifestyle
Apartment offers luxurious lifestyles as most of the residential complexes these days are loaded with lifestyle features like continuous power backup, a swimming pool, gym, and games room, and community center, club, shopping complex and what not. These modern lifestyle features and amenities make buying an apartment even more attractive than an independent house.
Although all these amenities and features can be built or added in an independent house, especially in a bungalow or a villa, it involves a lot of investment. Moreover, it's not just about a one time investment in adding these lifestyle amenities and features; you have to spend a lot of money every month in maintaining these facilities.
Safety and security
Safety and security is another factor that makes buying an apartment the better choice than buying an independent house. In most of the gated communities and residential complexes, the resident feels much safer as there are security guards. Anyone entering the complex has to go through the security gate and only after your confirmation a visitor will be able to reach your flat. The guards are constantly monitoring the common areas through the CCTV cameras and thus you feel safer. These safety facilities help protect your home from burglary and theft.
Same is not the case in an independent house. Of course you can hire security guards and even install CCTV cameras, but the monthly expenses for such security measures is going to be much more than what you pay as monthly maintenance in a gated community.
Cheaper maintenance cost
The property maintenance and repairing costs can be huge in case of an independent house. Usually the property maintenance cost and repairing expenses are less for individual flats owners and in most cases, the monthly maintenance cost comes at around Rs. 2 to Rs. 3 per sq ft of space in case of flat and apartment. However, the cost of maintenance for an independent house can go much more than that.
Therefore, even though you always wanted to construct a house of your dreams on a huge size plot, consider all these pros and cons of buying an apartment Vs buying an independent house. Only after considering these advantages and disadvantages you should take a call on buying a house.
However, if you have to take my words, I think buying an apartment is much better than buying an independent house. But obviously, only you can decide which types of house will work well for you, an apartment or an independent house.
Arrange down payment
Now that you have decided to buy a home, it's time to save and arrange money for the down payment to buy a house. You can avail home loans from banking and financial institutions, but they will not fund the entire cost of property.
The bank or the lending institution can finance anywhere between 75% to up to 90% value of the property. Maximum loan to value (LTV) of property is predefined by the Reserve Bank of India (RBI) Which does not allow a bank to finance more than 90% of the property value.
However, the exact percentage of loan that you may get depends on various factors and therefore it is safe to assume that if you have all the papers and documents and your credit score is good, you may be able to get anywhere between 75-80% of the property value financed as home loan.
However, the exact amount of home loan that you may be eligible for depends on your credit score and income. The lender would like to check your tax returns for at least the past three years along with other documents. The remaining amount i.e. roughly 20-25% of the property value has to be paid by you as down payment.
As you have decided to buy a house, you may have already saved the amount to be paid as down payment. But, if you have not, then this is the high time you start saving and arranging money for the down payment for buying your new home.
How to save money for buying a house or a flat?
They say, earning money is difficult, saving money is even more difficult. However, if you are seriously willing to save money for buying a house or a flat, then you may like to follow some of these simple yet effective money saving hacks.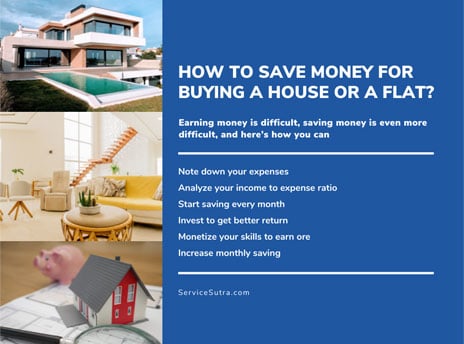 Note down your income and expenses
Unless you review and analyze your expense, you may not get to know where your hard earned money is disappearing. So, list down all your monthly expenses, no matter how small it may be. Classify your expenses as necessity and leisure.
Analyze your income to expense ratio
Now, evaluate both the expense heads for the last couple of months and you will find many expenses that you can get rid of. You can easily get rid of some of the expenses listed under the leisure category.
Start saving every month
Save that money and possibly invest in equity, mutual funds or recurring deposits. If you don't already have a bank account then you may like to open a savings bank account now. When opening an account, just see to it that you have the net banking facility as you'll need that for investing in Mutual Fund etc. Also, if you want to get into direct equity investing, then you need to have a demat account.
Invest to get better return
Equity and mutual fund investments are supposed to give better returns than the usual bank savings e.g. fixed deposits or monthly recurring deposits. So, whatever amount you are able to save and invest, learn and invest carefully and wisely as per your goal and risk appetite.
Monetize your skills
In order to save and invest more money for buying a flat, you have to increase your income and savings. So find ways to cut your monthly expense and increase your monthly income slowly. You can start a blog, teach online, make YouTube videos to teach or share product reviews, tell a good story i.e. do whatever you are good at and find ways to monetize your skills to earn more and save to buy a house.
Increase monthly saving slowly
When you get an increment, invest that amount to increase your savings instead of spending that money on things you may not require immediately.
Saving money is all about discipline and habits. If you are willing to tweak your spending habits then you can easily course correct, decrease your expenses and increase your monthly saving. No matter how small, you should start saving.
Also, I personally follow a simple rule for saving i.e. Earn. Save. Spend. No matter how much you are earning, you got to save a portion of that earning for your future and spend what remains after saving and investing. Not the otherwise i.e. earn, spend and then whatever is left will be saved.
Search for your dream home
While you are already taking steps and saving money to manage down payment to buy a house, you should start searching for a suitable property. Searching for your dream home that suits your requirements and budget can be time taking and overwhelming. Moreover, if you trust in Home Vastu Shastra and you are looking for a Vastu friendly home then it's going to be even more difficult. However, there are ways to search the best properties in town and here's how you should search for the right kind of property.
How to search for your dream home the right way?
Searching and finding the right kind of property is one of the most essential and important steps for buying your dream home.
One of the most essential and important steps of buying a home is to find a few of the available properties that meet your space requirements, budget and other priorities like neighborhood, view of the house, size of the property, common amenities and features you want in your new house.
When you buy a house, you should not just buy a house. You should buy the complete experience and that's when you will be able to make it your dream home.
Here are a few of the resources and ways you may like to try to find the best match property.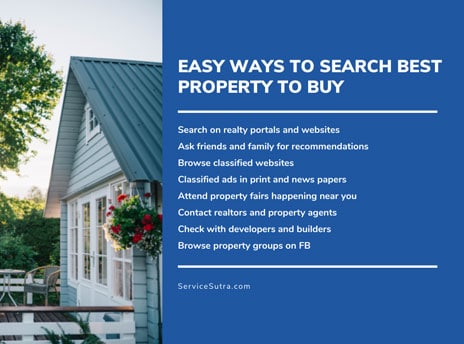 Search online on realty portals and websites like magicbricks.com, housing.com etc
Ask your friends and family for recommendations
Browse through the classified website like olx, quikr, craigslist etc
Classified ads in print and news papers
Attend property fairs happening near you
Contact realtors and property agents
Contact developers and builders
Browse though property related groups on social media sites like facebook
Ideally, you should check one or more of these resources and make a list of a few potential properties that you can choose from. Don't hesitate to make a list of many possible properties so that you have multiple options to choose from.
How to choose the right location for buying a house?
Choosing the right location for buying a house is one of the most important decisions you will make. Location of the property matters a lot. And therefore, when you are buying a house you have to look for the right location, if not the best.
However, properties in high end and well developed areas are going to be costlier than a neighborhood that's still developing or is underdeveloped. But, that should not be a concern for you, especially when you are on a budget. Just see to it that there is possibility of future infrastructure development and if that's the case, the area will certainly develop in no time.
Here are a few things to consider when choosing the neighborhood and location for buying a home.
Area should have basic infrastructure and livability quotient
Distance from your office and schools for your kids
Public transport and connectivity to that area like bus, metro etc
Accessibility of basic amenities like markets, shopping complex, nursing home etc
Possibility of future expansion in social infrastructure like road, drainage etc
Future appreciation of property value in that neighborhood
The area should be clean, peaceful and safe for living
Connectivity to the Airport, Railway station and interstate bus terminus
The idea is to look for a location and neighborhood that is good, safe, peaceful and well connected to other major destinations in the city.
Which types of house is best to buy?
Now that you know which location is best for you to buy a home, it's time to look at the various types of properties available near you.
Typically, you will find three types of properties, such as:
Under construction house
Ready to move house
Resale properties
Each of these property types offers different benefits. Let's take a look at the key features of each of these properties types so that you can choose the right type of house for buying.
Under construction house
Under construction properties are usually priced lower than a ready to move property. Many developers provide launch offers at the beginning stage of construction and if you can manage to book in the early construction stage, you may get some price advantage.
However, there are many under construction properties that have missed the handover deadline, and that makes such properties less attractive. If anything goes wrong due to legal complications or the market crashes for some reason, then that may simply delay the completion of the project.
Another important thing to note may be the social infrastructure because in early stage, usually the neighborhood may not be well developed. However, due to early booking at a better price, you can expect a lot of appreciation in the value of the property within a few years.
Usually such under construction housing complexes and properties get approval from the bank, and therefore getting a home loan should not be an issue.
All in all, if you are buying a house for immediate move in, then these types of property may not suit you, unless you are buying at a stage where the majority of construction work is already done. These kinds of houses and properties are most suitable for buyers who are looking for value appreciation or ones who can't wait for a few years to get possession and handover.
Ready to move house
Buying a house in a ready to move complex has its own advantages. These types of projects and properties are priced a little higher than the under construction housing properties. There is no risk of delayed possession and handover as the construction is usually complete and you can move in immediately. However, you should check the quality of construction of the building carefully before buying a ready to move house.
Buying a ready to move house may cost a little more, but there is no risk involved and that makes it the best option for homebuyers who are not looking for cheaper rates and better return on investment. Rather they want to buy a house to move in immediately.
Resale property
Third type of property option is the resale property. Buying a resale house is not a favorite for many of us, but it may be advantageous at times, especially in case of distress sale. Prices are usually the same or a little lower than the standard market rates in the area. There is no risk involved as you can get immediate possession and you don't have to wait for it. And another benefit is that if you get a fully furnished house, then you can save on the interior decorating expenses to some extent. All in all a resale home buying may or may not suit you, depending on how you look at it.
Select a right size house
Buying a house is also an emotional decision and any homeowners get carried away after looking at the properties and end up buying costlier or bigger homes than they actually need. Ideally, you should consider the size and budget of the house when searching and choosing a home for buying.
Searching, sort listing and choosing a home can be overwhelming because you will often find homes that will match just a few of the criteria. And when everything matches your expectation, then it may be a little more than your budget. However, you should not feel frustrated and tired. The best you can do is search many properties that match most of your expectations and then sort and choose a home that suits you the most.
Here are a few of the things you may like to consider when choosing a house:
Affordability and the cost of the property, plus other expenses e.g. registration, interior and exterior house design and decoration cost, furnishing expenses etc
Overall size of the house and number of rooms
Condition of the house in case you are buying a resale property
Number of bedrooms and bathrooms you need
Amenities like swimming pool, gym, games room, community hall, front and back view etc
Utility expenses in the neighborhood
Registration expenses and property taxes
Ideally, you should list all our priorities in an order and then choose a property that matches most of the features you want in your dream.
Size of the house – carpet, built up and super built up area
As you already know homes are priced based on the size of the house. When you meet the realtors and developers to buy a house, you often hear the say carpet area, built up area and super built up area. If you are not sure what that means, then let me explain it to you.
What is the carpet area of the house?
Carpet area is the wall to wall measurement of the house, including balconies and closets and excluding any common space.
What is the built up area?
Built up area is the wall to wall measurement of the house including walls and excluding common space. It's generally 10% higher than the carpet area.
What is a super built up area?
Super built up area is the built up area plus the proportion of the common space of the building such as staircase, lobby, elevator etc and excluding terrace, garden and parking space.
Your developer will charge you on the basis of the super built up area. However, you should carefully evaluate and consider the actual carpet area of the house when buying. If the carpet area matches your size and space requirements, then you should zero in on the property for buying.
Property inspection checklist to choose the right house
Choosing your dream home requires a lot of efforts, and depending on which types of property or project you are evaluating, you may have to put in efforts to ensure that you are buying it right. Here's a quick property inspection checklist that'll help you evaluate the property from a different point of view and you won't miss out on anything essential.
Visit the site at different times of day to know what to expect from that area.
Ask and investigate about the water logging issues in the area, as that could be the biggest drawback during the monsoon. You can even visit the site during the monsoon to see what it looks like on a rainy day.
Carefully evaluate the construction quality by looking for any crack/moisture/damp/fungus etc in the walls and ceiling.
Look at the quality of fittings in the bathroom, kitchen and other applicable areas.
Any types of cracks on the outer or interior walls may be due to the poor quality of construction.
Meet the onsite engineer to ensure that the construction is done as per the planning and structural drawing.
Look at the number of lifts in every block.
Which lift is installed, is it a manual one or an automated one?
Look for the power backup facility and the capacity of the power backup for every flat.
Evaluate the water treatment plant and its capacity
Carefully look at the wiring and electric points, especially for Air Conditioner
Mobile network is another big concern these days and therefore carefully see if you are getting proper network in the flat you are planning to buy.
Operate the toilet flush to check if it's working and the water pressure is good.
Carefully check for any types of leakage in the walls, ceilings, under sinks etc mainly in the kitchen and bathroom area.
Carefully evaluate the safety features like CCTV camera, security guards and other safety measures.
Look at the emergency fire installations and if that is enough.
Check for a fire audit certificate which is offered by the fire safety department to be double sure that the building or the complex meets the fire safety standards.
This is a tentative property inspection checklist that covers most of the essential things you should look for. But, feel free to add any other task to this list and evaluate the property well before selecting.
How to negotiate the property price?
Did you know that prices for homes on sale are not fixed, and there is always a chance to negotiate well and bargain for a better deal?
Yes, you heard that right.
Here're a few of the quick and easy hacks that'll help you to negotiate the property price and get better rates and offers from the developer or the seller.
First of all, find out if it's a distress sale i.e. the seller is in a hurry to sell it out.
Even if you are interested, don't get overexcited and show your immediate interest.
If you have noticed drawbacks in the property, then highlight that.
Research about the general property pricing trend in the neighborhood.
Start negotiation with 10% lower than the asking price.
Bargain for cheaper rates as well as some freebies like extra AC points or free false ceiling or an independent car parking?
The idea is to try everything that can help you bargain with the developer. Remember that even if you are able to negotiate Rs. 100 per square feet, it's going to be a lot of money for 1200 sq ft flat.
Home loan and financing
Home loans are easily available these days from banks and other lending institutions for buying a house. However, there are multiple banks offering housing loans at different interests and with different features. If you are buying a house and you are wondering about how to avail home loan and arrange secured finances to buy a house then I have got you covered.
In this section, we are talking about everything worth knowing about home loans, rate of interest, application process, loan eligibility criteria, and much more.
What is a home loan?
A home loan is a secured loan that can be availed by eligible home buyers to purchase a house. Home loans are offered by national and private banks and other financial institutions. When you borrow money to buy a home, the lender keeps the property as mortgage and therefore it is considered to be a secured loan. Home loans can be repaid through EMI (equated monthly installment) and once you repay the entire loan amount (loan amount plus the interest) you get the papers of the property.
Home loans are primarily meant to help an eligible home buyer in buying a house. However, some of the banks and lenders also offer home loans for repair and maintenance related expenses. Moreover, different banks offer home loans at different rates of interest and they may charge some processing fees, it will be wise for you to check loan offers from multiple banks and institutions before applying for a home loan.
What's the documentation for a housing loan?
Housing loans involve huge amounts of money and usually the tenure of the loan is more than 15 years and therefore banks will ask for different types of documents. Apart from the following documentation, the person must be salaried or a self employed and should file income tax returns.
Here's a quick checklist of documents that may be required for a housing loan in India.
Filled and signed home loan application form obtained from the bank or the financial institution.
A cheque toward the loan processing fee which is non-refundable and amount varies from bank to bank.
Three color passport size photographs from the front.
Proof of identity e.g. PAN card, driver's license, Aadhar card or passport
Current residential address proof e.g. driver's license, passport, ration card, recent telephone or electricity bill.
Proof of salary e.g. copy of income tax returns (last three years) and original salary slips or proof of business in case of a self employed applicant.
Income tax returns with computation of income for the last three financial years, along with tax payment challans.
Balance sheet and profit and loss account for self-employed individual
Bank statements or passbooks showing the transactions for the last six months or so.
Apart from that, the banks will also ask for some papers and documents related to the property. These documents are usually provided by the developer if you are buying from a developer.
If you are buying a resale property from an individual then the bank may ask for a search report, sale deed registered in the name of the owner from whom you are buying the property, mutation certificate and property tax receipts etc. If you are taking out a loan to buy a resale house, then your bank will advise you about the specific documents they need related to the property.
What's the credit score?
Credit score as the name suggests is a numerical score that represents a person's creditworthiness or his/her ability to repay a loan. The credit score (CIBIL) can range from 300 to 900, and a higher score represents better credit history across different loans including your credit card bill payment history. When you have a higher credit score, you can expect to get easier approval for your local application.
A lower credit score can easily lead to rejection of your housing loan application and therefore, if you are planning to avail housing loan to buy a home, you should be mindful of maintaining a good credit score.
Here're a few ways to maintain good credit score:
Pay all your bills on time e.g. any existing loan EMI and your credit card bills. If you miss or default your credit card bill payment or paying EMI of an existing personal loan, car loan etc, it badly affects your credit score.
If you don't have a credit card, then maybe have one and use it with discipline i.e. make payment through cards and always pay the credit card bills within the due date as it will boost up your credit score.
Don't check your credit score too often – i.e. for instance when you apply for a credit, your credit score is calculated and too many and too frequent requests make you look like a credit hungry person and that may affect your credit score badly.
Maintaining good credit history is seriously important to get any type of credit or a housing loan. If you are planning to apply for a housing loan, then you should start improving your credit score from today.
Tips to choose the best home loan in India
Most of the private and national banks in India offer housing loans for buying a new flat or constructing a new house. There is no shortage of lenders, especially for those who have a good credit history and are in a position to repay the loan.
However, every housing loan is not the same. Housing loans from different banks may differ in terms of processing fees, rate of interest, repayment tenure and other features. And therefore, it is always better to compare and review a few of the best loan offers and then choose the best home loan that offers you more flexibility and lower interest rates.
Here are a few things you may like to consider when choosing a housing loan for buying a flat.
One of the most important things to look at while choosing a housing loan is the rate of interest.
Ideally, you should look for loan offers that offer the lowest rate of interest.
To get a better idea of the rate of interest of a particular bank, compare the interest rate for past few months and see how they fare against their peers.
The next important thing you should look at when choosing a housing loan is the repayment terms.
You should look for loan offers that offer better repayment flexibility e.g. you should be able to repay the full or part of loan amount when you want.
Similarly, you should have the option to repay extra EMI every quarter or year without any charge.
Portability is another feature that you should look for – you should be able to easily transfer the loan to another eligible individual, in case you wish to sell your house.
Turnaround time is yet another feature that you should consider. Ideally you would want a housing loan from a bank that can process and release funds faster and without much hassles.
Also, look for the processing fees and any other hidden charges e.g. valuation fee, prepayment fees, and other miscellaneous charges and fees.
Negotiate well for any concession or fee waiver
Home loan interest rates
Usually there are three types of interest at which a home loan can be offered by a bank:
Variable interest rate– The rate of interest for such housing loans may go up or down as per the official cash rate of the bank.
Fixed interest rate– as the name suggests, the rate of interest is fixed for such loans, and therefore the applicable rate of interest will remain the same for the entire tenure till the loan is repaid.
Mixed interest rate– in this case the rate of interest for your housing loan is going to be the combination of fixed and variable rate i.e. rates can be fixed for certain duration and it may change after that.
As a buyer, you should evaluate the entire loan schedule to get a better understanding of the total amount that you have to pay. Naturally, you should choose one that costs you less and offers more flexibility than the other loan offer.
How do I apply for a housing loan?
Once you have researched about the banks and lending institutions, here's how you can apply for a housing loan.
You can directly contact a branch near you or you can apply for a loan online through the website of the banks. Once you share your interest for a home loan online or offline, usually the banks will take it forward from there. They should share the loan application form and share the documentation required along with the processing fees if any.
Fill up the application form carefully, attach all the documents required e.g. general KYC documents like PAN card, Aadhar card, Address proof, income tax return of last three years, bank statement etc, along with the processing fees.
Once you submit the filled home loan application form, the bank will verify all the information and may approve or reject your application. Banks usually evaluate your credit score and check your ability to repay the loan amount you are asking for. The banks also need to ensure that the property you are buying is a free hold property and has all the clearance and approvals from required authority.
After evaluating your eligibility for loan, the property you are interested in and your ability to repay the amount, if they decide to approve your application, then a representative of the bank or third party will visit your home to verify your address. Some banks verify both residential and work addresses and such verification is usually carried out by a third party company or an independent service provider authorized by the bank.
Once the verification is over and everything is found to be satisfactory as per their finding and evaluations, the bank will finally approve your loan and prepare the agreement. They will contact you and set a schedule for final documentation. Make sure to carry all the original documents you have provided to the bank like PAN card, Aadhar card etc when you visit them for signing the loan agreement.
However, you should read the loan agreement very carefully because no matter what the representative or your loan agent might have told you, this final agreement between you and the bank is going to be the final document that talks about the loan amount, rate of interest, EMI amount, date and other terms and condition of the housing loan.
Hence, you should read the loan agreement carefully, and if there is any doubt or you are unsure about any clause, then you should get that clarified and sorted before signing the agreement.
Once the loan is approved, the bank can release full funds in case of resale or a ready to move house. If you are buying an under construction house, then the bank will release the amount as per the development schedule and demand by the developer. In case of under construction property, payment is linked with the progress of construction and therefore when the developer sends a demand notice for payment, you have to forward it to the bank and the bank will pay directly to the developer.
Things to check before signing the housing loan agreement
After evaluating your application and all the documents, if the bank or the lender decides to approve your housing loan, then they will prepare a loan agreement that has to be signed by you. Housing loan being a huge financial commitment, you should carefully read and understand the agreement before signing.
Here are a few of the important things to consider before signing the agreement and accepting the home loan offer to buy a house.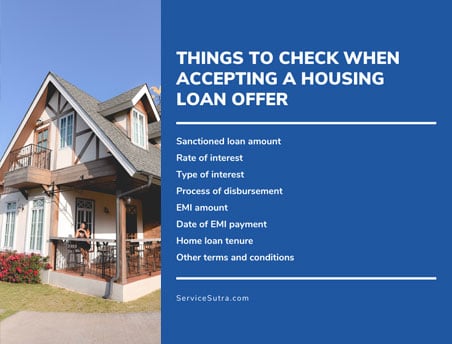 Amount of loan sanctioned by the bank
Applicable rate of interest rate on your housing loan
Type of interest applicable e.g. floating, fixed or mixed interest rate
What's the process of disbursement of the sanctioned loan amount
EMI – amount, number of EMIs and date of payment for EMI
Home loan tenure – i.e. number of years by when you have to repay the entire amount
Other terms and conditions of the loan and repayment.
It's seriously important to study the document and only after understanding everything terms and features, you should go ahead and sign the document.
Registration, taxes and interior design expenses
I have said it earlier and I am saying it again – buying a home is a huge financial commitment. If you have decided to buy a home, you must be financially prepared and committed. You might have saved for the down payment and can apply and get a housing loan as well.
But, there is more to it. Apart from the property price, you have to manage the margin money to cover other expenses like registration, stamp duty, mutation, interior decorating and move in expenses.
Consider these expenses and cost heads as well so that you know about your financial commitments well in advance.
Stamp duty – the charges may vary from state to state, but it would be safe to assume it's going to be nearly 4-5% of the property value. So if you are buying a flat worth 400000, you may end up paying around Rs. 160000-200000 in stamp duty.
Registration – may cost around 1% of the property value or maximum of Rs. 30000.00
Brokerage – if there is a broker involved then you may have to pay around 1-2% of the property value as brokerage fees.
GST – GST is also applicable @ 12% on all under construction properties. However, it's NIL for ready to move properties or in completed projects.
Interior design – you are most likely going to buy an unfurnished flat and if that's the case, then you have to spend some money in decorating the flat. Depending on the level of interior designing work you want to carry out, you may have to spend anywhere between 10%-15% of the total property value. Interior designing costs depend on several factors. However, the majority of the money is going to be spent in carpentry related works, ten false ceilings , lighting and painting. 3 BHK interior design cost in Kolkata or other metro cities in India can well run between Rs. 7.5-10 lakh, and hence this could be a major cost head worth considering. However, interior designing can be done at a later date, or you may not need to do it completely. So think of it as an optional expense.
Moving expenses – once the property is registered and ready to move you have to hire moving service to get your goods packed and moved to your new home. Although, moving to a new house may not cost a lot of money, especially if it's a local move within the city. However, a long distance move can be a costly affair, so plan for this unplanned expense as well when buying a flat for immediate move-in.
Final thoughts on buying a house
Choosing to buy a house is a big emotional and financial step. It involves a lot of sweat, planning, money and what not, especially when you are trying to buy your first house. The home buying process can be lengthy and overwhelming for many of us.
There is so much to think and consider from choosing a neighborhood to buy a house, to selecting the right size house, arranging down payments to applying for a housing loan, and finally getting the property registered.
To make the overall home buying process easier and convenient for you, we have shared everything worth knowing about buying a house in India or abroad.
Check this detailed home buying guide and let me know what you think of it. If you follow this buying guide carefully then I am sure you will have no issues in finding, selecting and buying a house.
If you have any question or concern, feel free to post it below in the comment section and we'll get that answered for you.
Happy home buying!