Since the dawn of time, guys have needed a spot where they can just be dudes. It's just a fact of nature: a man needs a man cave. It's a place to hang out with friends, watch the big games or brainstorm new startup ideas.
But deciding on exactly what needs to be done to turn that extra space into a dude-ready man haven can be tricky – what exactly should I do to make sure the boys are able to chill out in my certified man space? Check out this handy list of man-friendly room makeover tips to get your lad space in tip-top shape.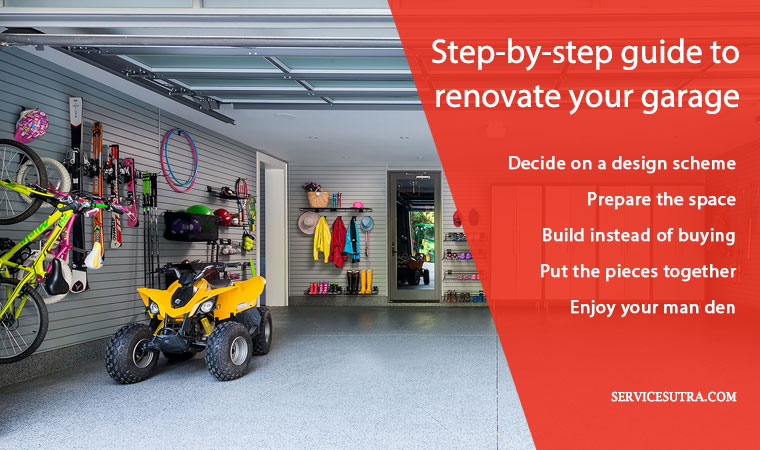 Step-by-step guide to renovate your garage
If you have an empty garage then you can easily renovate and make it the ultimate place for different activities. But before you get started, it is important to define the main objective of renovation i.e. how do you plan to use the space. Once you know the main objective, you'll be able to choose a theme.
Whether you are planning to use this space as a place to hang out with friends, or you want to use this space to create the awesome music, based on the objective and purpose of use, you can easily choose a theme. And, once you have chosen a theme, you can work on a design and get it all up and ready for your gang.
Check this step by step guide to get started with renovating your garage.
Step 1: Decide on a design scheme for you man cave
Wait, isn't design for ladies? Not always. Today, you're deciding what totally man-tastic theme you want to deck out your man cave with. Will it be trucks? Maybe military? Sports? There are a number of great options out there to consider. Think about your hobbies and favorite pastimes.

One of them might be perfect for a man cave. If you're a die-hard Broncos fan, consider getting team gear for your decor. If you love your pickup, maybe get some car posters, hub-caps, and license plates to put up on the wall. Getting an awesome design theme is the best way to make the space fun, comfortable, and awesome.
Step 2: Prepare the space
You'll want to be sure that the space your man cave is in is ready to be filled with your dude stuff. If it's a garage you're renovating, do plenty of sweeping to make sure that the space isn't too dusty and dirty. It's true that guys and dudes don't mind a little dirt, but you wouldn't want your team gear getting too dusty – it's all about respect.
Clean out all that old furniture from your grandma's living room (floral couches don't exactly scream man cave) and maybe get some large boxes to sort the smaller stuff that might be cluttering the space. Workbenches and tool racks are cool to keep out, and, in addition to being useful, add a very masculine vibe to your work area.
Step 3: Build instead of buying
Sure, you could walk into a store and buy all the furniture you might need, but that's going to be pretty expensive. In a solid man cave, you'll want a coffee table, a TV stand, a table for poker or other games, and definitely a bar. Buying all that stuff will definitely get pricey, so why not put what your dad taught you to work and build that stuff yourself. You're going to need plenty of lumber, a trusty drill, nails, epoxy resin, and a sander.
There are great DIY guides to follow online, so don't give in to the pressure and impatience of buying all your furniture from the store; try to build that stuff at home! You'll probably want a wide-screen TV in there too, and while we'd be proud if you could build that yourself too, it's probably easiest to pick that up at the store.
Step 4: Put the pieces together
You know the theme and have bought the gear; you cleaned out the garage and organized your junk; and you've built some awesome dude-ready furniture with your own two hands. It's time to put those pieces together. And hey, if your boys are planning on lounging and drinking in your man cave, we think it's only fair that they help you out with the move-in process.
Get those hombres in there to help you put the furniture in place and figure out how to run the cable wire from inside the house to the TV in the garage.
Step 5: Enjoy your man den
Once you've put in the hard work and got your man cave all spruced up and guy-ready, you can sit back, relax, and chill with your man gang. Spend some quality time hanging out, enjoying BBQ, and ballgames with the boys.
Over to you
If you are planning to renovate your garage to make it the ultimate man cave and you are wondering about how to get it right, then I am sure you have got some cool ideas to get started.
Renovating your garage will be fun when you decorate it based on your favorite theme. Once you have chosen your theme, the next step is make the space ready for renovation. Once the space is ready, you can get started by building it bit by bit as per the design.
How do you plan to renovate your garage and make it the ultimate man cave?
Feel free to share your ideas by commenting below.
Happy renovation!