What I like most about shopping online is that I can quickly compare the product, its MRP, offers and discounts, user reviews and exact technical specification before buying. And once I am done with the comparing and researching about the product I intend to buy, I can order it from the site that gives me the best value for the money I am spending. You can't really distinguish between a good product and a bad product, unless you compare its specification, prices, reviews etc. Similarly, when you want to relocate your house or require storage services, unless you compare moving companies, you can't really be sure that you have hired the best moving company, that'll deliver the best service and at best price.
If there is an upcoming local or interstate move, then the only way to ensure safe and hassle-free experience is to book a full service moving company that has the resource, expertise and experience to pull it off successfully for you. in this post, I am going to talk about, why your upcoming move won't be successful if you end up choosing an average moving company, that can't really handle all the complications involved in long distance moving.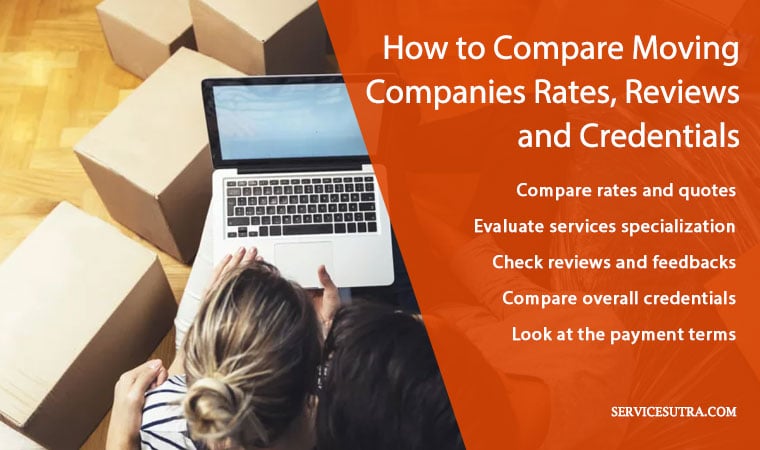 In order to choose the best possible moving company for a local or an interstate move, you must compare moving companies, and do it the right way. And, If there's an upcoming move and you are not sure about how and what to look at when comparing moving companies, then here's the post worth checking. Because, I am discussing it all in detail, that'll help you to take an informed decision about choosing a moving company, after comparing and evaluating them on several crucial parameters.
Today, in this post, I am going to answer all your questions on how to compare moving companies for safe, affordable and cost-effective home relocation and storage service needs. And, I am also going to talk about what to look for when researching and comparing moving companies.
Just remember that when you are comparing moving companies, then it's not just about comparing quotes and rates of movers, there is more to it. So, you have to know how to compare moving companies and do it right to relocate without hassles.
So, are you ready to explore the fool proof ways to evaluate and compare movers for local and interstate home shifting services?
Here, we go.
How to compare moving companies – quotes, credentials and all that matters
Let's make this one thing clear – the quality and credentials of moving companies can seriously impact your overall home relocation experience. The whole idea of hiring a local or interstate moving company is to ensure your goods get packed, picked and transported safely and without hassles.
In order to move your goods safe, sound and in cost-effective manner, you have to choose a moving company that:
Offers the kind of moving or storage service you require – because every moving company may not offer local shifting or interstate move or vehicle shipping for that matter.
Is competent with their pricing – since they offer services, they have the pricing power and prices can easily vary from company to company.
Professional and transparent communication – it can be really frustrating when they do not respond to your calls or when they hide facts from you.
But, you can't really find a truly professional, reliable and affordable moving company in the town unless you compare and evaluate a few of the best possible companies near you.
Irrespective of the city you are living in, a simple online search can fetch the details of hundreds of moving companies near you. And, choosing the right moving company that offers good quality packing and moving services, competent rates and respond promptly to your calls is not easy.
In fact, it become even more difficult to choose a moving company when you need one, because every other company is going to pretend to be the best moving company in town. And they'll even claim that their moving service rates are the most competitive in the market and that they have the largest fleet and most experienced executives to pack, pick and move your goods safely.
But, you can't really pick a moving company without researching and evaluating properly. And if you pick company without comparing, you may end up paying more, to a mediocre moving company that's not worth it.
There are average and mediocre companies in every sector and moving and relocation industry is no exception. The moving companies are generally good, but there are some bad companies as well and the challenge is to get rid of such bad and average companies by comparing the best possible moving and storage companies for your local or interstate relocation or storage service needs.
Right ways to compare moving companies near you:
Compare rates and quotes
Evaluate services and add-ons
Check reviews and feedbacks
Compare credentials of the moving companies
In order to find and choose the best possible moving company for home shifting or household storage needs, you got to compare and evaluate all the probable moving partners based on above parameters.
Apart from the above key parameters, there is a list of question you should ask these moving companies when hiring. Against each of the questions and parameters, you can assign them a rating at the scale of 1 to 5 and then compile it to find the winner.
Some of the prominent and important question worth asking the movers and packers while comparing them for your upcoming move or storage needs are here under:
1. Are they a licensed company?
2. Since long they have been in the business of shifting or storage
3. Do they have a local office in the city you are moving from?
4. Do they have a branch at the city you are moving to?
5. Do they have a dedicated customer support team to handle greviences?
6. Are they willing to put all the commitments in writing?
7. Are they doing it on their own, they intend to subcontract to a third party?
8. Do you have liability insurance?
9. Are the subcontractor licensed (if subcontracting)?
10. Did they give breakdown of estimated costs?
11. Is the payment terms flexible enough?
12. Do they accept payment by cheque/cards/wallets etc?
13. What's the process of claiming insurance?
14. What's their service specialization?
15. Do they use new and quality packing materials?
16. Do they load manually or with equipments?
17. Is temporary storage included in the quoted price?
18. Is the quotes final and covers everything?
19. Is there any hidden charges, other than what is mentioned in the quotation?
20. Is the quote for door to door service?
21. What's the expected delivery timeline?
We have created a worksheet as well that can be downloaded here. Use this work sheet to while comparing and evaluating moving companies to get it right.
Compare moving companies – request for estimates
Whether you are moving locally within the town, or you are moving to another state, or you want to send some extra household furniture to storage and warehousing facility, I am sure you want to get it right by spending as less as you can.
We all want to get the best we can, at the most competitive rates, be it when we are buying a product or a service. Luckily, by comparing rates and quotes of professional moving companies, you can save as much as up to 25% on overall moving or storage service costs.
Amazed? But that's true.
To get started with comparing rates and quotes of professional moving companies, you have to request all inclusive and accurate estimates for moving or storage from three of the leading movers and packers companies near you.
Also, while finding rates by requesting quotes and estimates from moving companies, don't trust verbal and on-phone quotations. Many times, the movers may not get the accurate idea of the size of the move and they may end up keeping their prices low to stay in the game. Such quotes and never final and later it may increase, so avoid in phone quotations.
You better invite the moving companies to send their representative or manager for pre-move survey. Every moving company offer free at-home survey for it helps them take stock of the inventory and get accurate size of the move, which is critical for the pricing.
The surveyor or the representative of the moving company gets clear idea of:
Number of items, especially the major furniture and home appliances that needs special packing and attention while handling.
They can see the parking area, floor of the house, access to elevator as all these factors may affect the labor cost.
You can schedule a date and time according to your convenience and invite all of the moving companies you are interested in to do a visual survey of all of the household materials you intend to pack and move.
After surveying everything, the movers will be able to submit their quotations. Invite all the moving companies you are considering to hire to do the pre-move survey and accept rates and quotations from all of them.
Once you have multiple quotations on the desk, you can evaluate it all and assign a rating. Remember that rate of the moving company is not the only criteria to hire or not hire a company, there is more to it.
But wait, how would you know which quotes is better? Well, there is a simple way to get it right.
Here's how to compare moving quotes
Once you have the all inclusive and accurate estimates for moving and storage from multiple moving companies, then next step is to clearly understand the cost heads and evaluate all of the moving quotes you have just received.
There can be many cost heads in the standard moving quotes and you have to understand it well to get it right.
Here's what to look for and how to evaluate the offers and estimates you have received before choosing your move partner.
Packing charges
Packers and movers are going to pack your goods, obviously they need packing materials and hence the packing charges. Packing charges primarily depends on the type of packing you require, so based on the size of your move, there will be packing charges.
Handling charges or manpower costs
Handling and manpower costs are self explanatory. In order to pack, load and unload, the movers are going to charge you and that is the handling fees.
Transportation charges
Transportation charges depend on the size of the vehicles that will be required and distance. Local transportation charge within same city or neighborhoods are usually cheaper than the interstate and long distance move.
Insurance
Needless to say, based on the value of goods, there will be an insurance charge. Insurance is a must and don't even under declare the value of goods to save some money on insurance. Rather you should opt for full insurance to keep your safety in mind.
Local taxes
Different state and county may have different tax slab for packing, moving and storage services. In India they have GST (Goods and Service Tax) that is charged at the rate of 12% on billed value.
Value added service charges
Packing, loading, transporting and unloading is all covered in standard moving packages. But the moving companies worldwide offer several value added services like unpacking, re-arranging etc, which is charged separately.
Hidden charges
Apart from what s being quoted, at times the moving companies may come up with different excuses, so just see to it and ensure that there is no such hidden fee and what is quoted is the final price for shifting.
While comparing the quotations of moving companies, it's easier to fall for the lowest price quote. Obviously, you want to get your goods packed and moved for the lowest possible fees, and moving companies are well aware of this fact.
At times, they will quote the lowest fees, and then tweak it during the move, so don't fall for the lowest fees and look at other aspects of the quotations as well.
As you compare and evaluate the quotations of the movers and packers companies, you may be ready to pick a service provider. But as I said, choosing a moving company, just on the basis of price may not be a good idea, so hold on to it and evaluate those companies on other essential parameters as well.
Compare service specialization of moving companies
As you already know, moving companies offer several services including:
Door to door local shifting
Interstate and long distance relocation
International shipping of home and offices
Self storage and warehousing services
Vehicle shipping services
Obviously, a national mover that offers all of these services is usually big companies that have dedicated team to handle all of these services.
Similarly, mid size moving companies may not offer international shipping and storage, but they might have specialization in local and interstate household shifting.
The main thing to note when evaluating the services is to look for the specialization of the company you considering for hiring.
If you are looking for local home shifting, then you should prefer to work with a company that specialize in local shifting, but if you are after international moving, then you need a company that specializes in handling international shipping assignments, and ditto with interstate relocation needs.
The type of specialization, infrastructure and overall reputation and credibility of the company many have big impact on overall price. So, when comparing moving companies and picking one, you got to consider the type of services and specialization it has.
Compare moving companies reviews and feedback
By the time you reach this stage, I am sure you are getting closer to picking a moving company after researching and comparing their prices and service specializations. But you may not ready to pick a company yet, and hence here's what to do the next.
Check the reviews and feedback of all the moving companies you are considering. Most of the moving companies publish some testimonials on their website, don't be over excited by looking at all the positive reviews, because that may not be true.
You should rather look for publicly available reviews and ratings of the moving companies you are evaluating.
The best way to check publicly available reviews and feedback is to search on google. Moving companies are listed on several business directories, including google local business listing. It's not impossible to post fake reviews, but these publicly available reviews can give you a fair idea of what people think about the services of the specific moving company.
As I said, you don't need to take very positive reviews seriously, but you know what, it's easier to distinguish fake reviews with the genuine ones. So check the reviews and rating on all available platforms and business listing websites and it'll definitely help you come to fine tune the list and come closer to picking a moving company for your next relocation or storage service needs.
Comparing moving companies credentials
As I said, there are premium relocation companies and mid size companies and there may be some mediocre and not so professional moving companies and hence it is important to ensure that you have actually picked a moving company as your relocation partner that is licensed, insured and credible.
In many countries, the movers and packers have to obtain certain license to operate the business, including in India. Here, in India, there is no relocation specific license, but they have to register their business.
Whatever be the case, you should check for all the legal papers to establish the fact that the company is genuine and credible.
Take the final call
Once you have evaluated the company based on all of these parameters, you can easily sort them out based on your evaluation.
While evaluating these parameters, you can actually assign rating to these companies on all of these major parameters. When you assign a ranking, and then compare each of the probable moving companies based on their overall ranking, it will become much easier for you to pick a winner.
But, then just before taking the final call about hiring a moving company after comparing, you should think logically and asses the moving companies based on your interaction with moving company representatives.
Did you find their overall approach to be very professional?
Did they answer your questions in detail?
Did they explain about the process of packing, loading, challenges if any?
Did they clearly state about how long it's going to take to transport and deliver goods?
Did they talk about the insurance and process of claim settlements?
Did they saw you all the papers related to their business like registration and license etc?
Transparent and responsive communication is seriously important and you should prefer companies with these valuable traits.
So, finally it's time to pick the choose the winning company and take the discussion to the next level, that is to work on a move schedule and take input and advise from them on how to prepare your home before movers arrive for packing.
Conclusion
There are tons of moving and storage companies around, all of them claiming to be the best, greatest and highly competitive with their pricing? But how can you be sure of their claims unless you pick one of them and compare them on multiple parameters against their peers?
When there is so much of noise and so many options of storage and moving companies all around, unless you compare a few of them against each other, you can't get hold of the truly professional and committed relocation partner.
And when comparing moving companies, it's not just the price or overall rating, because prices can change and ratings can easily be manipulated (in most of the cases). Hence, it is seriously important for you to know how to compare moving companies and how to evaluate them on several parameters and hire the best possible company for you needs.
Based on our years of experience in helping users like you in finding and hiring top and leading movers and packers companies, we have identified the best ways to compare moving companies. There are many parameters that you must consider while comparing movers including:
Their rates and charges
Reviews and feedback
Business credentials and license
Service specialization and branch network etc
After all, it's not just the price; safe and sound delivery is of highest interest.
How do you compare moving companies in your city when hiring for shifting or storage needs? Feel free to share your experience and ideas by commenting below.
And I seriously hope this post will help you find and choose the best possible moving company for your upcoming relocation or storage needs.
If you have question, feel free to comment below or call us on: 356.
We'll be happy to answer and help.
Happy moving and storage!
General FAQs
Why it is important to compare credentials of moving companies?
Even if most of the moving companies operate with proper registration, licenses and insurance, you don't have to take their words for it. You should verify each of these because there are many companies who may not have proper insurance or registration and working with such companies can be a terrible mistake.
What to look for when comparing quotes?
Although you want to work with a moving company with lowest quotes, but you should not choose a moving company just because of low prices. You should evaluate a potential moving partner based on their overall credentials, service expertise, packing quality and obviously prices.
Why you should ask for all inclusive quotes from moving companies?
It's always better to ask for all inclusive quotes from moving companies to avoid any value added or hidden charges. Clarity on what is included and how much it would cost will help you avoid any pricing dispute at the end.