Summer is considered to be the most favorable and best season for moving a house. In fact, summer months are considered to be the busiest for the moving companies. Most of the job promotion and transfers happens after financial year ends, and also because of summer holidays for kids. But what if, you get transferred during the winter seasons? Well, it's even better and I will tell you. if you are expecting a transfer or planning for moving this winter season, and wondering how to move your household goods safe and sound, then here's the post worth checking.
Today, I am sharing a few of the best tips for moving in winter season, and if you follow these winter moving tips and hacks carefully, you will be able to relocate smoothly, without hassles.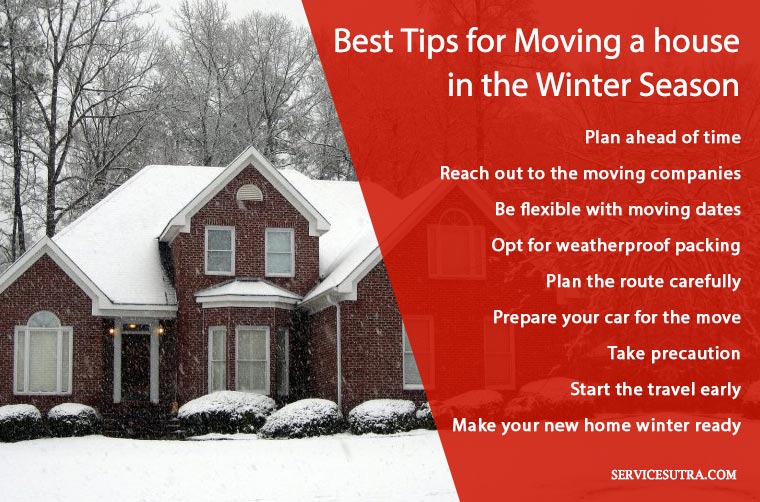 If you ask me about the best time to move a house, I personally prefer to relocate in winter. Well, this is because there is no rush and wider availability of moving companies. And, the rates of moving companies are much lower in comparison to the peak season of summer.
For people living in the humid parts of the world that experience pleasant winter weather, winter is the perfect time to relocate (unless you are in an emergency situation). Of course, for individuals living in colder places with chilly winter, things are a little difficult.
But, if you take some precaution and plan your move during the winter carefully, you can easily relocate your household goods during the winter season without issues. I am happy to share 9 winter moving tips that'll help you to prepare for cold weather move much efficiently.
Relocating all of your household goods is anyways complicated, be it winter, monsoon or summer. But you can make it right by planning your move carefully and cautiously.
Well, it is a fact that unfavorable weather conditions like heavy rain, snow fall etc can cause a lot of problem during the move. But, we also cannot ignore the fact that nature itself is very unpredictable. And the best we can do to get it right is to plan and prepare the move as per the seasons.
In summer also, you may face heavy rainfall or a storm which may lead to flood and road closures and disrupt your relocation plans, so instead of judging the weather of the season, it is recommended that you prepare for the move as per the season. In other words, in case of a summer move, plan as per the summer weather condition and for a winter move, plan things that helps you survive the move in the cold weather.
All I can say is there are pros and cons for both summer and winter move. And, if you are confused as which season will suit you the most, you can just take the decision as per your priorities and your present situation.
In this post we are talking about moving a house during the winter season.
Moving in winter season – planning tips to get it right
Moving a house in winter seasons can be very beneficial and there are many advantages of winter relocation. If you are planning to move your house this winter, then there are some important things to note while preparing for the winter relocation.
However, do not worry, things are not that complicated in a winter move. You just have to act smart and be a little strategic about the planning and execution for moving in winter. Also, you need to take maximum precautions so that you are able to overcome any winter harsh weather condition that comes your way.
Listed below are a few of the best tips to make moving a house in winter smoother and hassle-free.
Plan ahead of time
Irrespective of which season you chose to relocate, planning everything to perfection and that too ahead of time is always better. This is because, when you have enough time in hand, you can actually plan things with a calm mind, and without any hurry. In fact, with time in hand, you can find and compare quotes from a couple of local moving companies near you, negotiate better deal and make changes to your house moving schedule as needed. Moving may not go really well when you are in a hurry to relocate.
Reach out to the moving companies
Take the advantage of less rush and hire a truly reliable packing moving service company and bargain for better and reasonable moving quotes. That is the second tip that I would like to give you. In summer, most good companies are booked early so you generally have fewer options available. But in winter, you will get the option of many good and experienced moving companies that you can evaluate and consider.
Even if you want to do the packing on your own, for the transportation, I would recommend you to take the help of professional moving companies. This is because experienced individuals will be able to handle unpredictable weather issues much better than you and me. They are technically updated and will ensure the safety of your goods, even in bad winter weather to the best of their abilities.
Be flexible with moving dates
If you are living in such a place where winter weather is too unpredictable and it may snow anytime, then before deciding to go for moving in winter, you should be well prepared, and remain flexible as far as the date of the journey is concerned.
You can definitely discuss about a tentative move date with the packers and movers after checking the weather forecast. But being flexible with the scheduled moving date can help in situation like sudden snow or in case of an emergency situation.
The moving companies generally do not have too much load and they can make the adjustments in dates as needed. So, you please do thorough discussion on it in the very beginning to avoid any confusion later.
To ensure that the day you are travelling is safe, you need to check the weather updates time to time. And, then talk with the movers about the date change in case there is any problem with the weather of the day you had previously planned to move.
Opt for weatherproof packing
In order to ensure the safety of the items during the transportation, it is highly recommended that you go for weatherproof packing when moving in winter season. You cannot ignore the possibility of precipitation and freezing temperatures. To protect the household items, make sure to go for weather proof packing using plastic bags, plastic bins, plastic wrap, mattress bags, bubble wraps, and waterproof moving labels.
Be all the more careful with the electronic goods because wet weather and electronics do not mix well. Keep the electronics especially the small ones along with all the chords, cables in sealed plastic bags before stacking them inside the moving boxes.
As far as the bigger electronic goods are concerned, if you do not have enough waterproof packing materials then you may also consider taking professional help to pack them.
Plan the route carefully
It is very important to plan the route of transportation much ahead of time because it will help you tackle probable weather disturbances much effectively. While looking for the routes, it is best that you keep updates about several alternate routes. But, if you are to select one route, I would suggest you to go for the main roads rather than the deserted back roads. This is because in case of ice and snow, the main roads will get cleared first.
Prepare your car for the move
Before you start your journey, it is important that you do proper servicing of your car. In case of any damage or defects, make sure to get it repaired. Carefully examine all the tyres and you may even replace your existing ones with winter tires which are exactly designed to provide traction while travelling in icy weather conditions.
Also, do not forget to load the car with the necessary winter supplies like emergency first-aid kits, batteries, flashlights, gloves, hats, blankets, shovels, bottled water, cell phone chargers, windshield scrapers, snacks etc.
Take precaution
You will be travelling in the cold weather and so, it is important to wear winter clothes and take other precautions to fight the chilly winter winds. It is best to wear several layers of clothes as that will keep you warm. Also, do not forget to carry extra pair of warm clothes and shoes with you as you might require them in an emergency situation.
Start the travel early
It is always advisable that you start the travel early, especially when you are planning to drive. As it is, winter days are short and so it gets dark early and it is not safe to travel on ice and snow in the dark. So start early and reach before it gets dark. By chance if the journey is too long, then you may take a break in between and then restart the journey, early next day.
Make your new home winter ready
This is one of the most important tips on how to prepare for moving in winter season. As you are moving to your new home, and if that home is not winter ready, then you are going to face a lot of discomfort in the cold season.
The very first thing that you need to do is to call a technician and tell him to perform a home energy audit in your new home. By this, you will understand whether you need to repair or improve the furnace or insulation or ductwork. And, once you understand from where the cold air is coming, you can easily do the repairing and seal every leakage.
Placing a sweep at the base of the doors that are outside or placing a caulk around the windows can really work well. Also, seal your attic as that will help prevent any additional heat loss.
Listed below are a few other hacks and things to do to make your new home winter ready:
Get rid of dangerous tree limbs that may lead to accidents during any winter storm.
Keep the gutters clean – This is because the debris in them may cause water built up which may further freeze in the cold weather and cause leaks in your new home.
The carbon monoxide poisonings occur during winter mostly and so may like to place carbon monoxide detector on every level of your new home.
Insulate the pipes to avoid them from bursting in the cold weather.
Home fires are quite common during winter, so please check the batteries in the smoke detectors.
Keep a thorough check and change the furnaces if needed during the winter.
Conclusion
Choosing to move in winter season is not bad as there is less rush, which means better availability and cheaper rates of moving companies. But, if you are living in a place that experiences very cold winter, then you need to take some added preparations to make your winter move smoother.
The preparations must be made for ensuring maximum protection of your belongings during the travel and also to ensure that you and your family members are safe during the journey.
Fixing a proper date of journey as per weather forecast, making the packing as much waterproof as possible, finding a perfect route that is going to be comparatively safe, preparing your car for the move, carrying all of the winter essential with you etc. can help you relocate smoothly.
Making your new home winter ready is also of utmost importance so that the moment you reach your new home, you can enjoy the warmth and the comfort.
I would also like to request you to hire the professionals as they are used to the weather adversities during relocation and will definitely help you out in having successful hassle-free winter relocation.
Are you planning to relocate this winter? How are you preparing for your winter weather move to make it safe and smoother?
General FAQs
What kind of packing one should do for relocating in winter?
Because of continuous and excessive snow fall, the quality of packing becomes very crucial for safe and secured relocation of domestic household goods. You should always opt for waterproof packing and prefer covered containers for transporting.
Why one should be flexible with moving dates when moving in winter?
When you are flexible with moving dates, you can schedule your move according to weather forecast, which is very important in cities and countries with excessive snow fall. Flexibility of moving date will help you much more comfortably
Why one should plan for winter relocation early on?
When you start planning your move early on, you get enough time to schedule your move correctly. You will be able to find and screen movers, check quotations and schedule your move according to weather forecast.