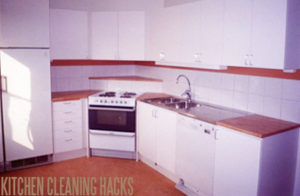 You will find yourself in utter mess when you will be entering your kitchen after you had a sumptuous dinner last night. Is there any way by which you can make your kitchen look wow just like the delicious tastes of the dishes you cook there? You must be thinking it is impossible, and even if it is possible then it's going to be difficult and time taking. You are partially right because Indian kitchen cleaning is not so easy, especially if you don't have the latest chimney. But even if you have the most modern kitchen, you have to stick to a cleaning routine to keep it clean and organized. I am going to share a few simple yet effective kitchen cleaning tips that work well for an Indian kitchen where we tend to use lots of spices and oil.

Kitchen is the heart of the home, where you prepare various tasty foods for your family. The place has to be clean and tidy to maintain proper hygiene. The concept that cleaning kitchen is toughest can be broken easily by developing by simple but effective habits on your part.
Indian kitchen cleaning tips – quick and simple
In this post, I am going to share some of the most relevant, easy to follow quick and simple Indian kitchen cleaning tips that you can use to keep the kitchen clean and organized in quickest possible time. No more scheduling for Sundays, keep the kitchen clean while you cook.
Clean on the go: Do the cooking and the cleaning simultaneously. If you clean the place while you are working in the kitchen, then you do not have to spend extra time cleaning the kitchen. For example, while you are cutting the veggies, instead of moving forward with the cooking, you should throw the peels in the trash can. It's quick and easy and you have freed some extra space on the kitchen counter top. While you are preparing a dish, and you have set the food on the gas and waiting for it to come to boil, you can then use this time in cleaning the kitchen work area. That's how cleaning on the go helps.
Remove the clutters: There are shelves and cabinets in the kitchen where you keep various items like dinner sets, plates and dishes, cutlery sets, kitchen utensils. Keep the items where they are meant to be. Do not keep them randomly which will end up creating clutters and a messy look. Best way to get the kitchen organized is to use accessories and keep it at its designated place. Just by organizing the kitchen well, you will feel that kitchen is much cleaner than a messy and cluttered space.
Oil stains: While cooking, oil stains and grease will be there in the cooking area and there is hardly anything that you can do to avoid this. But, what you can do is you can clean the stains with just one swipe once you are done with the cooking. Wet a cotton cloth in warm water and some dish washing soap, and swipe the area gently. It's easier to remove these oil stains just after cooking than leaving it to get accumulated and for a Sunday cleaning.
Clogged sink: Tea leaves, some peels of vegetables can sometimes clog the drain. You can take an old toothbrush and prick the drainage pores on the sink, the water will gradually drain out. You can throw some lemon peels or lemon juice in the draining pipe, so that it smells fresh. You can sprinkle some baking soda, then let it sit for 10 minutes, then scrub it with a sponge and wash it off. The sink will be clean.
Microwave: You can clean the microwave easily with just some lemons and water. Take a bowl of water, add some pieces of lemons in it and heat it in the microwave for 5 minutes. Let it sit there for few more minutes, and then switch off the appliance. After that rub the interior of the appliance with a cotton cloth, your microwave will shine like new.
Week plans: For appliances like fridge, exhaust fans and kitchen vents, you need to invest some more time. So you can skip cleaning them in the busy weekdays and deal with them in the weekends. You can clean them twice or thrice in a month and this is enough.
Conclusion
Now that you have read the points, do you think that the steps are tough? You can easily do it, I am sure. All you need is  to know how to utilize the spare time in between the cooking and the work. For cleaning the kitchen you need some warm water, sponge, baking soda, lemons, and dish washing soap. All these objects are readily available to you, so it is not a problem for you.  Follow the steps and you are good to go!