The bathroom is the place where you go to get refreshed, and it's important to keep the bathroom clean and tidy. You feel relaxed when you take a bubble bath after returning from work. And if the bathroom is unclean then it will not just only be the den of several germs, but also a reason of discomfort for you. It is your duty to keep the bathroom clean both for house hygiene and aesthetics . You will yourself feel good if washroom is shining bright with an aroma of freshness.
And if you are serious about keeping your washroom clean and tidy, then it should not be an issue. How much of effort you have to make depends on how frequently the washroom is being used. It's not a bad idea to hire a professional cleaner to get the washroom cleaned properly. Deep cleaning of washroom by a professional cleaner will ensure it's free from stains and spots. But still a little care and attention is required on day to day basis to keep a washroom clean.
In my post, I will discuss some simple ways by which you can keep the bathroom clean. Do not keep the bathroom dirty and smelly and wait for Sunday to clean it. Doing this will be very unhygienic. But there are certain simple ways by which you can keep the bathroom clean and fresh every day.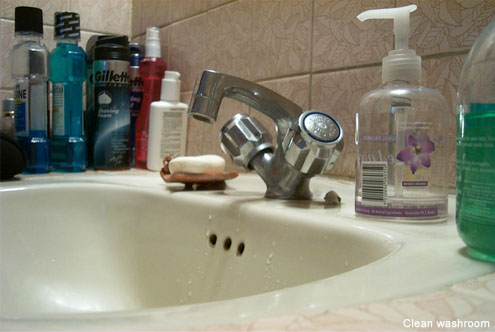 5 ways to keep the bathroom clean
I will discuss some simple steps in my article to attain your goal. If you do your bit every day, then you can enjoy clean bathroom every single day. Read the following paragraphs to know the amazing tricks.
1. Empty the trash can regularly
You must empty the trash can which is placed in your bathroom. Make it a habit and do it regularly. If you wait for the trash can to be full, then the garbage can emit foul smell, thus polluting the air. You must ensure that the bathroom smells fresh all the time.
2. Exhaust fans are must
You must install exhaust fans in the bathroom for proper ventilation. Switch on the fan when you enter the bathroom, and then switch it off when you are done. This will help in keeping the bathroom dry, thus avoiding mildew. Exhaust fans also ventilate out the foul smells of the bathroom.
3. Use dryers to keep the towels fresh
The towels are an essential part of the bathroom. If the towels are wet, that can be the storehouse of the germs, and can be smelly too. You will obviously want to use fresh towels when you go for a shower in the morning. For that, you can put the towels in the dryer for like 7 minutes. If you keep the towels longer, then it can harm the towel fabric. So, every night before you go to bed, you put the towels in the dryer for few minutes, and start your next day with fresh towels. You must wash your towels on a regular basis, e.g. after three uses.
4. Use the bathroom cleaners
There are various bathroom cleaners available in the market. You can keep a brush handy, so that you can just wipe out the bathroom space with these cleaners. This will help you to make the space clean and tidy. These cleaners also smell good, thus adding a fresh fragrance to your bathroom.
5. Sweep it off
Another very common problem is the hair fall. You will often find hair falling here and there after your shower. You can use broom or a vacuum broom to suck up the hairs and thus making the floor clean.
To Conclude
These are some of the basic tips which you can apply to make your bathroom look clean and tidy. You must also ensure that the drainage system is good, to avoid any problem of waterlogging. There are certain air fresheners available in the market, specifically for bathroom. You can use that too. I hope my article has given you some ideas about keeping your bathroom clean and tidy. Follow these tips, and give yourself a fresh and clean bathroom every day.