All of us who like to cook will agree that working in smaller and unorganized kitchen is not fun. For me, the kitchen should be well organized and spacious. I always wondered if I can do something about it and free up space in my smaller kitchen. If you are also experiencing the space issue and wondering about how to free up space in small kitchen then this is the post worth checking.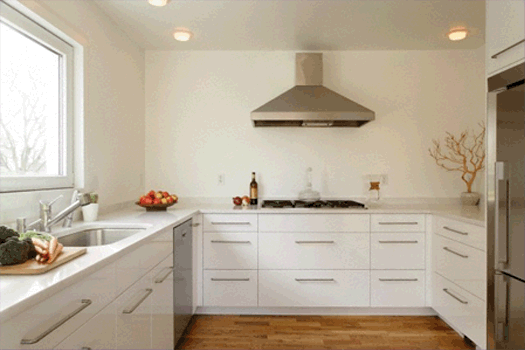 I am going to share some simple yet effective hack that you can use to free up more space in your kitchen.
Here's how to free up space in small kitchen
I believe that the size of the room has nothing to do with the beauty of it. You can make your space look amazingly good, if you organize it properly. The first thing that you have to remember while you are decorating your room, be it your kitchen or bedroom or dining space, you must have specific space for specific things. You must keep all the items in a proper order and layout, so that you do not feel confined in the small space.
Apart from keeping it cleaned and organized, here is what else you can do to free up more space in your kitchen, even if it is comparatively smaller.
Use the wall to hang the items
You can hang things on the wall, by doing so you can save up some space. You can decorate your counter space nicely; the best part is that the decoration and space-saving can go hand in hand. If you just hang some items, then you can also keep them handy, so that when you need them you can reach them very easily.
Add shelves and layers to your kitchen
You can add some considerable amount of space by including shelves and layers in your kitchen. You can include shelves, where you can get some extra space to stash your things, without utilizing the counter space. You can also get the items you need very easily as you can keep them in proper order in shelves and layers.
Include a blind corner cabinet in your kitchen
The blind corner cabinets are an excellent way to squeeze out some extra space in your small kitchen. You can fix a crescent shaped shelf in that cabinet to stash some items. You can use up every bit and corner of your kitchen to make your space look more organized.
Use a cabinet depth refrigerator and wall cabinets
Utilizing the wall is a very major trick to free up space in your kitchen area. You can include wall cabinets to keep the items. There are several companies which make designer wall cabinets. This will add a fresh look to your kitchen. You can also include a cabinet depth refrigerator, so that the refrigerator does not pop out, thus capturing some more counter space.
Remove a wall
Instead of a confined four-walled space, it is better to have a three walled space. Thus, you can keep the one side open. This will create the optical illusion of a bigger kitchen. I have a three walled kitchen, the one side which is open, is connected to the dining space. So both my kitchen and dining space are three walled space, which makes the area look much bigger in size. You can use this method as well, and stay connected to your family even when you are busy cooking. Unfortunately, I can't do this in a rented flat.
Over to you
These are some of the ways by which you can free up space in your small kitchen, and make it look bigger. You must have particular place assigned to each of your items. Make sure that you keep the items where they are meant to be. Do not stash the items wherever you feel like. This will make your kitchen look organized and amazing. These are some of the easiest tricks that I have used for my small kitchen. I hope, after you have read my article, you have got some ideas for your kitchen as well. Use these tricks today and see the magic.
Happy Living! 🙂