The living room or drawing room is the place where you spend most of your leisure time reading or watching TV. This is the place where you usher your guests too. Hence your living room should be uncluttered, with well balanced colors, and a sense of elegance. It is the most important part of your house hence living room decoration is very important. One look at your living room would be enough to create an impression about your style sense and taste.
India is a diverse nation with people from various cultures and region. Their taste also varies when it comes to style and elegance, every one of them have their own sense of style and tastes in accordance with the regions and cultural background where they belong to. So it is almost impossible to generalize them in any way.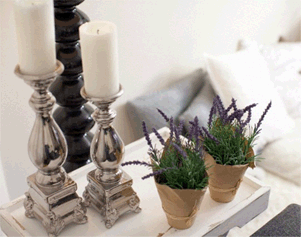 I am still trying to point out few tips for living room decoration which are popular among the people from metropolitan cities. Design and decor is very specific and it may vary from people to people so what you like may not be my choice. So you have all the liberty and freedom when it's about living room decoration. So just check these points and feel free to use them as you like and enjoy.
Color and lighting
A balance set of colors with a perfect blend of lighting effects, gives a clear perception of the whole room. Colored walls, furniture, sofa and curtains can really define your living rooms beauty. These two factors also create a perception of expanded space in your room, though it is clearly psychological but this is all that matters. Perfect balance of color (from wall colors to curtain and furniture) and lighting can make all the difference.
Choose proper light and color for living area
Well it completely varies from person to person. It also depends on the color of floors, and how other rooms are colored. But I have seen many chic looking living rooms colored in pure white. Giving them an elegant and sumptuous look, white is a very common color as it sooths our eyes easily and produce a classy effect. It suits well with marble floors or even wooden floors. Further you can add decorative accents in a variety of light hues to add extra depth and dimension.
Create a varied perception of space
Using architectural details to your advantage by creating focal points for the rooms and visually divide & define the rooms in open space. Using cedar ceiling beams in the room can help you to give a sense of divided room without using any physical entity or occupying any space. Use your TV or fire place to create the focal point of your room.
Use Mirrors
Mirrors can also serve the purpose of making a space look bigger, and open up a room. They can be used in all the rooms. Specifically for living rooms a medium or big sized mirror can be used to hung over any closed door or window. It will not only diffuse the effect of a smaller room but also hide your unused or unwanted spaces or wares. Since it is wide enough to span the doorway, it draws you in, expands the space and adds shine.
Green way of living
Try putting some small plants in your living room. It will add to the soothing effect already created by the cream white wall, as green and white color will produce a unique contrast and a refreshing effect. You can put them over the selves or over your drawing table, just make sure it is not kept in some vulnerable position. You can also use flower vases for the purpose and keep changing the flowers every 4 days.
Ethnic styles for your cushions and curtains
Mixing and matching different styles can really make a difference, with classic sofas and furniture you can use cushions and curtains with ethnic finishing. Try using light colored curtains though. It will ensure that proper sunlight reaches inside your living room.
Picking up sofa and furniture for your living room
There are several factors which will determine which type of sofa will suit your room. Especially the area of the room, if you have got a large living room, then you can go for sectional sofa. There are various shapes of sectional sofas available, "L" or "U" shaped. For smaller rooms you can use "Lawson" style sofa, English sofa, Chesterfield sofa, Bridgewater sofa, Camel back sofa, Cabriole sofa etc. Choose wisely which suits the whole style of your living room. For white wall and light colored rooms you can use dark color sofas like a black Chesterfield sofa or an English sofa.
Blend Comfort and Grace
Comfort and formals can go together. Use antiques in your room and then give a modern feel with bold fabrics, mid-century lighting, and sculptural accessories. You can use silk curtains and mirrored tables paired together with clean-lined upholstery with colorful pillows. You can also use chimes at the door entrance, Japanese people believes that it brings peace and prosperity to the family.
Over to you
A creative mind always has a wide perception of beauty. If you have got one you can do wonders with decorating your rooms. If you are not sure enough but you are obsessed with elegant and opulent living room styles, do seek help from a professional interior designer.
How did you decorate your living room?