I am sure you know movers and packers services can be used when you want to pack and move your goods from one house to another in same city or to a different city. In this post I am talking about in and out of the entire process and how to book movers and packers services in India.
The way a company works tells a lot about their genuinity. Hence you should be well aware about the whole process through which you can have a clear idea about how your goods are going to be treated.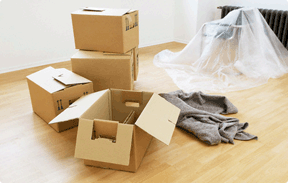 Booking movers and packers services
Let me explain the whole process of packing and moving; from the day of initiating your inquiry to delivering your goods at your door steps. More or less all movers and packers companies in India follow this same procedure.
Enquiry about services and rates of movers
It all starts with your enquiry about availability of services and obviously rates. Because first thing that you want to ensure is they have service available in your location and next is their rates for packing and shifting services. After receiving your call, they will properly assess your exact requirements, and provide you with a rough estimate over the phone based on how much items you have to shift (weight and number of heavy items they will confirm latter after coming at your residence), the distance your goods are going to travel, expected date of your shifting and other relevant & specific requirements.
Discussion and comparison
Do not hesitate to clear all your doubts and enquires with the movers. A reputed and reliable mover will always be happy to provide you all the relevant information about their services, experience and other details like value added services. They might also give you references to their previous clients who are happy with their services. Make each and everything crystal clear before striking a deal with them. Compare at least 3 to 4 service providers on the basis of the quotes and services & price details; and make a final decision to pick the one that suits your requirements.
They will send a representative to your residence. He / she will make inventory of all your household or official items that need to be packed and transferred. This is the most authentic step that these packers and movers will surely do to avoid any altercation later on the day of your shifting. Many dishonest movers will try to settle the matter over phone deliberately and latter they will ask you for more money and say they didn't know that your almirah is this much heavy or other such excuses. Beware of these people and never trust them.
They will also make an inventory of valuable and fragile items separately that requires special care while moving and handling in the transit.
Written estimates for services
After properly sorting all these things, they will also provide you with a written estimate or binding estimate that includes total cost of services including labors, packing supplies and boxes; based on weight of your belongings and size of your house or distance between your current location and new location. They should explain about insurance cover they provide in case of any mishap or damage of goods.
Packing and transportation
On the day of shifting, the moving company will arrive to your residence or office timely. They will pack your things properly using good quality packing supplies. Then the packed boxes will be loaded onto the moving truck. They will also give you complete assistance while unloading and unpacking your possessions at your new location. They may also help you rearrange your items at your new residence.
Conclusion
Knowing how they work will give you an advantage over the movers and packers company, as you are now well versed with the entire process they should work in. if they assume you to be a layman and try to trick you by any means regarding their services. You can immediately figure that out and screen them properly. Hence this is another important way of choosing reliable movers Packers Company for your shifting needs.
How do you search and book movers and packers in India?