Are you moving to a smaller house of your own from a large rented house? Are you concerned about extra household furniture and other domestic goods and wondering what to do with extra stuff? Your current may have lots of space to accommodate loads of furniture and other items, but storing these goods in comparatively smaller house may be challenging.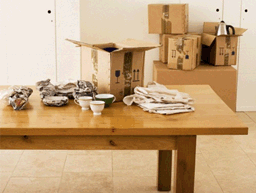 But no matter how complicated it may sound, it's not unmanageable. The task of downsizing is very hurtful, as it requires throwing or donating away some of your household stuffs which you have been accumulating since ages. But never mind! With a new home, some new goods are surely going to enter. So there is no point being disheartened to discard some old and unwanted household things.
Here are some steps to downsize before moving to a smaller house
Before moving to a smaller house, you may have to downsize the inventory of goods or opt for storage and warehousing services. If you have lots of extra furniture and you don't want to get rid of it then storage is a solution you should consider. But if you are not considering storage services, then getting rid of these items is the best option. Here are a few tips to help you downsize your inventory before moving from a bigger house to a smaller house.
Know the size of your new home: Before you completely shift to your new house with all the household items, it will be really important for you to know the size of every room in the new house. Therefore before shifting, measure the size of each room. This way you'll be able to discard huge items that are not needed.
Plan to arrange furniture: Determine which pieces of furniture and other large items will fit in the new home. And accordingly, sell or give away what you won't have room for. Yes you can store the large items in a monthly storage facility, but this would be very costly. So, its better to discard than to invest money on storing them. However, if the thing is very dear to you, store it in a trustworthy warehouse.
List down the items you love: If you list down the things you love and can't live without, it will be much easier for you to discard and donate the unwanted stuffs. The task of discarding items is really tough, but completely worth it.
Start discarding months before shifting: Its best if you start discarding the extras or unwanted items, two or three months before shifting your home. Take some time each day, or one morning each week, to go through the clustered wardrobes and other closets and decide which stuffs to throw and which not to.
Sell items: If you feel that discarding or throwing away your stuffs would be really painful, then you can opt for selling them. You can sell your things easily online, or through garage sale. If you sell items, it will not just reduce your moving burden but will also fetch you some money.
Don't throw things: Instead of throwing away all the unnecessary stuffs, you can send them for recycling, or even donate them. Recycling is a very eco-friendly method, and on the other hand donating is a humble thing. Donating your old and used stuffs can bring smile on a needy person's face. So whether you are recycling or donating things, both the ways are great to reduce your load while moving to a small home.
Over to you
It is always good to cut down your useless items before moving, especially when you new house is smaller than where you are living currently. How do you deal with extra household materials by the way?