Are you moving to Gurgaon (Gurugram) but wondering if you could know about the city of Gurgaon? Gurgaon is a rapidly growing city and if have to relocate to Gurgaon, I am sure you would like to know about the basis essentials of the city. Moving to a new city like Gurgaon should not be an issue, especially if you are moving from another mega city like Delhi, Mumbai, Pune or Bangalore. Gurgaon will not disappoint you at any level. If moving to Gurgaon is on the cards, then is the post worth checking because I am going to share a few interesting facts about Gurgaon, Haryana.
Gurugram, is a city located in the state of Haryana, adjacent to Delhi and Chandigarh. Due to rapid urbanization, Gurgaon has become a leading financial and industrial hub, with third highest per capita income in India. The city's growth started in the 1970s, when the automobile company Maruti Suzuki India Ltd established its manufacturing factory in Gurgaon. Since then, Gurgaon has taken off, and now reached the zenith with innumerable Fortune 500 companies, several multinational companies and IT sectors. Gurgaon is a city in a developing country, blessed with some opportunities, and also cursed with certain obstacles. Before you move to Gurgaon, you must have an idea about the city itself for your own sake.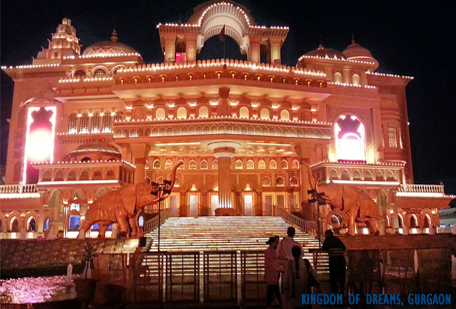 Things worth knowing about Gurgaon
In this post, I will discuss about the pros and cons of the city, so that you can plan your future course of action accordingly. You can know a person, or at least you can have a clear idea about a person by knowing his past. In the similar way, I will start my article with the historical past of the city. India is a country which gives lots of importance and respect to the myths, classics, and legends, epic. The historical importance of the place is rather interesting and I am sure you will enjoy knowing it.
A journey through time
The origin of the city's name can be traced back to the epic Mahabharata, the village was owned by the Pandavas and the Kauravas. They gifted the land to their master or teacher Guru Dronacharya, and the land came to be known as Gurugram. With the passage of time, the name was gradually distorted and the present day name is Gurgaon. Recently in 2016, the Chief Minister of Haryana announced a proposal to name the city officially Gurugram, although nothing is finalized as of now. If you turn the pages of history, you will find that the place was once under the Mughal Empire, then the British Raj. Till now, you can find the initial village of Gurgaon, amidst the fast urbanization and globalization.
Where is it and how to go there?
Gurgaon is located in the northern part of the country, in the state of Haryana. Some of its neighboring states are Delhi, Punjab and Chandigarh. You can reach the place by air, rail and also road. The nearest airport to the city is Delhi International Airport. You can reach Delhi from Gurgaon very easily, by cabs or by bus. The fares are very reasonable so you will not face any problem. Delhi is well connected to all the major cities of India, and also several other international destinations. Hundreds of domestic and international flights are available for your convenience in every way. You can go to major cities and towns by trains, from Gurgaon Railway Station. The national highways are also well connected to the city, thus smooth mode of transport via road.
The Plus side
Now that you have reached the city, I will gradually turn towards the diverse opportunities and advantages that you will get in Gurgaon.
Where to stay: Gurgaon is a developed city with modern amenities and structures. In Gurgaon, there are many companies and offices. So if you are visiting Gurgaon for work, then you can stay in the hotels. There are various hotels in the city for the tourists. If you are moving in Gurgaon, then for that, there are many residential sectors, apartments, and housing complexes. The Times of India rated top 5 condominiums, and they are: Aralias, Hamilton Court, The World Spa, Gurgaon One, and Raheja Atlantis.  Gurgaon has an estimated 1,100 residential high-rises.
Where to work: Today, Gurgaon has emerged as one of the most important off shoring centers in the world, providing outsourcing solutions in software, IT, service and sales through delivery facilities and call centers. Most of the call centers provide pooled-in cars to and from their offices. Gurgaon is the hot bed of 250 companies, out of Fortune 500 companies. Several multinational companies like BMW, DLF, Suzuki, Siemens etc.
Recreation: There are certain prominent performing art venues like Epicentre in Sector 44, Nautanki Mahal at the Kingdom of Dreams near IFFCO chowk.  There are 26 shopping malls in Gurgaon. There are movie theatres, multiplexes, restaurants, bars etc.
Sports: Gurgaon has nine golf courses, and is described as 'Heart of India's golfing country'. There are several stadiums for cricket, football, golf, baseball etc. Two of the most notable sports stadiums are Tau Devi Lal Stadium, and Nehru Stadium.
How to travel within the city: You can avail government buses, private buses, vans and auto rickshaws. There is Delhi Metro and Rapid Metro for swift and smooth transport facilities.
Education: There are hundreds of government schools under Haryana Board of Education, private schools like DAV and Delhi Public Schools. The private schools follow ICSE or CBSE board of education. There are many colleges and universities as well and also business school. The most famous business school, Management Development Institute is situated in Gurgaon. Some of the notable universities include Amity University, KR Mangalam University.
Healthcare: Gurgaon has multiple numbers of hospitals and medical care facilities. The National Brain Research Centre is located in Gurgaon. Some of the reputed private hospitals include Fortis, Medanta, and Columbia Asia Hospital.
Language: The official language of the place is English. Some of the most commonly spoken languages include Hindi, Punjabi, and Haryanvi. But people here understand English, so communication will probably not be a barrier for you.
While, these are some of the positive aspects of the city, let us now turn towards some of the darker sides.
The Minus side
No city is 100% perfect, so is Gurgaon. The city is a hub of industrialization and modernization, and there are certain negative consequences to this aspect.
Weather: The city experiences continental climate. The summers are very hot, with temperatures rising above 40 degrees. The summers are especially hot and humid, more due to the presence of Thar Desert nearby. The summers are very sultry and uncomfortable. In winter the temperature falls down to 3 degree Celsius, and there is even some rainfall due to the Western Disturbance. Winters are foggy and cold, with very few sunny days. The monsoons are also prominent in the city.
Pollution: The problem of pollution is prevalent in almost every city of India, and Gurgaon is no exception. Air pollution is caused by vehicles and emissions from factories. Though there are parks in the city, still the pollution seems to be a problem.
These are some of the major aspects of Gurgaon, as discussed in my article. I hope I could give you a basic idea about the place. Before you move to any place, it is always better to know it, so that you can take the necessary course of action. You must take proper measures and precautions before you move to city which is completely new to you.
Image source