Moving and relocating to a new city can be a highly valuable experience. Besides bringing new career and job opportunities, living in different places can help you learn different cultures and enrich your life. However, moving and relocating to a completely new city, state or country can be expensive, tiring and overwhelming at the same time. While you have to plan and prepare for safe and hassle-free relocation of your household goods and belonging, you also have to deal with many unknown challenges of starting all over again in a new city. However, you can plan and manage the entire move correctly and efficiently by asking some important questions to yourself before moving.
I have myself lived at different places in my early days. And therefore I know how important it is to plan everything minutely before moving to a new city, and restarting the life.
So if you are planning to relocate to a new city and wondering about what to know and how to plan for a safe and hassle-free move then here are a handful of questions to ask yourself.
Q1: Are you moving temporarily or permanently?
Relocating to a new city for a few months or years and moving out permanently can change your priorities. Perhaps this is the most important question to ask yourself, as the answer to this question can affect the entire move. For instance, you might be for a few years for higher studies, or just to try the new city or you might be planning to live there permanently.
If you are moving temporarily, then your priorities will be different than if you are moving permanently. So, even if you don't have a clear answer at the moment, it is important for you to ask this question before moving.
Q2: Is it the best time for you to move?
Although moving to a new city can be an enriching experience, mostly people relocate for many other reasons; like when they get a new job opportunity, for higher studies, to experience the new place or to live a comfortable post retirement life. Whatever is the reason for moving to a new city, the first and the most important question to ask before moving is – is it the best time for you to move to a new city?
The best time for you to move could be one when you have seriously evaluated all the pros and cons of leaving your present home and move to a new city. So, ask yourself if you have evaluated everything well, and you are sure that the time has arrived to start packing up and relocating to a new home in a new city.
Q3: Can I afford the entire relocation?
Sometimes you may simply overlook this basic question, but you should not. You must ask this question to yourself, because not having a clear financial plan can ruin the excitement of moving to a new city. It is very important for you to prepare financially for moving to a new city. You can't just decide to move without asking this important question. Your current debt if any, tentative relocation expenses, funds to settle down and some savings to cover your expenses for a few months; all of these require sound financial planning and hence this question is important to ask.
Apart from budgeting the moving and relocation expenses, you should be in a position to tackle any unforeseen expenses that may crop up anytime – during or after the move. You should have a safety net to survive a few months after relocating, even when you don't have a ready job or source of income.
If you don't ask this crucial question before moving, then you may end up in a financial mess. So, ask yourself – if you are financially prepared to move to a new city, and can you afford the move? If the answer is yes, then you are good to go.
Q4: What's the cost of living where you are moving to?
Cost of living can easily vary in different cities and states, and based on the standard of life you want to live, you may have to bear more or can manage for less. Whatever is the case, knowing about the cost of living in the city where you are moving to is very important.
Not knowing about the cost of living, monthly grocery and utility expenses, mortgage fees and other such expenses can be disastrous for your financial health. So do an extensive research about the cost of living in the city where you are relocating to, and plan your move accordingly.
Q5: How is the job market where you are heading to?
Unless you are moving after retirement, this could be one of the most important questions to ask before moving and heading to a new city for living. Even though you already have a job lined up, you should do extensive research about the local job market.
Irrespective of whether you are moving without a job or with a job at hand, doing an extensive research about the job markets and growth opportunities can be of great help for your future career plans. After all, you don't want to move to a city where there is no opportunity to grow your career.
Q6: Do I need a fallback plan?
Yes absolutely. Sometimes, things do not go the way you want, and that's okay, as long as you have a plan you can fall back on. Maybe the place you are moving to does not turn out the way you wanted it to. What if you realize that there is not enough opportunity for you? There is a reason you are moving to a new city. But, moving forward, there can be a reason for you to leave the city. And a backup plan will come handy in such situations. So think of the worst that can happen and make a backup plan that can help you fight it out.
Q7: Which household items should I move?
It may seem like an easy question and you may feel like skipping this. But trust me, it is not. Packing and moving costs and expenses will be higher when there are plenty of items to move. The cost of packing materials, packing and handling charges, transportation expenses etc will increase when you have plenty of goods. But, you can downsize the move to keep the expenses low.
So ask yourself – which are the belongings you want to get packed and moved. You may have many items that are not required anymore, or need repairing or simply need to go out. Take a good look at the entire house, make a list of all the major items, and get organized.
If there is anything that needs to go, let it go. Just get rid of such items and you can do so by selling it out to someone who needs it. You may like to check these essential tips to sell household items quickly.
Q8: Should I arrange a self move to move my belongings?
There can be two ways to get your household belongings packed and moved to the new city. You can either do it by yourself or hire a professional packer and movers to do the job.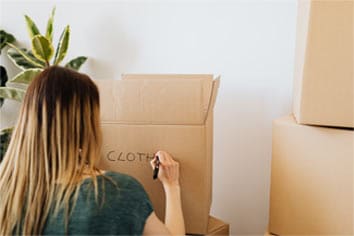 There is no harm in organizing a self move. Anyone with a little help from other family members can organize a successful DIY house move. But, it takes a lot of planning and resources to arrange a successful interstate self move.
You have to arrange all the packing supplies to safely pack your belonging
Arrange cargo truck to ship your belonging
Hire labour for lifting, loading, unloading and arranging goods at new place
Have to look for transit insurance for extra safety
It may sound pretty basic and simple, but trust me it is not. So, are you really prepared to do it by yourself? Do you have the time and resources to pack and move everything by yourself? If yes, then you can easily organize a self move. So ask yourself if you are ready to try your hands in packing and moving by yourself?
Q9: Is it better to hire a mover to move my belongings?
While self-move gives you better control, and may be the cost-effective way to relocate your belongings, you may have to deal with many uncertainties. However, there are many added advantages of hiring a professional mover to move your belongings safely and effortlessly.
The movers and packers can help through the moving process, and can take care of everything, including:
Dismantling and uninstalling the furniture and appliances
Safe and secured packing of all the furniture and appliances
Careful lifting, loading, transporting and unloading at the drop-off address
Using professional packing and moving service can perhaps be the best thing to do when you are too occupied with other tasks at hand like making travel arrangements, finding a job or a house to move to or simply when you want everything to be taken care of by a team of professional movers.
So, think through well and ask yourself this question before moving – should you hire a mover or arrange a self-move instead?
Q10: How much do the movers and packers cost?
Normally, the mover and packers charge by the distance and move size, among many other factors. That means, when you have a big size move, the cost of packing and moving will be higher. Actual cost of hiring movers and packers can be found only when you get quotations from the moving companies near you.
The movers would like to know a few things before quoting the price, such as:
Which floor of the house do you live in and you are moving to?
Do you have a service lift in your building?
What is the major household furniture to be packed and moved?
What other delicate items are to be packed and moved?
You should ideally talk to a few moving companies near you, and get the best price moving estimates from them. You can even ask them to come over for a pre-move survey to get the all inclusive and accurate moving estimates.
Q11: How can I save on moving expenses?
This is an important question to ask before moving to a new city, especially when you are planning to use the service of a packer and movers. As you already know that moving the entire house can be expensive, you should find ways to cut on the packing moving costs.
There are many ways to cut the moving costs and expenses, such as:
Downsize the inventory and get rid of things you don't require
Sell off some of the items that is in good shape, but you don't need it
Do some of the packing yourself, especially items that are not fragile like clothes, books etc
Compare quotations from multiple movers to learn the best market rates
Negotiate well and bargain to get competitive prices
If you try and follow these simple tricks while moving, you will be able to easily save a few thousands rupees on the total moving expenses.
Q12: What value added services do I need from the movers?
Packing and moving to a new house in another state can be tiring. It involves a lot of tasks and even though you hire a professional moving company to help you through, you should ask this important question to yourself – Which value added services do you need from the movers?
Apart from looking after the all important packing, handling and moving services, the movers may offer other value added services for additional fees.
The value added services may include:
Unpacking and rearranging your bedroom, kitchen, and other spaces
Installation of essential utilities
Cleaning and sanitizing the space
Temporary storage facility if needed
It's always better to have someone get your goods unpacked and re-arranged. But, these additional services may cost you more and therefore you should ask yourself if you need these services.
Q13: Should I take the full coverage insurance or only the transit insurance?
Even if the packers movers do their best while packing, lifting and transporting your goods, there may come a situation which is beyond human control. A mishap or an unforeseen circumstance may lead to an accident or damage to your belongings. And that is why it is important to ask yourself about the safety and insurance of your goods.
Transit insurance is one that gives you minimum protection against any damage in transit. Although it's the cost-effective option, the full coverage insurance against any sort of damage during the move is the better alternative.
There is no sure shot way to say which insurance is best for you. But, it is important to think about the safety and hence you must ask yourself which insurance option will best suit you.
Q14: How to prepare for the safe and hassle-free moving?
While you have already worked on all the important tasks to make your move safe and hassle-free, how do you prepare for the final move day is yet another important question worth asking. If you are moving by yourself, and have no professional help to organize the move, then you have to make several arrangements, like:
Making the inventory and sorting out the items to be moved
Arrange all the packing materials
Book the cargo truck and look for manpower to help you load
Insure your goods from the third party insurer
However, if you have a professional movers packers on board, they will take care of all of these tasks.
But, you still have to prepare yourself for the final move day. For instance, you have to sort out and get organized, book pre-move cleaning services, make travel plans for the family and so on.
The exact list of things to do when moving to a new city can vary based on circumstances. However, you should ask yourself this question and prepare accordingly.
Q15: What's my after move action plan?
There will be tons of things to do once your goods are delivered to your new home. Unless you have subscribed for the value added services like unpacking and re-arranging, you have to do it all by yourself. Like packing, unpacking can be equally tiring and time consuming. Further, you may need help in re-assembling and re-arranging heavy furniture and other such items.
Besides, you have to get the full home inspection done and get everything fixed and sorted. Your new may require pest control and cleaning. Then you may have to get all the utility lines fixed and sorted. So, there'll be so much to do and therefore have to have a detailed after move action plan.
Concluding – questions worth considering before moving
Living in different places can enrich you in many ways. Apart from getting to experience different cultures, foods, lifestyle, you get to learn a new language and may get plenty of business and career opportunities. Although the experiences may vary from people to people, relocating often suits people who are still young and want to explore the world.
However, packing and moving to a new city may not be easy as it has its own challenges. While you can plan and prepare for a smooth and hassle free moving, it's important to have a solid relocation plan. And that requires asking many obvious questions to ask yourself before moving. We have already discussed many such questions above and if you ask these questions, you will be able to manage the move efficiently. If you have moved out to a new state recently, then I would love to learn from your experiences. Share your experiences, learning and asking what matters the most for anyone heading to a new city, state or a different company all together.