Navratri is one of the biggest festivals which is celebrated over 9 days by Hindus in India and abroad. We celebrate by worshiping Goddess Durga (or Maa Durga) in her different forms or avatars.  Since lots of friends and relatives come together to celebrate the festivals of Navratri, special Navratri decoration at home and offices are kind of rituals. But Navratri decoration is not like your day to day décor, it has to be special to set the mood for the festivals.
I remember how we used to prepare for Navratri decoration at home and when the occasion is right here, I thought to share a few quick decoration tips that you can use this Navratri for special Navratri decoration at your home or workplace.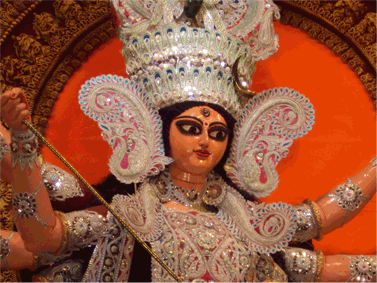 Best ways to do Navratri decoration at home
Before you start Navratri decoration at Home or your workplace, there is one thing that you must do and that's cleaning. Make sure to get your home and workplace cleaned properly. And then, just declutter your home and office so that everything is neat, clean and there is plenty of breathing space around.
And once that's done, you are all set to decorate your home for Navratri. Here are a few quick and simple Navratri decoration tips and ideas you may like to try.
Navratri decoration using flowers
Flowers are naturally beautiful and attractive. And we all know the significance of flowers for any Puja. Since, you are in a quest for home décor tips for Navratri, no choices can be better than using flower for decorating the home. For instance, you can use Marigold, mogra, and other flowers to make garlands and hang it over the doors and windows, or use it in rangoli décor. You can even use flowers to decorate the entrance door, temple, and some other part of your home as well. This is one of the easiest home décor tips for Navratri.
Navratri decoration using diya
Diya is an important part in our Indian Culture and it is randomly used while worshiping Gods and Goddesses. Apart from worshiping the lords and deities, it is also used to greet a person or wish them good luck. Over all, Diya has a great religious symbolism in India. So, if you are searching for home décor tips for Navratri, then there's no better way to do it except by using Diya. There are lot of fancy Diyas available in the market. You can get a few from there and place in your living room and pooja room to bring a religious touch to it. Apart from diyas, you can also use Scented candles. And if some how you can manage to juxtapose both diya and scented candles, then it would be one heck of site for Navratri.
Navratri decoration with rangoli
Rangoli has both a religious and purity touch in it. Whether it is handmade Rangoli or purchased Rangoli, the significance of Rangoli is immense to decorate your home perfectly for Navratri. You can use it on the flooring of your pooja room, living room, drawing room, or any other room of your choice. When there is a puja, we just can't think beyond Rangoli, simply because the decoration would not be perfect without Rangoli. This is certainly a worth trying tip for Navratri.
Use statue of Maa Durga
Since you are willing to try something new and change the ambience of your home atmosphere, then go to the market and get some Maa Durga figurines. There are lots of different figurines available in the market, so you can easily choose and buy one. But remember one thing; choose only the one which suits the style of your home.
Ornamental dolls
Since it's the festive season, you cannot complain about the markets for limited stocks or poor collections. So, get some time off from your job to hit the market and acquire various color and stylish deities. Then arrange them at your home, to create a picturesque atmosphere for Navratri.
Bonus tips for Navratri decoration
After implementing the above-mentioned tips, you still wouldn't get a perfect atmosphere, unless and unless you use fragrant candles. You must have seen that your mom decorates deities and light fragrant candles to create a pure religious atmosphere. Similarly, after decorating your home you need to use fragrant candles just to bring optimum religious atmosphere during Navratri.
Image Source: Wikipedia