At times you don't have enough time to prepare a 'to do list' and tick off the task as you finish it. Some time you just have to get through and get going. But planning and preparations can help you save from hell lots of hassles more in case you are planning to pack and relocate all of your household goods.
So what you are shifting your home within the city or to the next block in same society. Just a little bit of mishandling and you end up with a broken item. Local home shifting is less complicated only because it can be done in a day or two and distance is less. If you leave that aside, rest of the process of local shifting is literally the same like a long distance relocation and hence proper planning and precaution is important.
But if you are running out of time and planning to go for next day local home shifting, then you must start now. And here in this post I will be talking about some of the most essential packing tips that could help you do next day local shifting without any hassle.
Packing can easily be considered as one of the most time consuming and tedious task, especially when you are packing a cluttered house. Professional movers have access to all the tools, expertise and manpower and thus they can pack everything swiftly. However, you can't pack your things with such swiftness. If you manage to get everything packed properly, chances are transportation can be done without any issues. So are you ready to explore different ideas for packing all of the essentials yourself like a professional movers and packers?
Ok. Let's start then.
1. Packing essentials for next day local shifting
You know what, it's going to be really terrible if you have to unpack everything the moment you reach your new home tomorrow, especially when you will be packing today till late hours and working full day tomorrow in moving. So pickup some of the essentials as if you are going for a small trip outside of the city. Take a pair of clothes and under garments, towels, tooth paste and brush, shaving kit, medicines etc. Packing essentials together in one bag will not only help you manage next day, but saves you from the hassles of locating and unpacking items just after reaching your new house.
Since you are packing a bag, you don't need anything special to begin with.
2. Arrangements of Packing Materials
When I purchase a home appliance, I usually keep the original box because I know I will be moving in every three years due to my job. Not sure if you keep them or not?
But don't worry if you don't have the original boxes to pack these items. You can pack them in normal cardboard boxes or cartons. Not even collected cartons? Go to your neighborhood grocery store or medicine store and they may help you. They can give you a few carton boxes for free and even if you have to pay, it will be lesser than what you will be paying otherwise if you buy new carton boxes or what a mover may charge you.
So here's what you need.
You need lots of packing tapes which is thicker and wider so that it can support the boxes.
Get some packing paper or you can do with old newspapers.
Getting some bubble wrap would be better especially for electronic goods.
Ropes and threads may be required.
Get a market to label the boxes.
Once you have managed to get all of these, you will be good to go.
3. Preparing carton boxes for packing
Most likely you will get folded carton boxes. So open it and make it a box. Then Tape it properly from the base to fix it. Tape it near the base (just 3-4 inch above the base). Do same at the top. This is to give strength to the box so that it can hold the weight. Final taping can be done to seal the box once you have placed items inside. When you wrap a carton box bottom, base and top, it can hold more weight.
Here's an example (i am not good at drawing)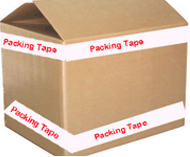 4. Packing of home appliances and electronic goods
Pack home appliances like DTH box, DVD player, music system, PC cabinets, monitor, mixer grinder etc. I hope you have kept the original boxes for these items. Packing these goods in its original box is much easier and usually it's better. When you pack such home appliances in its original box, you get more safety with less effort.
5. Pack crockery and glassware of the kitchen
Packing of kitchen utensils and other crockery items is going to be challenging. You ought to be patience and do the packing quite carefully. Packing of plates, bowls, glassware etc should be done properly. The best thing to do is to pack all similar items in one box and do it in multiple layers. Also wrap the item properly before placing it into the box. Once you place one layer, put additional paper or scrambled newspaper for proper cushioning before starting next layer.
Depending on the size of the box you are using, you may like to layer the crockery items horizontally or vertically. Vertical stacking is good for plates etc with adequate cushioning.
6. Packing of kitchen utensils
Kitchen items are usually harder, so packing them is not a big deal. But if you pack them properly, you could save lots of space and decrease the number of boxes. So start by placing smaller items into the larger ones and then place them into the carton box. Feel free to wrap them properly using any packing paper or bubble wrap. If you have none, you can use kitchen towels and other old clothes for wrapping. It works and works well.
7.  Labeling of boxes
You may not realize it now, but trust me, if you don't label the boxes properly, it will be a nightmare to locate an item out of 15 or 20 odd boxes. There will be clothes, books, dvds, kitche items, and what not. Locating an item is going to be really difficult unless you label the box properly. So label each of the boxes as you finish packing and mention room name when possible and brief of items inside. It's also a good idea to highlight instructions like glass inside, this side up etc.
8. Packing heavier appliances
Heaver home appliances like fridge, washing machine, television etc is going to be difficult. If you can manage, get someone to help you with this. Don't use washing machine and fridge the day you want to pack them. In fact you should vacate them and also defrost the fridge if needed.
If you have kept the original box for these appliances then your job will be easier. But if you don't have original boxes, then you have to pack them using the carton sheets, packing foam, bubble wraps, followed by waterproofing plastic sheets.
First of all wrap the appliance using the foam, tape it, followed by carton sheet. Once you have finished wrapping the carton sheet, simply tape it the same way you prepared the carton box i.e. wrap it at the base and top horizontally and then in the center vertically. Yu may apply waterproofing sheet or do without it.
09. Packing of furniture
Depending on whether you have modern modular furniture or classic strong wooden ones, you have to make strategy. Some furniture can be dismantled in to smaller parts and pieces. If you have such furniture then packing is going to be smooth. But even if you have furniture that can't be dismantled, there is no need to worry.
Disassemble it to the extent possible. Clean them and start wrapping using same technique discussed in point no 8 above. The basic idea is to protect them from any scratch and dirt.
10. Prepare for moving
Obviously once you are done with packing it's time to check everything the last time and plan for moving them. If you have not arranged truck, then do that now. Some movers and packers companies can offer truck and labor, but usually they take full work assignments.
Before leaving the house, make sure to close all doors, window, water taps, power lights etc. You are good to move to your new home.
What techniques do you use for do it yourself packing and home shifting?