Now that may sound like surprising, but it's possible. I know packing and shifting of all of the domestic household materials has its own complications. But you can get rid of all of these complications if you are willing to do so.
Fortunately, today you can find movers and packers companies nearly in any city who will be happy to offer relocation services and help you relocate your home safely. Obviously when you engage a professional company they take all of the responsibly and with their extensive network and trained executives, there is hardly any reason for you to worry about.
Movers and packers companies in India offer both local and domestic home shifting services. But since local shifting within the city can be done even in one day, it's comparatively easier. Where as a long distance domestic home shifting in India could be a little tricky and so it requires some good planning and expert help too.
So how do you go about it? That's what we're going to discuss in this post. Let's start.
Do it yourself Vs seeking professional help
When it's about packing and moving of domestic household materials, one of the very first and most important things is to decide whether you can do it yourself or you need help from a professional movers and packers company.
Doing it yourself is good when you have prior experience of moving your household goods. Usually I see army people handle part of their shifting themselves. They would pack everything themselves and then hire a truck to get it moved. They trust their own expertise with packing and it also helps them save some extra money e.g. packing and handling charges.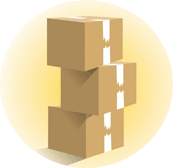 When you take care of part of the major tasks yourself, you obviously save some money there. But same may not be possible for everyone in general. So do it yourself only;
When you have some previous experience of packing everything perfectly.
When you have lots of packing materials/boxes etc to pack your household goods.
When you can expect help from people around you (family members/colleagues).
When you are really concerned about the overall costs of packing and handling.
There are many more things worth your attention before you take a call and decide to do it yourself.
But when you don't feel like doing it all yourself and you want to seek professional help from a movers ad packers company in India then here's how to go about finding and hiring one.
Random search Vs referrals of moving companies
Thankfully, there are tons of movers and packers companies all around. If you leave small towns and cities, you can find a number of service providers nearly in any city across India. But how do you go and find one who is just perfect and capable enough to help you out.
After all, every moving company may not have services in every route or city, you know?
Since you are relying on resources and expertise that a moving company can bring on the table, it's worth exploring and identifying the best relocation company for the job. Isn't it? After all it's their team who will be handling everything from disassembling modular furniture to packing of precious household goods and articles.
There are many ways to find such moving companies in your own city, but two of the most frequently used ways of finding relevant movers and packers companies for domestic home shifting in India are here under;
Searching for movers on the internet
Seeking for references of movers from friends and family, online and offline
Searching randomly on the internet is not a bad idea, but then make sure you check everything about the moving company you have shortlisted or considering to work with. This is where recommendations or referrals work better.
There are many ways to find referrals and contact details of moving companies from your own trusted network, friends and family. You can even use facebook, linkedin etc to find one or ask your friends and colleagues for help.
I mean when a friend refer a moving company to you, you can be a little sure that they are good and they have served one of your friend. But even in that case, you should do the background check. Every shifting is unique because you have different types of materials, you are moving to a different city in different route.
Whichever way you plan to go, just remember that the ultimate objective is to find a company who can help you get your domestic household goods safely without any hassle.
Compare moving companies and their rates
Safety and affordability are two important concerns that have to be addressed, right? How do you plan to do that? One of the simplest way is to talk to multiple moving companies. Compare their process, profile and approach towards the job. As you discuss with these companies, you start to understand the process and also get fair idea of the possible costs associated with packing and moving.
When you already have options, and some idea of possible costs of relocation services you can definitely negotiate with the service providers. Rates of services can vary between 10 to 30% or even more sometime. So take that into the account before you award the job to a movers and packers company.
Analyze and verify all of the option before taking a call
Role of movers and packers companies and their executives are really critical. They play a critical role because once you assign them the job, they are expected to everything possible to ensure your goods are packed, loaded, transported and delivered in safe and sound condition.
That's why it's really important to understand specifically from each of the movers and packers companies that you are considering to handle your relocation needs.
Verify every fact presented to you – from registration of company to branch network, contact numbers of key contact person at both source and destination cities. Sometime you will come across a mover who may offer you cheaper rates, but you please be careful of such offers. Sometime you may get deals that are hard to believe in general. Some time it's possible, but there may be some hidden agenda hidden agenda, so just double check everything.
Here's what you should not ignore
Apart from searching, verifying, comparing and negotiating with movers and packers companies there are other things on which you should pay attention. Let me tell you what else matters during domestic home shifting in India with the help of movers and packers.
Here're some of the important things to pay attention to;
Always trust in moving companies with valid documents.
Always compare rates and even negotiate to an extent.
Understand the process from packing to delivery.
Every movers and packers may not have their own branch at all locations. Work out unloading and unpacking schedule with the movers in case they don't have their own branch.
Always take contact numbers of key contact person at source (for packing) and destination (unloading). Better to ask for alternate contact Numbers too.
Always asses and find how much of insurance is needed and get it done.
Take contact number of the driver (or escorts if any) so that you can find out where exactly they are during the transportation.
Never pay in full and by cash. Always deal with moving companies who has a valid bank account number in the name of the company they are representing.
When possible meet them face to face and in the office of movers and packers you are about to hire.
Conclusion
Process of domestic home shifting is complicated irrespective of whether you are doing it yourself or you are hiring a professional moving company to do it for you. There are different parties involved and things may not fall in place as expected. But only when you hire a mover without understanding the process or without verification of facts presented to you.
Illusion is bad, very bad. So whatever decisions you are taking, make sure to evaluate possible option and decide only when you are fully satisfied with the offers being made to you. When you do so, you get peace of mind and that's precious. By the way, here's a checklist for packing and moving of household goods in India, you may like to check.