Renting out safe and secured storage units for short term and long term household storage needs is becoming popular these days. If you are moving to another country, renting out a storage unit may seem to be a better option than retaining the rented apartment. Similarly, when there is a scarcity of space in your current home, then instead of crowding your home, garage or other areas in your home with loads of items, it make more sense to rent out a storage unit and move your goods there for safer storage. Storage units can also be used for storing the seasonable items like winter clothes etc. And if you are wondering about how to choose a storage facility or things to keep in mind when selecting a storage unit to store domestic and household items, then here's the post worth checking. Today in this post, I am sharing a 9 of the most crucial and important things worth considering when choosing a storage facility for short/long term storage needs.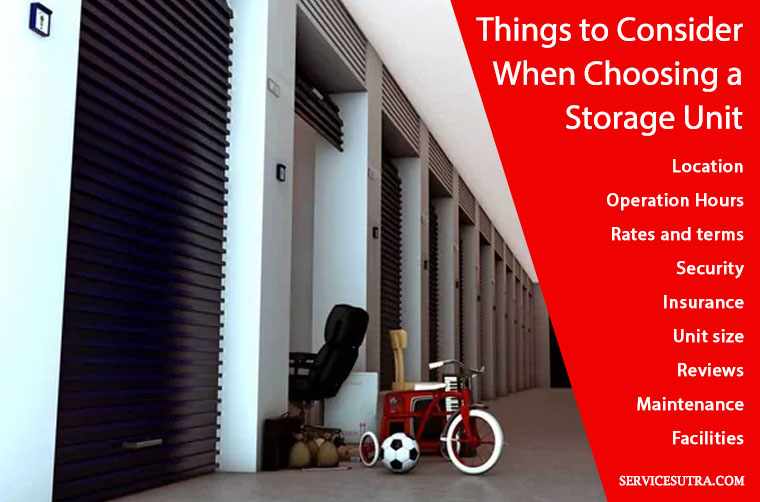 How to choose a storage unit – the right way
If you have to keep your domestic household items safe inside the storage unit for long term, you got to choose the right storage facility in the first place. And this is why it's important to know a few things about choosing a storage unit. As I have worked with hundreds of moving and storage companies from all across India, I can help you get it right.
And, here we go.
Location
First thing first, the location of the storage unit or the facility is important, and if it is nearer to your then that's better. Well, the location of the facility and the proximity to your home is an important thing that you should consider when choosing a storage unit for short/long term storage requirements. if the facility is closer to your home, then apart from saving on both way transportation cost to move in/out your goods, you will have easier access to your goods as well.
The location may not be that big a factor in case of short-term storage, but in case of long-term storage purposes, it is best that you choose a facility that is not that far from your home. This is all the more necessary if you have plans to travel back and forth between your home and the storage unit in order to retrieve your items several times during the storage period.
Hour of operation
Next in the list of things to consider when choosing storage unit, is the hours of operation of the facility. It is important that you see to it that whether you will be able to access your storage unit at times that is suitable for you, especially if you have a daily tight schedule. Like for example, you may be free on the weekends but if the storage facility is closed in the weekends, then you will not be able to access your items when you are free. So, to avoid inconvenience, it is recommended that you choose a facility that is available 24×7 for their customers.
Rates and payment terms
When you are choosing the storage unit for long term purpose, there are some questions that you should ask before choosing a facility. Like for example,
Does the storage unit charge is weekly or monthly?
Will you get one month storage facility for free?
Will you be able to cancel the contract anytime as per your preference?
How much expensive is the storage unit facility?
Well, finding out the answers to all these questions will help you decide whether the facility and its rates and the payment terms they offer are suitable for your needs and is within your budget or not.
Amenities
Well, you need to be sure that the storage unit that you are planning to rent out is climate controlled. This is very much important for you especially if you live in a place which experiences extreme temperatures. The climate-controlled units are always preferred because they protect your goods from extreme heat, humid or cold weather. The electronics and the furniture are more prone to weather related damages, so unless they are kept in climate-controlled units, they may get damaged.
Among the other amenities that you should take into account are the material of the storage unit and whether it is located indoors or outdoors. If you are going to rent a storage unit for long term purposes, then it is advisable that you go for one that is located indoors and that which is made up of weather resistant steel.
Security
The security of your belongings should be at the top of your priority list when you are renting out a storage unit. Well, the good thing is most of the storage facilities provide good safety measures and your goods are generally protected.
However, the extent of the safety measures provided will obviously vary from one storage facility to another. Like, some storage facilities may just offer you a lock and key while some other storage facilities may have additional safety measures like 24 hours monitoring, digital surveillance, a well-lit environment, electronic gated entrance, perimeter fencing etc.
So, while you are making the selection, make sure you are satisfied with the safety measures that the storage facility is providing. Do, read all the terms and conditions before signing any deal with the storage company you have chosen.
Check reviews
Well, you may have decided to go for a storage facility that is a nationwide chain but that does not mean you will not check the online reviews and the ratings for the exact location that you have chosen. Unless you check the reviews, you will never be able to know whether the facility that you are planning to go for offers its customers with quality service or not. You will also be able to have a fair idea of the various other important features of the facility. Well, choosing the right storage facility is important so you might even consider going for referrals from the trusted friends, relatives, neighbors etc. And while looking for reviews online, just be a little cautious and see to it that the reviews are genuine and it's coming from real customers.
Insurance
In order to protect the domestic household items you may be required to take additional insurance from the storage facility. So, while you are making the selection, see to it that the insurance includes protection of your belongings from robbery/theft, water damage and other unfortunate accidents. Not only insuring your goods properly will give you some relief but you will also be able to get proper compensation in case your items get stolen or damaged in any way when kept in the storage unit.
Size of the unit
Depending on the type of items you are planning to store in the storage unit, you should choose the storage unit size. Like for example, you need to see whether the storage facility is offering you with storage unit size that is suitable for you. After all, you need to pick the right size storage unit with the right storage features that is best for your items.
You may be planning to store a large item like motorcycle or a car, so unless you get extra large storage unit, it will be of no use to you. On the other hand, if you have plans to store only a handful of boxes, then going for a small and inexpensive unit will be OK for you.
Maintenance of the facility
It is important that you consider the physical appearance of the storage facility because they say quite a lot about whether the owners take the business seriously or not. If you see a well-maintained facility, then that is a good sign because that indicates that the owners care for your items more than your money.
On the other hand, a poorly maintained facility with lot of structural damages, like for example, molds and then holes from where small insects and pests can enter is not at all a good option to choose. You must also check the landscape. Be sure that the grass is cut from time to time and then there is no trash or debris.
The simple thing is if you do not get a good feeling once you visit the place, it is better that you avoid that and find a facility that is well maintained.
Conclusion
Determining the right storage unit that perfectly suits your needs will be of great help and value. We today have many storage facilities which are good as you will have various options to choose from, but having so many options may often confuse you as well.
So, if you have decided to rent out a storage unit to store your household goods for a long period of time, make sure you make the choice based on the certain important factors like the size of the storage unit, the environment, the hours of operation, the prices, the safety measures offered, the insurance options etc.
If you look for these important and crucial things when choosing and renting out a storage unit, then you will be able to get rid of many known and unknown issues, commonly associated with storage facilities.
As far as checking whether the storage facility you are going for is a trustworthy one or not, you need to be a little alert. To avoid making wrong choice, it will be good if you go for referrals from people you trust. If not, then make sure you research about the storage facility well by seeing the online reviews and ratings, before making a deal. Also, while conversing with the representatives, check how they speak with you. Do they seem sincere and confident? If yes, then go for them.
Well, I hope with my recommended list of things to consider when choosing a storage unit for long term, you will be able to rent the best storage unit. I wish you all the best for that.
What else do you think one should look for when choosing storage facility for long term storage?
And, if you found this article to be informative and valuable, please do spread it among others so that more and more people can get benefitted from it.
Until then, stay safe and keep your belongings safe as well.