The recent COVID-19 outbreak has caused a lot of concern for all of us. No matter which part of the world you are living in, the situation is truly scary for all of us. Thankfully, everyone is united and fighting it out. And if anything, this outbreak has suddenly forced us all to maintain proper hygiene and cleanliness at our home and work place.
Suddenly the demands for home and office sanitizing services have increased many folds, and unfortunately, there are not enough sanitizing companies out there to take up all the jobs due to surge in demands. But you know what, there are ways to make your home virus-free and that's what I am discussing in this post.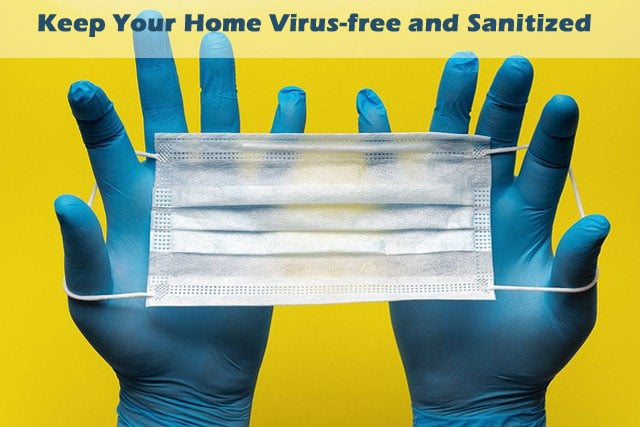 How to sanitize your home to make it virus-free
There's a basic misconception where we sometime confuse cleaning with disinfecting.
But they are not the same and are completely two different things.
Cleaning is all about removing dirt and dust that you can see. But disinfecting is about cleaning germs and bacteria that you can't really see and identify otherwise. And therefore, it is important to ensure that your house is getting cleaned and disinfected every day. Here's a detailed household cleaning and sanitizing guideline by CPC that you may like to follow.
Most of us already have a daily and weekly cleaning schedule that we all follow. And due to this COVID-19 outbreak, I am sure we are suddenly more aware and attentive to our home and office cleaning needs. But in similar way, we need to adopt home disinfecting practices to ensure that our home and offices are virus-free and safe for us.
If the researchers are to be believed then pathogens can stay alive on a surface for up to 24 hours or even more in some cases. They have different longevity at different surfaces, but in general most of the pathogens and virus can stay on a surface for 24 hours or so.
Now, that is an eye opener and enough reason for us to ensure that your home if virus and pathogen free, and to do so, you need to disinfect the most affected and exposed areas and corners of your home. Obviously the surfaces like floors, kitchen counter tops, tea table, switch board etc are the more exposed areas that need disinfecting.
Surfaces and objects that must be disinfected everyday
Listed below are the areas and objects that need to be cleaned and disinfected to make your home virus-free:
Door handles and knobs, especially main door knobs and washroom knobs
Call bell switch and outside main door handles
Dining table surface, along with chairs from all sides
Tea table and carpet
Kitchen and washroom counters tops
Faucets in kitchen and washrooms
Light switch board and switches
Remote control
How to clean and disinfect your home objects
Ideally, you should clean these objects first and then disinfect. You can start by dusting, followed by moping of these objects using dusting clothes, and then apply a suitable cleanser to clean these objects properly. Once it is clean, the next step is to disinfect.
In order to disinfect your home object, you can take the usual disinfectant spray or solution to disinfect these objects and kill all the pathogens, germs and bacteria. Depending on what type of disinfectant you are using, you can apply it and then mop with a clean cloth.
Remember, you have to double check all the areas of your house that is more exposed to multiple touches. Every time someone is entering your house, he or she may carry bacteria and germs. So, ideally you should look for outside exposure and disinfect those objects on priority.
Just a little bit of care and caution can help you prevent a number of health concerns and disorders.
In order to keep yourself safe and protected from virus
And it's not about just disinfecting and sanitizing your home, you should also take caution and protect yourself from virus and allergy, and here's what you can do to keep yourself safe and protected from virus.
Wash your hands frequently
I am sure, you know this, and most of us hear this several times a day these days due to COVID-19 outbreak. But, it takes times to develop a good habit, especially when it's related to something that's not so obvious, and unless we realize its positive benefits.
I just wanted to stress it one more time. No matter what, make sure to clean your hands, several times with hand-wash, soap and then sanitize it as and when you touch anything that may have exposure to external touches.
If you manage to get hand sanitizer (suddenly the demands have surge), then that's great, but if not, you can take the usual hand wash lotion or soap.
Also, another important thing I want to mention and stress is to moisturize your hands properly after every wash, especially for those with minor cracks in hands. We often get cracks due to cold weather conditions etc, so keeping your hands moisturized after apply soap or hand wash is always better.
Stay home
The best way to keep yourself free from virus or any other allergy is to stay home as much as possible. Given the current situation because of COVID-19 outbreak globally, it's highly recommended to stay home, unless your work demands your to go out like in case of police force, medical professionals etc. But otherwise, by staying home, not only you keep yourself protected, but you also keep others safe.
But, if you have to go outside for an essential needs like to buy medicine or other such reasons, then possibly you should wear masks and avoid touching outside objects as much as possible.
And most importantly, when you are returning home, you should immediately go to the washroom, put off your clothes, take a good shower and change. This is a basic hygiene practice that many of us do not follow, and that not right.
If you are seriously, serious about staying fit and healthy, then you must adopt proper hygiene practices, and keep yourself clean and disinfected, and your home properly sanitized.
How to make herbal sanitizer at home naturally?
As you already know, the demands of sanitizing services and sanitizers have increased these days due to Covid-19 pandemic. And as most of us are staying home, you can't really go out to buy sanitizers or it may simply not be available at a nearby store.
And even if, the sanitizers are available, you can make all natural and herbal sanitizer at home, easily and naturally. So many people asked about how to make natural and herbal sanitizer at home and therefore, I thought of sharing the process of making sanitizer at home.
So, are you ready to make the all natural and chemical free sanitizer at home?
Let's, get to it
Ingredients needed to make sanitizer at home
First of all, let me share the main ingredients you need to make sanitizer:
A bunch of fresh neem leaves (Indian lilac)
About 10 grams of Kapoor or camphor
Around 10 grams of Fitkiri (Alum)
One liter of fresh water
Process of making natural sanitizer at home
Take a clean pan and pour in the water and neem leaves in it and let it boil. Switch off the heat once the water is reduced to 500 ml.
Now add Fitkiri and kappor to it
Stir it properly and let it cool down
Your sanitizer is ready to use, so just transfer it to a clean container, preferably a glass container.
PS: this recipe is suggested by Yoga guru Ramdev and I have personally not tested it yet.
Conclusion
If a recent survey by word bank is to be believed, In India, we are losing around 6% of our GDP because of poor hygiene practices and conditions. Now, that should be enough for all of us to pay attention to cleanliness and sanitizing needs.
I have already shared a few simple ways on how to disinfect your home and yourself to keep safe from virus. And you know what, it's not all that difficult, it's just that you have to adopt these best practices and make it a habit.
What else do you think one should do, to make the home virus-free? //