Needless to say, that the whole world is going through a very bad phrase due to COVID-19 pandemic. Coronavirus has caused havoc in our day to day lives. Not only has it weakened us physically but has also taken a huge toll of the humans emotionally. People are asked to stay at home as much as possible because that seems to be the only solution right now to avoid the further spread of the Coronavirus. But, although most of us are trying to keep us physically safe as much as possible, we are constantly panicking thinking about our uncertain future. Moreover, the constant negative news of rising deaths all over the world is not helping us in any way. Instead it is increasing our anxiety and making us all the more stressed. But, what we need to understand is that getting tensed will simply lead to panic attacks and weaken both our physical and mental health. So, in such a situation, we must try to deal with the stress, anxiety, fear and stay as much positive and calm as possible. And that's what we are going to talk about in this post.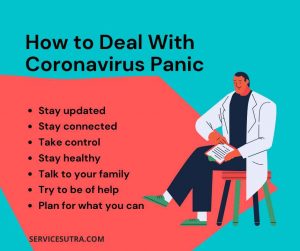 I know it is tougher than it seems, but together we can fight this disease and therefore we should not lose hope. Remember the experts are trying their best to find a cure to this virus infection. Till then, behave like a responsible citizen and help your local government fight this pandemic and improve the situation. And, as far as dealing with the Coronavirus panic is concerned, listed below are a few of the best ways to deal with Coronavirus panic and deal with the stress, fear, anxiety and uncertainly.
Stay updated
Try to stay updated about the Coronavirus but do not become too obsessive about it. It is really important to be aware of what is going on all over the world, and to follow the precautionary measures that our government and the doctors are suggesting.
But, there are a lot of rumors and misinformation going around which is only increasing the fear among the people. Do not panic hearing about the fake news and make sure you read up the latest updates from trusted sources like update from the local administration in your city/state/country.
Listed below are a few other important things worth following:
As I said, not every source of information is trusted, so if you have to stay updated about the latest developments regarding Coronavirus, it will be good if you check the World Health Organization (WHO), CDC and the local public authorities.
It is good to stay updated about the latest facts regarding COVID-19 but there is absolutely no necessity to constantly monitor social media feeds and news as that may turn counterproductive and impulsive leading to more anxiety and stress rather than easing those negative emotions.
If you are getting too much overwhelmed, it is a good decision to stay away from media. You may limit your consumption of media to a specific period of time in a day. Like for example, 30 minutes in the morning while having your breakfast.
Now, if you are trying to control your urge to constantly check for media updates, you may simply try to avoid media completely and ask someone trustworthy to share the important Coronavirus related information with you.
You yourself when sharing information with others need to be responsible. Unless you are sure that the information is valid, do not share with others.
Take control
In this difficult time of crisis, you should concentrate on things that are under your control. There are many things happening around us which are not in our control. Like for example,
how to find the cure of this Coronavirus
how long will this pandemic last
how will the fellow people behave etc.
You might be looking for answers to various questions, the answers of which are not yet out or available. Please stop this because this will simply increase your stress and anxiety.
Instead, it is better to draw your focus towards things that are under your control like staying home, washing hands, maintaining social distance and hygiene at your home. Like, you may not be able to control the spread of Coronavirus in your hometown alone but you can always try out means that are necessary for the safety of you and your family members.
The most important thing that you got to do is to maintain proper hygiene. Wash your hands frequently using soap and water. You may also use hand sanitizers containing at least 60% alcohol.
If you have a habit of touching your face, please try to control it.
Maintaining social distancing is mandatory. So, please stay at home no matter how much you are getting bored and frustrated. Only go out when it is absolutely necessary.
Avoid gatherings. Whenever you see 10 people of more standing together, stay away from that.
Remember it is not the time for non-essential travel or shopping.
Try to maintain a distance of about 6 feet between yourself and others when outside.
Eat healthy, exercise and maintain a proper sleep routine. This is important to have a healthy and strong immune system.
Follow all the advises of the health authorities.
Plan for what you can
I know that you are bound to be tensed about what is happening around. Like what if the workspace close, then if someone you love falls sick during this period of time, how to handle your children as they are getting bored as schools are closed etc. Well, all of these are in some way or the other quite concerning, but if you are proactive, you will be able to deal with the stress and the anxiety in better ways.
Writing down all you worries regarding how the recent pandemic can cause havoc in your life. If you get too much overwhelmed, do take a break.
Think and jot down the possible remedies to your problems. Do not just look for perfect solutions. Simply jot down whatever strikes your head.
As I said earlier, try to focus on what you can control, not on those that are beyond your control.
Once the evaluation is done, you may draw a certain plan of action. Keep it aside and control your urge to go back to it unless there is a significant change in the present circumstance.
Stay connected
Try to remain in touch with your closed family and friends even when you are physically isolated from them. The elderly and the people who already are suffering from underlying health conditions are the ones who are at risk mostly. For the young and the healthy, even if the virus may not become life threatening for them, they may still fall sick or even if they do not fall sick thanks to their strong immunity, they can carry the virus and infect the physically weak people who may end up becoming the victims.
So, one must be responsible and practice social distancing. However, I do understand that we humans are social animals and isolation and loneliness can lead to too much anxiety and boredom. So, during the self-quarantine period, even if you are not able to meet your friends, relatives etc. in person, you can still stay connected to them, thanks to the social media.
To avoid feeling lonely and getting depressed, you may get in touch with your loved ones through phone calls, Facebook/WhatsApp chats, video calls etc.
Stay active in social media. This is because here you can not only connect with your friends and family but can also feel conceded to all the communities. This is not just your fight alone but billions of people are fighting it. So, you will be constantly reminded that you are not alone in it.
However, be a little mindful while using social media. If you see that that too much negative news is circulating in the social media feeds which is making you too much anxious, then simply log off. Also, do not hesitate to mute keywords or individuals who are spreading rumors or fake news related to the Coronavirus which is making you all the more tensed.
While conversing with others, the topic of Coronavirus will come sometime or the other but try to avoid letting this topic dominate the conversation. Do talk on other topics and simply laugh and enjoy each other's company.
Mind, body and soul
Coronavirus has led to global crisis but do not get affected by it so much that you end up falling sick even without the virus infecting you. If you are asked to stay at home to avoid the spread of the deadly virus, then utilize that time in taking care of your mental and physical health.
The most important thing is you should do is to not get too harsh on yourself. Understand that you are not alone in this fight against the Coronavirus.
Even when you are locked inside your own home, try to maintain a proper routine on a daily basis. Eat, work, sleep at proper time. This will help you maintain a sense of normalcy.
If you are getting super bored or frustrated as you are not able to get out, then it will be good if you try to engage in activities that you love to do. Be it singing, dancing, painting, cooking etc., do whatever you enjoy doing. Do get involved in fun activities as well.
You can get out in nature. Well, by this I mean that you can take a walk in your yard or around your neighborhood. Or simply can sit in your patio and balcony and enjoy some fresh air. Even if you are going outside, make it a point to avoid crowds, maintain a certain distance from others and follow all other restrictions.
You may not be able to hit the gym but you can do some basic stretching and yoga at home. This will not just help you stay in shape but will also help you release your stress, anxiety and change your mood.
When you feel too much anxious, try to meditate. This will help you to stay calm.
Do indulge in self-care and pamper yourself. Go for skin care, hair care etc. when at home.
Talk to your children
You are an adult and you can still understand the situation but your little ones may not be able to understand what is exactly going around and why are they forced to stay at home and not go to school and play with other kids like other days. Many a times, children are not able to express but they do feel anxious and stressed out. So, you being the matured parent must help ease the anxiousness of your children. Here's what you can do:
First and foremost, you have to be a good listener. They may not be able to speak their hearts out all the time and may be suffering silently. So, you got to spend more time with them, be a good listener and directly talk to them about what is worrying them. This will help in calming their worries.
If they are not aware of the whole coronavirus scenario, then you need to let them know about it and why it is so important to maintain social distancing. Give them accurate information and tell them how they can keep themselves and others safe.
While conversing with your little kids do focus more on how to prevent the spread of the disease. And, then do appreciate them when they are following proper hygiene and washing their hands.
It is also better if you do not disrupt with their normal routine much. Maintain a proper eating and sleeping routine. Do, play with them as well.
Try to help
If you want to be happy, then helping others in this time of crisis will also give you immense happiness and satisfaction. It will help you regain the sense of control in your life. Moreover, if we help each other, it will become easier to fight the deadly Coronavirus. Here are few things that you can do:
One very obvious way you can help others from getting infected is by staying at home even if you do not fall in the high risk category. Wash your hands frequently and avoid contact with others. This will help to prevent the spread of the Coronavirus and keep you and others safe.
If you are aware that certain people are isolated and they require help especially the disabled and the elderly people, then you can reach out to them and help them. Like for example, if they are very sick to get out of their homes to buy even the medicines or the groceries, you can do it from them. leave the packages at the door to avoid direct contact. Then if they are completely alone, then maybe they just want to talk to people. You can simply talk to them over the phone and help them ease their tensions.
If you are lucky enough to be financially strong, then one of the best ways where you can help the needy is by donating food or cash to the organization, NGO's, food banks who are trying to help the poor and the needy.
If you see that your known are over panicking, then help them stay calm. Tell them not to believe in fake news and rumors and give them valid updated facts only.
In this tough situation, it is best to avoid all kinds of caste, creed, class and religion differences and stay united. Be kind to one another and become each other's support system. Let love spread faster than the Coronavirus.
And, if you are experiencing higher stress levels due to COVID-19, there are resources available at https://www.betterhelp.com/advice/psychologists/ to help you learn about coping with stress.
Over to you
The pandemic has caused a lot of topsy turvy in our lives and lead to widespread panic. But, panicking will not help in anyway. It will instead lead to the deterioration of mental and physical health. So, it is important that you do not panic a lot and instead stay prepared to face the tough situations.
Follow the preventive measures that your local government and the doctors are suggesting. At the same time, try to keep yourself busy, indulge in self-care, concentrate on valid information regarding Coronavirus only and help others while staying at home because all of these will help you cope with the anxiety, stress and uncertainty better.
Remember, you are not alone. The whole world is fighting the virus. Just stay positive and hope that we are able to find a proper cure to it soon.
Until then, stay safe and let others be safe as well.