Kitchen is the heart of your sweet home. And therefore when you are designing a kitchen, you have to think through and consider a lot of things. Right from the layout of the kitchen to size, utility and storage options, there are a lot of things to consider when designing a kitchen.
Whether you are constructing a new home, buying a ready to move house or just planning to renovate your existing kitchen, there are a few things that you must consider and pay attention to. And that is what we are going to discuss in this post today. We'll be looking at some of the most crucial and important things to consider when designing a kitchen in your house.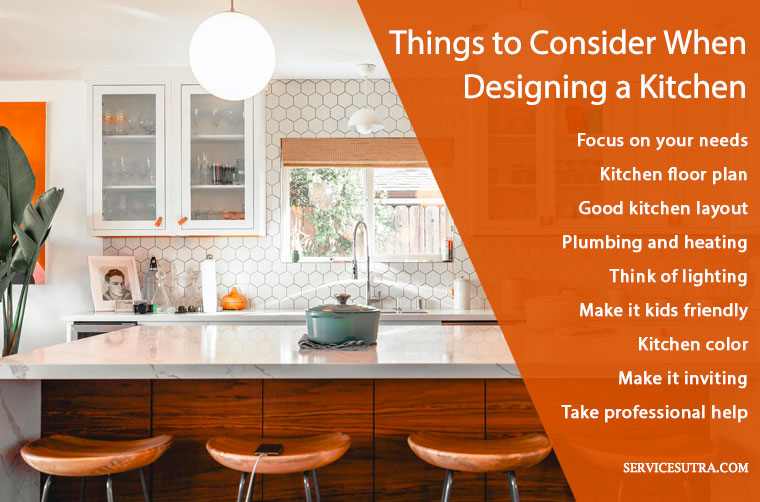 Things to consider when designing a kitchen
There's no doubt about the fact that no matter where you live, your kitchen is the most special and important place in your house. In fact, in ancient Indian civilization, kitchen was considered to be so special that you were not allowed to take your shoes to the kitchen room.
Kitchens are primarily meant for cooking, but it serves many other purposes as well. Starting from being the storage spaces to social spaces, kitchens have got many uses. And therefore, it is important to design a kitchen in such a way that it remains versatile.
Also, space is an essential factor and therefore, it will be wise of you to create a functioning working triangle with proper dimensions between the oven/stove, sink and refrigerator.
In addition, while selecting accessories like kitchen cabinets, counter top etc for your kitchen, always opt for good quality so that it'll last longer.
Honestly speaking, there is more to it and so let me share with you the other essential things you should consider to design a kitchen that you'll love.
Focus on your needs
It is seriously important to stay focused on your needs and priorities when designing a house. Whether its your kitchen or any other room, it is important to be clear about the functional needs, and the way that space will be used.
If you already have an existing kitchen which you are planning to renovate, just jot down the things you like and dislike about your kitchen. This can include anything starting from the types of appliances, to the placement of the items to the color of the cabinetry to the amount of storage space or number of storage options you have etc.
If you are clear about your requirements, it will help you decide whether you want to retain or to remodel certain aspects of the kitchen.
For instance, you should think of whether you want to keep your kitchen limited to preparing your meals or you want to make it multi functional. Ask yourself all these questions because it will help design a kitchen that will be perfect for you.
Kitchen floor plan
While designing a kitchen, it is necessary for you to understand the space you are working with. For that, it is best if you make scale drawings of the floor plan of your kitchen.
In order to have the best flow between your kitchen, the exterior space and the rest of the home, make the markings of the location of the doors and windows, both internal and external.
If you want an open plan kitchen, then you will be required to factor zones into the plan.
Now, when you have figured out how much space you have to work with, you can start with the planning so that you can make best use of the available space. Moreover, by now, you will also get an idea about how much you can afford to spend and accordingly, you can the changes in the plans to fit your budget.
If you are working with a professional interior contractor then they'll certainly show you multiple space layout and kitchen design ideas that you can choose from.
Plan the kitchen layout
Planning the kitchen layout is going to be a very crucial aspects of designing a kitchen. And therefore, the layout of the kitchen must go with your lifestyle. It is important for you to focus on the working part of the kitchen as well as it's relation with the dining table.
In order to get the kitchen layout right, do take into consideration that the three main points of the kitchen that are the oven/stove, refrigerator and the sink are close enough so that you are able to cook efficiently. But these components should not be too close either.
In addition, consider wide walkways because that will open up the design and storage spaces and everything you will require will be readily on hand. However, be very careful that the kitchen does not feel cramped because that is the last thing you want.
Plumbing and heating
Are you going to use the existing plumbing for appliances and the sink or is there a requirement for additional pipe work? Well, if you have a plan to go for a kitchen island then that will contain a sink and other appliances, you will have to see to it that the plumbing and the electricity supplies are in proper place before the flooring is laid.
To avoid mistakes, do make the decision of where you are going to keep the appliances, both big and small because that will help you decide the position of the plug points.
One way to keep the plumbing simple is to place the dishwasher and the washing machine close to your sink. So, you can take that into account as well.
Now, if you prefer under floor heating over radiators as the latter takes up more space, then that will definitely be a good decision. But, remember to install it prior to laying the kitchen floor.
Think of lighting
Proper lighting in the kitchen is something that you should always consider. With proper lighting in the kitchen, not only it will improve the functionality, but it's going to boost the overall look of the kitchen. I would also suggest you to make the system very flexible so that you are able to regulate the areas of your kitchen independently. Going for secondary lighting like spots above preparation and cooking areas will also be very useful thing to consider.
Make it kids friendly
If you have kids at home, you need to make sure that your little ones can access the dishes and the foods easily. And therefore, when you are designing the kitchen, make sure you to make it kids friendly so that they can access everything easily, especially dishes and snacks etc as and when needed.
Kitchen color
If the kitchen is small, then it is best to go for light colors in the kitchen as that will open up the space, and make it look a little bigger. Bright colors can also add a lot of energy to the space, but you need to be careful not to make things too overwhelming for your eyes. One thing that you can do is to focus on light hues as far as cabinets and walls are concerned, and keep brighter colors as accents in your kitchen.
Make it inviting
As far as the overall styling of your kitchen is concerned, do it as per your personal preferences. But, it's always good to choose between cabinetry with a contemporary look and more classic designs. And, if you are working with a limited budget, you may like to include simple things that inspire you because even that can help create a nice inviting look for your kitchen.
Another thing to remember when designing an inviting kitchen is to keep the kitchen clean, tidy and well organized, because until you do that, the kitchen may not look good and inviting
Take professional help
Designing a kitchen that you'll love is going to become much easier when you have a professional interior designer to help you out. And since, you are already investing efforts and money in designing a kitchen, there no reason why you won't consult a professional interior designer to design your kitchen. Professional interior design and kitchen remodeling experts can add a lot of value in the process kitchen designing.
And if you want, you can use servicesutra to find the best interior contractors near you who are ready to help you design your house, including a modern and functional kitchen.
Budget
Last but not the least is the budget. Your Home interior designing cost can easily run in lakh of rupees, especially when you start the project without considering the budget. It's true that it's difficult to get the actual cost before you start sourcing materials. But, that does not mean you will not have an initial budget for your kitchen makeover. If you don't really want to end up spending more, you should start with an initial budget in mind.
Summary
Kitchen is a very important part of your home and therefore you should design your kitchen smartly. Designing a kitchen can be tricky, especially when you don't know about the crucial aspects of a functional and welcoming kitchen designing.
Of course, when you have a professional interior contractor or kitchen remodeling experts on board, they will help you get it right. But, if you have decided to do it on your own, then there are certain things that you must consider, and we have discussed it all in this post.
If you have remodeled or designed a kitchen recently, or know about what to consider and remember when designing a kitchen, then I would love to hear your tricks and ideas.
Feel free to share your favorite kitchen designing tips and hacks by commenting below.
Happy remodeling!