People living in the colder parts of the world may find the summer to be the ideal time for moving and relocating a house. But those who live in the humid countries like in India, knows that moving house in summer is not going to be easy. Summer in many parts of the world is unbearable with the scorching rays of the sun raising the temperatures to extreme highs at times. It gets increasing difficult to go out in the summer days and if, in that weather condition, you are planning for moving a house, then trust me, it is going to be very stressing, especially if you have not planned your summer house move properly. If you are planning to move your house this summer, then you need to plan your summer house move appropriately. And today in this post, I am going to share a few of the most essential tips for moving house in summer. If the moving and relocation of house is on the card, just stay tuned and read the post till the end to pull it off successfully and without any hassle.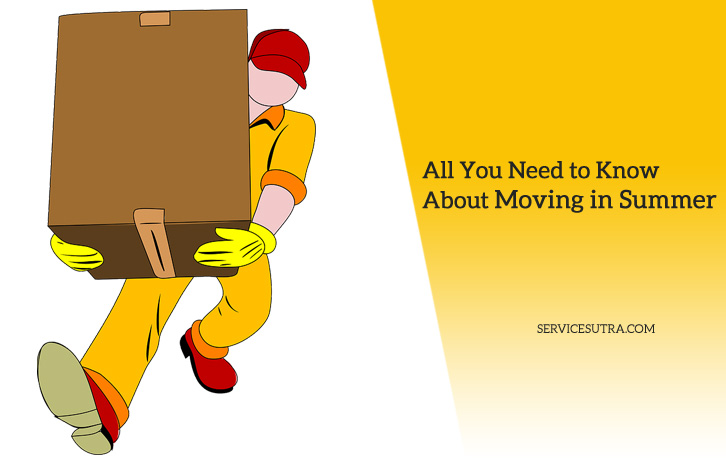 It's true that in countries like India, people often have to relocate their house in summer holidays. Even if summer is not the right time, they have to relocate in summer, because most of the transfers happen in summer months only. Since, it is summer time now and many may have plans for moving house, today I thought of discussing few essential tips about moving house in summer. I will be share a number of essential things to keep in mind and help you plan and relocate your house without hassles this summer. So, if you are worried about how to move a house in summer, then this post is a must read for you, as it will help you plan and execute the summer relocation much efficiently.
With the increase in global warming, the summer heat is soaring in most parts of the world resulting in increase in the number of heat strokes and other health issues due to the heat. Now, if you are moving house in summer and you are planning to do most of the things on your own, then it is obvious in many times, you have to go out and do the arrangements. Moreover, the day of the home relocation is going to be even more difficult as you cannot travel at night and will have to get things done during the day which is exhausting. But, if you make proper arrangements to beat the summer heat, then you will not get so tired. And, my tips on what things to keep in mind while moving house in summer will act as a complete guide for you and will help you in every step. Just be a little sincere and arrange for the precautions ahead of time and you will be fine.
So, are you? I guess you are, so let us begin with our today's topic of discussion without further delay.
All you need to know about moving house in summer
See, the temperature is not in your hands but you can easily use your intelligence and protect yourself and your family members from the scorching heat while moving house this summer. And, to get your summer house moving safely, you need to keep a few things in mind.
Listed below are the top 11 things to keep in mind while moving house in summer. Check these out and implement these strategies diligently for hassle free home relocation in summer season.
It all starts with early planning
It is very important to do advance planning when you are relocating your home, more on if on a summer day. One of the primary reasons behind that is although summer is hot and humid; it is by far the busiest season for home relocation. So, if you do not plan ahead, you may not be able to get things done the way you want it to be. Hence, start planning for moving house in summer. From sorting out inventory, to searching for movers and packers to booking tickets for your family; you got to plan everything minutely to move your house in summer without much hassles.
Advance planning also includes fixing a date for moving your house and obviously the budget for moving house in summer. This is important as without proper budget, you won't be able to execute your plans. You can start saving early for your move by cutting the unnecessary expenses and only when you have gathered a decent sum of your money, start implementing. Home relocation is not too expensive back in India and if you have a moderate amount of money, things will get quite smooth for you. In short, you will have the option to take fewer hackles and leave the moving work on to the professionals.
While planning for the move, you must make sure that your new home is complete or almost ready. Make proper air condition arrangements in the new space so that you can relax after reaching there. The other basic things must be ready on time as well.
Find the movers for moving house in summer
With the increasing demand, it is obvious that most of the leading packers and movers companies will be booked early. So as soon as you decide to relocate your house, start searching for the packers and movers. Do some research about rates of moving services from various companies and then compare and choose the movers and packers that best suits you.
You must also consider the experience factor of movers as it is needed to ensure the safe transportation of household goods and articles. In fact, I will personally prefer a good licensed, trustworthy and experienced movers and packers with decent price instead of going for cheaper ones.
You may choose the company yourself after searching the profiles from net or you may use our platform to compare rates and book movers for free. Finding rates and requesting for free quotations from leading movers and packers companies in your city is much easier with ServiceSutra. All you have to do is to create a request for estimate by sharing your basic requirements and contact details. Your contact info and requirement will reach to three of the most leading and available relocation companies in your city. They will call you, discuss your requirements, explain the best possible ways to get it done and submit a competitive quote for your evaluation. This is a simple way and you get to contact the most trustworthy and efficient companies without even paying a single penny to ServiceSutra.
Go for the insurance of your goods
Summer is as it is busy time as far as home relocation is concerned and the roads are mostly busy all the time in comparison to the icy winter months in many parts of the world. Now, on such a busy environment, any damage or accident may occur during the transportation. So, I would recommend you to kindly go for the transit insurance. Most packers and movers that ServiceSutra connects you to offer you this option and it is a good thing to go for. Having insurance from before will help you incur financial losses in case of accidents or other damages.
Keep enough time in hand before the moving day
If you have a big home with many items or if you are planning to move interstate, it is a must that you keep enough time in hand before the moving day. No one wants to rush until and unless there is an emergency and so keeping time in hand, will help you to do all the arrangements properly. You will also get a good deal of time to make your new home ready before the final day of moving.
Moreover, in case of short time, you will not have much option but have to depend entirely on the movers. But when you have time, you may do a few things yourself especially the packing part and save on packing costs. You will also get enough time to decide what items to take and what not and accordingly sell the discarded ones and earn something with that.
Time also enables you to mentally prepare yourself for the move and so when you are discussing the moving date with the packers and movers, make sure that you will get adequate time before that. Also, consider the least busy days of the week to move in order to avoid heavy traffic and a bit higher cost of moving.
Make a checklist of things to carry
You need to make a prior checklist of the items you plan to carry to your new home. It is important to jot them down so that you do not miss out things later in a hurry. Now, summer as you know is a pick season for home relocation and naturally the demands of the packers and movers are also high. The charges are high in comparison to the off seasons. Hence, it is absolutely not needed to pay extra for the unnecessary items. When you are making a checklist, be careful of items that you must carry and the items that are better left behind.
Here are the few things to consider when you are making the moving checklist:
The must haves– Must haves are the things that you cannot afford to keep behind. Those include basic clothing and basic cooking utensils. It is not that you cannot buy these in your new location but practically it is not possible to buy all of these necessary stuffs just after reaching the new home. And, besides there are the important documents like your certificates, your cards, bank details, mobiles, mobile chargers, laptops etc. which are the other things that you must not miss out.
Condition of the items– After jotting down the list of the must haves, you have to note the condition of the items that you are carrying. In case the items are in bad shape and have every chance of getting damaged during the transportation, it is absolutely not necessary to take them. Buying a new one similar to that or probablybetter than the existing one will be a better idea.
Items of emotional valuable– Some items are priceless irrespective of the price tag. This is mainly due to the emotions attached to them. So, if you have gifts from special ones or items that has special memories attached, you must carry those no matter what.
Antique or rare items– Most houses have something or the other that is timeless, antique or very rare and if you also have something like that, then please do carry that to your new home as who knows whether you will get any other similar piece again or not.
Your new location matters– Well, price range of the items is not same everywhere. Some places are costlier than others. So, if you are moving to a location which is posh than your current location, then I would rather recommend you to carry most of the items necessary for you in order to avoid excess expenditure just after reaching the new home. In fact, you may do a little of shopping of important things before you start your packing. However, if it is the opposite where you are moving to a cheaper location, then it is better to do the shopping after reaching your new home.
Shape and size– The shape and size of the items also matter a lot. In case any of the items has an odd shape or size and may cause inconvenience while travelling, it is best to avoid such stuffs unless they are of great value or are absolute necessities.
Make proper packing arrangements
If you are not a do-it-yourself person, then you may leave the packing part on to the professionals but if you want to save something on the packing part then, please make prior packing arrangements. Buy good quality packing tapes, packing boxes of all sizes, cushions etc. and in good numbers from before, so that you do not have to go out in the scorching sun every time while packing.
Proper packing is seriously important
I have already said that the summer streets are quite busy and so you must never compromise with the packing. Ensure that everything is packed using good quality packing supplies and in multiple layers. Any compromise with the quality of packing materials or packing itself could turn out to be a costly mistake.
If you plan to take thing in your own hand, then make sure to not pack everything at a time and in one day. Packing will be easy if you do it room by room, instead of packing everything randomly. When you are discarding any item, make sure you are keeping them away so that they do not get mixed with the items you are carrying.
Special attention must be given to the delicate items. Pack them in strong boxes with enough cushioning to avoid any damage during transportation. And, please do label the boxes like "Delicate Items" so that the packers and movers also understand that these boxes need careful handling. In fact, label all the boxes so that you can keep a proper track of the items that you are carrying. Do not forget to keep a copy of the list of items with you. This will help in case anything goes missing.
Deal with the discarded ones
When you have got enough time before the final moving day, it is needed that you do something with the things that you are not carrying. Do proper advertisements and sell the things online. Then you may also sell them to the stores that take second hand items. Ask everyone you know in case they want to take second hand items for less price or know anyone who wants that. Many actually get interested in it.
All of the above options will give you some earning but if you are not much in to it, then you may donate it to charity or throw the absolute useless stuffs in the bin.
Do timely follow up with the packers and movers
Summer is the main season for home relocation and naturally the packers and movers have got a lot of work in hand. So, to be safe, you need to do timely follow up with the companies. To be doubly sure that they do not go for other customers on the same date and time, you may do a little of advance payment and keep proper paperwork of that with you.
Timely follow up is also needed so that the packers and movers do not miss out dates and be ready for your services at the proper date and time.
Arrange for the vehicle you will travel in
The packers and movers will carry your items but you also need to travel on time and so it is good that you make arrangements for that few days prior to the moving day. If you are travelling locally and have your own car, then that is fine but if you do not, then you need to make the arrangements. And, since it is so hot, please go for anair-conditioned vehicle to enable a comfortable journey.
You are all set to move your house
After all of these, when the final day of arrival comes, you need to be absolutely ready to beat the summer heat and make your relocation a complete success. But, for that, there are few things that you need to keep in mind while relocation during summer.
Start early– The temperatures soar high as the day progress and so it is a good thing if you start early. Moreover, it will increase the possibility foryou to reach the destination on time or at least not too late even though there is a little bit of traffic on road.
Consider the roads– Since the streets are busy, you may do a little bit of research from before and discuss with the packers and movers and take the route that is best suited to reach on time. Knowing some alternate routes is also necessary to avoid emergency problems.
Stay hydrated– You need to drink enough water before travelling and keep your system hydrated. In fact, carry enough water and fruit juice bottle with you as you will need them while transporting. Make sure your other family members also drink enough water on the day of moving.
Take protection from the scorching rays– Wear comfortable light clothing on the moving day and apply propersunscreen. Carry umbrellas in your car as well.
Carry food– If you are travelling long distance, then carrying food is a must. It is always better to avoid getting out of your car and looking for food stalls. In fact, I also tell people not to eat things that are too rich or heavy just before moving as that may lead to vomiting or other health problems. Instead eat light stuffs but frequently.
Take extra care of the kids and pets– If you have little kids or pets, then protect them for the heat as well. Take enough water and food for them and keep them safe and guarded.
Conclusion
Moving house in summer may seem difficult but with proper planning and execution, things become easier. But, what is important is to consider the weather conditions when you are travelling and accordingly take precautions. Now, since its summer, you need to plan how to go for a swift home relocation beating the summer heat and occasional rain.
I have discussed in details regarding the things to keep in mind while moving house in summer. It covers almost all the important aspects of home relocation in summer season and I am sure that if you properly follow these moving tips, you will be able to get the whole thing done quite easily.
Ever moved your house in summer? How did you plan everything and what else do you think one should keep in mind when moving house in summer? Feel free to share your moving tips and hacks by commenting below.
Until then, enjoy your summer relocation and do not forget to share this post and spread the word.