Have you tried various tips to clean bathroom but still not happy with the results? Are you looking for simple and easy cleaning tips you could use to clean bathroom? Are you struggling with bathroom cleaning especially the tiles, sinks, toilets etc and wondering if there are easy ways to keep it cleaned and shining? if you have answered yes, then this post is for you. I wish to share a few easy to follow tips to clean bathroom and I am sure you can use these tips easily.
The bathroom is one of the frequently used area of a house. Thus, it gets shabby very easily, especially the bathroom tiles and the toilet bowls. Since the bathroom is used very often, it gets dirt easily within few days or a week, even after being cleansed thoroughly. Therefore, one needs to clean the bathroom repeatedly in order to keep it clean, shining and disinfected.
Yes, it is true that cleaning the bathroom repeatedly every week is tiring. But you have no other option, do you? Can you leave your bathroom unclean to allow germs linger in it? No, isn't it? Then do clean your bathroom as often as possible, for the sake of eliminating germs.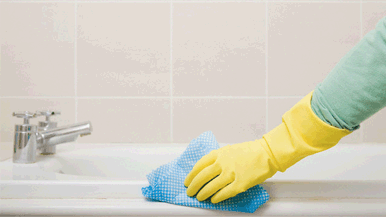 6 Useful tips to clean bathroom easily
Cleaning bathroom is a very tough job, especially when there are plenty of members in your family, and just one bathroom that's used more often. Keeping up with cleaning bathroom walls, scrubbing the tiled floors and toilet bowls can be a big nightmare. But, here are some excellent tips to clean bathroom tiles fast and easily.
1. Tips to clean bathroom ceramic tile: To clean the ceramic tiles of your bathroom, make a homemade cleaning solution made from ingredients like ammonia, baking soda and warm water. Just mix half cup of ammonia with half cup of baking soda, in one gallon of warm water. Then pour the liquid on the tiles and scrub the tiles using a sponge, or a regular bathroom cleaning brush. After scrubbing the tiles, pour water and risen it thoroughly.
2. Tips to clean bathroom tile grouts: In most of the grout cleaning products, bleach is the main ingredient that is present in large quantity. In order to keep your bathroom grout clean, you will need to add two cups of bleach with one tablespoon of liquid dishwasher detergent, in two cups of warm water. Spray it in the grouts and scrub them using a brush, preferably an old tooth-brush, which is old yet clean.
3. Tips to clean toilets: The most vital part of a bathroom that needs to be cleaned as much as possible is probably the toilet bowl, commonly known as a commode. It feels undesirable, but it is completely necessary. To make the task quick and easy, you can drop a couple of denture cleaning tablets in the commode and let them fizz for a while. You can also pour two cups of vinegar into the bowl, and letting it sit for an hour or two. Later, scrub the bowl using a bathroom cleaning brush.
4. Tips to clean hard-water stains: Finding it difficult to remove hard water stains? Don't worry, there is a quick and simple way out. From the sides of the bowl, try rubbing the water stains with a pumice stone (the stone which is used to scrub one's feet), or fill the bowl with vinegar and leaving it to sit overnight. After leaving it overnight, scrub it early in the morning, and then wash off with water or by flushing.
5. Tips to clean rust from bathroom tiles and sinks: When some guests visit your sweet-home, they might need to go to the bathroom. So in such situations, if they find your sink and tiles are rusty, will it create a good impression? No way! Rusty sinks and bathroom tiles is a big turn off. Cleaning bathroom rust isn't difficult at all. In fact, you can use some of the kitchen ingredients to remove the rust easily. For instance, use lemon juice and apply it on the dirty rusty spot, and then risen it after 30 minutes or more. White vinegar also works well while removing rust. It may take a couple of applications, but either of these household staples should be enough to bid goodbye to rusts.
Over to you
Everyone doesn't realize the fact, that the bathroom is one of the most vital areas in the whole house. But, hope you do. Hence, for the sake of keeping the bathroom clean and disinfected, try following the above easy and quick tips to clean bathroom. Keeping your bathroom neat and clean will actually leave a good impression on your guests, and other relatives who might visit your home. And on the other hand, keeping it disinfected will help you and your family stay away from germs and other parasites, which can cause many infections.
If you don't feel like cleaning it yourself, you can avail professional cleaning services and we can help you with that.