To decorate home, you need loads of imagination, creative thinking and creativity. Imagination and creativity can do wonders in decorating a home but only when you can foster these traits well. When it comes to decorating, one usually starts panicking and feels tensed about how to decorate home perfectly. Well, to be really honest, if you want to decorate your entire home without any hassles and with perfection, then you may either contact an interior decorator or try doing it yourself.
Interior decorators can help you in many ways because they have a good creative team of experts who understand the concepts of designing and decoration. They'll know what exactly should be done with each of your rooms and what kind of decoration can improve the look and feel of that room.
But if you feel like decorating your home of your own, then I have some amazing tips to share. You can use these home decoration tips to decorate home easily and feel proud for doing it yourself.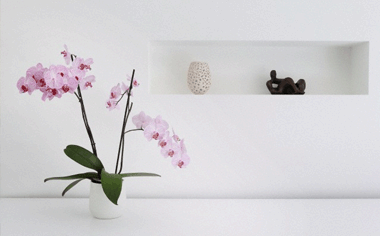 Best ways to decorate home easily
The experience of decorating your home can be exciting, as well as very challenging. It's exciting obviously because you'll be decorating your new home, or the existing home to give it a fresh new look. And challenging because you'll need to think something different, something unique. You have to come up with great ideas to decorate home, and do that for each and every room of your sweet home. Don't be afraid of the challenges, we are there to help you in conquering the challenge of decorating your home. Below is an ultimate guide that will help you decorate home easily and effectively. To make it easier for you, we have listed down the tips of decorating your home room wise.
So are you ready to get started? Here you go.
Best ways to decorate home: living room
If you want to decorate home and wish to make it functional and look awesome, you can't ignore the living room. You have to decorate living room amazingly because it's the first room which anyone would see after entering your home. And usually it's the living room where you welcome your guests so, isn't it vital to decorate your living room well? Surely it is. So, here are some tips that will help you make your living room look fabulous.
Choose a theme: Always choose a theme before you plan any further. A theme chosen based on your personality would be the best one, as it would reflect your personality and choice very well. Therefore, if you are a romantic person choose a theme that would portrait romance at its best or if you are a fun loving person, then play with colors and make the room vibrant and colorful. There are many more themes that you may choose according to your choice.
Make it bold and bright: Living room is a place where people get together and they chitchat crazily or have a warm conversation. That's why, its good if choose bold and bright colors for your living room's walls, curtains, furniture's accessories and etc. The bold and bright look of the room automatically infuses a positive and lively feel within you and your family members, as well as the guests.
Create an accent wall: People often buy loads of furniture and push them to the walls. But this is really boring! Try keeping your living room as spacious as possible, and leave at least one wall in your living room that's not guarded by any furniture. Use that wall as a part of your decoration by painting it with a bold or bright color, that's different from the color of the other three walls, and if possible do texture paint on that wall. If you feel that's going out of your budget, then use wall decals that are easily available in the market, or you can order them online from any online decor-shopping website.
Keep the room spacious and airy: Avoid buying too many furniture for your living room. If you have a big size living room, then it's not necessary that you'll have to fill it up with plenty of furniture. Sometimes keeping it spacious would be great, because the more it is airy the more you'll feel comfortable.
Fill the corners: While decorating your living room, the most common thing that one forgets is the corners of the rooms. If your living room is completely decorated with furniture and other decorative items, but its corners are empty, then it would probably make the room look incomplete. Therefore, try filling the corners of your room with something or the other to make it look complete. You can use a corner table, a lamp shade, a potted plant, or anything else in an empty corner of your living room.
Accessorize your sofa: Sofa is the most important furniture of a living room. Therefore, it would be great if you accessorize it well using some colourful sofa cover and cushion covers. If you are shifting to a new home, then probably you'll be buying a brand new sofa. So in that case, buy the one that goes well with the theme. But if you are renovating your new house, then don't have to change the sofa, just change its accessories.
Tips to decorate home: bedroom
Bedroom should be the next one that need your attention because a bedroom is like a spa. The reason behind comparing a bedroom with a spa is because of its common characteristic, and that is to help people relax. Not just for relaxation, but it's also a private sanctuary for everyone because, it's the only place where people can spend intimate time with their loved ones. Therefore, bedroom should be in the list when you plan to decorate home. Here are some tips to decorate your bedroom.
Use soothing colors: The colors used for a bedroom must definitely vary from the living room. In living room one can use bold and bright colors, but since bedroom is a place for relaxation, one must use colors that are soothing and pleasant. However, if you want to give your bedroom a dramatic look, you can apply dark shades of colors, but very wisely. And use this dark shade of color on just one wall (accent wall).
Curtains: Curtains are a very important part of bedroom decor. Not just bedroom decor, but it's an important element of living room decor too. Just their types and patterns should be different according to the utility of the room. If you are a newly wedded couple then its best to use curtains that are sheer, it will make the room look romantic, and for your kid's bedroom buy curtains with cartoon prints. If you have a canopy bed, then do hang some sheer light colored curtains, it would increase your bedroom's look quite well.
Reveal a personal side: Your bedroom should express your personality and not just design principles. As mentioned earlier in the living room decoration part, it's vital to choose a theme that matches your personality well. So, feel free to go a little off-center with the bedroom decoration.
Decorate with mirror: Since mirrors are very good accessories to capture and reflect light, why not use them as an illuminator? Every bedroom usually has a dressing table, or a big mirror for dressing purposes. You just have to place them opposite to the light source so that, they will reflect the brightness to other parts of the room. This will help you illuminate your room in the morning after the sun rises, and it's perhaps the best way to wake-up rather than hearing an irritating phone-alarm.
Flowers: Try placing some fresh flowers in your bedroom, on the side table or any other table in a bedroom that will give the room a refreshing look. Not just a refreshing look, but it will also give it a romantic quotient. So, place fresh flowers in your bedroom.
Make your bedroom comfy: Since bedroom is a place to rest and relax, it should be made as much comfortable as possible. Top your bed with covers made for snuggling, like a down comforter. For total indulgence, choose ultra-soft eiderdown. You can also pile up some soft and comfy cushions/pillows as much as you can on the bed, to make it look good and feel comfortable (if only one person sleeps).
Best ways to decorate home: kitchen
Hope everyone has heard the kitchen being called as "the heart of the home." Kitchen is a place where people have to work for hours preparing meals for them and their family. That too not just one meal, starting from breakfast to lunch and evening snacks to dinner, every meal is prepared in a kitchen. That is why decorating and designing a kitchen is very important, to make the people working there feel good about their surroundings, and they also need to have a comfortable kitchen in which everything is easily accessible. So, don't you feel that the busiest room of your home needs a proper makeover? To make it easy for you, we are presenting few tips that will help you decorate the kitchen pretty well.
Paint them all: Painting is the easiest way to update or change the entire look of your old existing kitchen, or the brand new one. Hence, paint them up with neutral colors would be great. It isn't necessary to paint all the walls. If you want to save money, then just paint a single wall or create an accent wall. Along with the walls, don't forget to paint the cabinets. And after painting your cabinets, don't forget to polish them well.
Decorate with some accessories: Like the other room of your house, your kitchen too needs some accessories to enhance its boring look. To decorate your kitchen, you can accessorize it with a flower vase or a tiny pot of money plant, Knife holder, wine stand, fruit basket, and etc.
Reduce furniture: Usually, the kitchens do not take much area of a plot, and it's much smaller than any other room (it's little bigger than the bathroom). Hence, never buy too many furniture for this room, and making it clumsy. If all your cooking items don't fit the cabinets, then opt for hanging shelves or open shelves where you can store rest of the cooking-items.
Illuminate dark corners: Illuminating your kitchen would give it a warm and welcoming look. Therefore, always try to keep it illuminated. Install puck lights in almost every dark corner possible, and illuminate the kitchen. You can also install rope lights around the base of your cabinetry for ambience, and to create the right mood for parties or family dinners.
Best ways to decorate home: bathroom
The bathroom may be the smallest room in the house but that doesn't mean it can't have big style. But discovering these styles is very challenging, because you'll have lesser space to put in your imagination. But in whichever way you are trying to decorate your bathroom, try making it storage friendly in order to meet all your home needs. With the amount of time spent in your bathroom, you should make sure every design element has a purpose and is functional in some way or another to create a space saver-friendly room. Here are some tips that can help you to make your bathroom worth drooling, as well as helpful.
Use neutral color: Never use dark and bold colors for your bathroom walls. Instead, always choose colors which are of neutral shades. Choosing a neutral color is advisable because make your bathroom feel calm and look aesthetically pleasing. You can also do texture painting on any one wall of your bathroom to add creativity and depth. And the texture must be done using a neutral color too.
Colorful tiles: Since it's advisable to use neutral color to make the bathroom look and feel calm, it would be wise if you use colorful tiles for the flooring. It would add a pop of color to the bathroom. If not colorful tiles, try buying tiles with different patterns inscribed over it so that the bathroom looks vibrant and cheerful, instead of gloomy and dull.
Add storage: As we have already made it a motto to save space and to make the bathroom a user-friendly one, the first and foremost thing that we have to do is instead of adding large furniture storage, showcase all the colorful and textured towels with open shelving. This will add warmth and playful colors to your space and eliminate unwanted large furniture pieces.
Mirror is must: Just like the bedroom, the bathroom to needs a good mirror for vanity purpose. Usually any mirror would do, but to add a punch of style, you can frame the mirror you have with some stylish wooden or rot-iron frames. And if you want an ultra useful mirror, then buy a wall-fitted cupboard that has a mirror fixed on it. This will help you store your vanity goods, as well as provide you a mirror.
Replace bars with hooks: You can replace your towel bars with hooks next to the shower. This would eliminate the need for folding, because you'll just need to hang them after use.
Accessorize: You can undoubtedly place some toilet accessories, which will help you hold/store all your toiletries. For example- You can buy a bathroom set that will include brush and toothpaste holder, soap dish, hand-wash container with pump, and etc.
Best ways to decorate home: balcony
Balcony is that part of a house or an apartment, that's completely meant for relaxation. The balcony can be used to feel and enjoy some fresh breeze during spring and the summer evenings, or it can be used to feel warm during the winter days after taking a shower in the morning or afternoon. Not only does it make us feel relaxed, but it serves other purposes too, such as helping us dry our wet clothes, pot some flowery plants and other herbs, and etc. So, don't you feel decorating this part of the home will make it look much more stunning? Here are some tips that you can follow to make your balcony look stunning.
Furnish it: Like any other room, furnishing a balcony would increase its look, and make it more pleasing to our eyes. So, why not buy some furniture to decorate it? If you have a big size balcony, then place a coffee table which would help you to spend some relaxed time with your loved ones. And if you have a tiny balcony, just add an accent chair there, that could be a rocking-chair or some other chair that's very comfortable.
Hang accessories: Since balconies are usually small, they cannot easily accommodate too many decorative items. Hence, if you want to accessorize your balcony, the best task would be to hand things up. There are plenty of accessories available in the market, which can be hanged to the hooks. For example- you can buy a wind-chime, a hanging pot with flowers potted in it, string lights, and best would be to hang a cradle/swing. These hanging accessories would look lovely.
Place plants: If you don't have a garden in your home, then don't worry! You can utilize your balcony for gardening purpose. Bring some potted plants that can make your balcony look green, eco-friendly and beautiful. You can easily take care of them using gardening tools that are easily available in the market. And the best part is, the plants will bloom well as they'll receive sun light in abundance.
Magazine rack: If you have sufficient space to accommodate a coffee table, or at least a chair in your balcony, then you can purchase a small magazine rack to store all your favorite magazines. This will help you sip a coffee and go through the magazine's pages in your leisure time.
Summary
If you feel that your house is looking a bit outdated, or you are willing to design/decorate your new home before moving in, then you can easily follow the above mentioned tips and change your home into a marvelous palace. And if you feel that following these steps is quite challenging for you, then without over thinking, contact an efficient, experienced, reliable and affordable interior designer or decorator, for decorating your home. Thinking how would you manage to hire an interior decorator having all these qualities? Don't worry; we can help you find best interior decorators who understand decorating in and out. Just post your requirements here to get connected to a couple of expert interior decorators in your city who'll help you in decorating your home beautifully.