Bangalore is regarded as the most prominent technological hub in Karnataka, India. And, if you are visiting Bangalore for the first time, you may simply be lost for words. Besides, Bengaluru is one of the greatest and the most modern-day metropolis in Karnataka, India.
Until recently, the globally acclaimed entity of India has also been represented by none other than Bangalore. Hence, once you turn up here, you will be overawed by the mind-boggling palaces to visit, pubs, malls, eateries and temples located in every nook and cranny of the city.
Over that, the vivacious and liberal ambience that prevails all across Bangalore makes it different from all the other notable cosmopolitan cities of India.
So, if you are visiting Bangalore and wondering where to eat, what to do and which places to visit, then we have you covered. Continue reading this post to know more about this stunning city called Bengaluru (formerly called Bangalore) and find out what to do when visiting Bangalore for the first time.
Where to go – the most interesting places to visit in Bangalore
Bangalore is an amazing amalgamation of rich cultural heritage and state-of-the-art modern-day facilities. Besides, the favourable climatic conditions that the city has made it worth the visit. In fact, there are quite a few tourist spots in Bangalore wherein you can turn up and make your sojourn in the capital of Karnataka even more gratifying and fulfilling.
If you are visiting Bangalore for the first time, then make sure to visit these interesting places.
National Gallery of Modern Art
Comprised of almost five hundred paintings, it's a must-visit place in Bangalore for art lovers like you. You will also come across a collection of masterpieces done by renowned personalities such as Jamini Roy, Rabindranath Tagore and many others.
Cubbon Park
Cubbon Park was founded by Richard Sankey and nestles across a massive area of three hundred acres.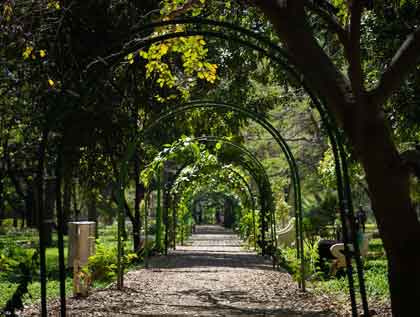 It's a gigantic green park that consists of immaculate lawns and statues of eminent personalities. So, you must come here at least once with your friends or family members.
Nandi Hills
Well, Nandi Hills are meant for outright nature lovers and are located around sixty km away from the city of Bangalore. Particularly, couples would fall for this phenomenal place since it's so full of greenery.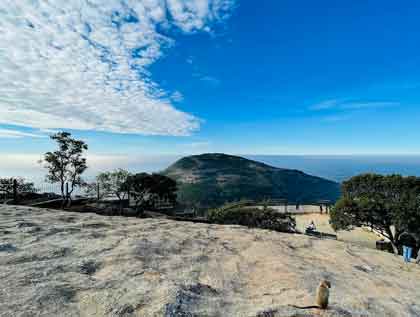 Interestingly, it is located at a height of 1478 km above sea level and is the genesis of rivers Palar and Akravati.
In particular, the hills got their name after the well-known Nandi Temple and encapsulate a clement weather all through the year.
Hence, when visiting Bangalore, don't miss out on visiting this breathtaking spot near Bengaluru.
Lal Bagh Botanical Gardens
To date, this botanical garden is considered the best not only in Bangalore but the whole of India. Initially, it was built by Haider Ali and later on, Tipu Sultan revamped it in his own way.
Spread across sprawling 240 acres, the garden is also comprised of a jaw-dropping glass house that was inspired by the eminent London Crystal Palace. Once you visit this place, you will see a massive collection of around eighteen hundred herbs, plants and trees. Needless to say, this may be the best place to visit while you are in Bangalore, especially so if you are a nature lover like me.
Bangalore Palace
One of the finest places to visit in Bangalore, the Bangalore Palace was predominantly built by Chamaraja Wodeyar in the year 1887.
Many dwellers of the city also believe that the design of the palace has been inspired by the Windsor Castle of England.
Comprised of Tudor-style architecture, towers and fortified arches, this place also harbours wooden carvings in its interior. And the green lawns that encompass it all around take its beauty a notch higher. And therefore, if you are visiting Bangalore for the first time, you may like to add Bangalore place in your list of must-visit monuments on your Bangalore trip.
What to eat when in Bangalore – the best local delicacies
Even if you are not an innate foodie, Bangalore will surely make you one. So, when out on the streets of Bangalore, don't miss out on noshing these specialities at all.
Bisi Bele Bhath
A perfect blend of veggies, rice and dal, even a small bite of Bisi Bele Bhath is enough to tantalize your taste buds.
The delicacy is also quite similar to our mom's homemade Khichdi, and you will get it almost in any South Indian eatery or takeaway food joint in the city.
Idli Dip Sambhar
Unlike the conventional dosas and idlis, idli dip sambhar is totally different especially when it's somewhere like Bangalore.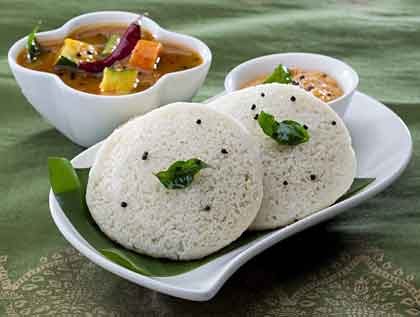 Before tucking into this dish, you will see two pcs of soft, steaming hot idlis dipped into an entire bowl of partially sweet and spicy yet quite flavoursome Sambhar.
Although you will get it in every nook and cranny of Bangalore, Amruth Vegetarian is one such place where you will get the quintessential taste of Idli Dip Sambhar, served authentically that too in an amazing style.
Steaks
Coming to Bangalore and not trying out the delectable steaks in the city is simply not done. You will get a steakhouse in every hop, skip and jump in Bangalore.
In particular, the central areas of Bangalore are regarded as the hub of the most well-known steakhouses ever.
However, the one steakhouse that stands out from all the others is the Millers 46, where not only you will get your favourite steaks but that too served with alcohol.
Where to stay when visiting Bangalore?
You are never short of accommodations during your Bangalore tour. Take a peek into these hotels for a clearer idea of where to stay visiting Bengaluru.
Grand Kalinga Hotel, Bangalore
Featuring two on-site restaurants, you will get access to double rooms, deluxe suites and superior king rooms out here.
Aside from that, some lip-smacking dishes are cooked and served in Grand Kalinga with utmost care and attention. Besides, you will get facilities like free Wi-Fi, car parking and customized dining options etc. All in all, staying in this hotel for a few days will leave you feeling satiated and pampered.
Shivas Galaxy Hotel in Bangalore
Starting from family rooms to club rooms, family connecting rooms to deluxe suites, you can book any sort of accommodation when in Shivas Galaxy Hotel in Bangalore.
Plus, the airport is also located quite near to the hotel, so reaching here won't be a hassle for you at all. Access to a fitness centre, car parking and free Wi-Fi are some of the additional facilities that you will get while staying in this hotel.
Gokulam Grand Hotel and Spa
Almost all kinds of rooms are available in the Gokulam Grand Hotel and Spa. The checklist comprises twin rooms, deluxe and luxury spaces, executive suites, Club King Rooms with Business Lounge access and much more.
Also, avid food lovers would fall for this place as an assortment of food items are available here from Asian, Halal, and Full-on American to Western cuisines.
Enjoy the festivity: renowned festivals in Bangalore
The choicest blend of cultural diversity, whether it's modern or traditional can be seen only in a few places of India.
Bangalore is one such place.
Check out the most renowned festivals of Bangalore below.
Dussehra
Dussehra typically represents the way good triumphs over evil. It is quite similar to the Durga Puja festival of Kolkata since the idol of Goddess Durga epitomizes the same idea. Likewise, the event of Dussehra lasts for about ten days during which ten thousand light bulbs are lit up, conveying the unapologetic victory of Lord Rama over the obnoxious demon, Ravana.
Apart from that, a couple of other symbolisms like fireworks and bonfires are also used and tikas are applied on the foreheads of the participants to add a hint of magnificence to the entire festivity. Signature renditions are performed to add to the significance of the ceremony even more.
Gowri Habba Festival
The ceremony of Gowri Habba is celebrated in the whole of Bengaluru and especially by the myriads of married women out there.
After dressing up in traditional ethnic wear, the ladies embellish their homes beautifully while worshipping the idol of Goddess Gowri. Similarly, the temples are also decorated with mango leaves and banana stems to exude the actual essence of this beautiful festival in Bangalore.
Besides, the housewives also prepare meals and desserts made of honey and distribute them to their neighbours, believing that Goddess Gowri would give them adequate courage and strength for the rest of the year.
Ugadi Festival
Coming to the Ugadi Festival in Bangalore marks an auspicious, happy and joyous beginning of every Kannada New Year. Revels can be seen on the streets of the city all day long that is believed to pave the way for new avenues of blessings, abundance and success. What's more, homeowners decorate their entrances with resplendent rangolis that take the festivity to a whole new level.
Groundnut Festival
Locally known as Kadalekai Parishe, the Groundnut Festival in Bangalore celebrates the first harvest of the groundnut crop throughout the city.
Fairs are also held in many parts of Bengaluru where vendors are conventionally seen selling Mehendi, colourful bangles, clay trinkets and toys to the several onlookers visiting them.
That apart, ten thousand lamps are lit at the Bull Temple and jubilant revelries take place in the Dodda Ganesha Temple so that the ceremony attains its pinnacle of exuberance.
How to reach Bangalore?
One can easily reach Bangalore through any of these means of travelling from different parts of India.
By road
Since Bangalore is connected to the prominent national highways; you will get buses from the various neighbouring states of the city. The Bangalore Bus Stand also runs an array of buses to the major South Indian Cities out there. So, reaching Bangalore by road shouldn't be a hassle for you at all.
By Rail
Bangalore Railway Station is well-connected to the other prominent railway stations in India. Some of the most sought-after itineraries include Udayan Express from Mumbai, Karnataka Express from Delhi, Bengaluru Duronto Express from Howrah, and Mysore Express from Chennai via which you can arrive in Bangalore.
By Air
The Bangalore Airport is just located approx forty km away from the main city. In fact, a lot of international and national flights are seen landing here every day, which makes reaching Bangalore by air very easy and simple from major cities in India.
Explore Bangalore to the full!
Bangalore is not just a destination to travel all across but to perceive the true essence of its rich cultural heritage and technological breakthroughs as well. So, before you plan your Bengaluru trip, it's better to access to know these interesting facts about Bangalore. I hope this Bangalore travel guide will help you get familiar with everything the city awaits you to astound with.
Aside from that, if you need help with relocating your goods to Bangalore, you can use Servicesutra to find the best-leading packers and movers in Bangalore at cost-effective prices.