Warehousing facility in Mumbai can be used to store different types of household goods like TV, fridge, washing machine, furniture  items or other types of commercial goods. Most of the storage and warehousing facility in Mumbai is managed and maintained by packers and movers companies in Mumbai. You can use such storage and warehousing services in many ways and different circumstances like when you are shifting your household goods and relocating from Mumbai, but don't want to carry all of the materials. You can use storage facilities in Mumbai to store household goods or furniture etc for a few months that you don't want to move at the moment.
Similarly if you are staying in a rented apartment in Mumbai and you have to go out of Mumbai on a project assignment say abroad then there is no use of occupying a rented apartment just to keep your goods. You can use storage services to store all of your household goods in a warehouse in Mumbai and save on the rents of the flat.
Apart from storing all types of household materials like TV, fridge, Washing Machine, Sofa set and other furniture and other home appliances, storage and warehousing facilities can be used to store other types of large and small industrial or commercial goods as well. But commercial storage is different than storage of domestic household goods.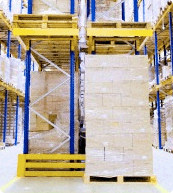 How does storage and warehousing facility in Mumbai work?
Since you know storage facilities are available in Mumbai, let me quickly tell you how it all works. It's pretty simple. For whatever reason, when you have decided to avail storage facility in Mumbai then you have to find a warehousing and storage service provider. We'll be talking about how to find a storage service provider moving forward.
Once you call a storage service provider, they will come over to your home to conduct a free in house survey. This survey is conducted by storage companies to get better understanding of the volume of good and types of materials that you want to store. Depending on the volume and type of goods, they will be able to suggest:
What kind of packing will be required to safely store your goods?
How much of storage space will be needed.
What will be the costs of carrying your goods from your house to the warehouse
Based on these three key observations, storage and warehousing service providers will be able to give you a good idea of the costs and charges for storage services in Mumbai. You can evaluate their offer and discuss any of your concerns regarding storage and warehousing facilities in Mumbai.
Once you are ready, you will be signing a contract and schedule a date for packing and storing of your household goods.
What types of household goods can be stored in a warehousing facility?
As I have already said, warehousing facilities in Mumbai is available for storage of all types of goods; starting from domestic household goods to industrial and commercial goods and equipments. But still there are few goods that can't be stored in household storage facilities, such as:
Kerosene and other inflammable materials.
Other Petroleum products and cooking gas.
Food items, wine and other liquid materials that you use in your house.
But all types of essential and normal household goods like furniture, TV, fridge, washing machine and other electrical items and materials that you use in your day to day life can be packed and stored safely in storage facilities.
There are specific warehousing units in Mumbai where they only store commercial and industrial goods, but that's not what you may be looking for to store your household materials. Household materials can be stored with moving and packing companies because they know how to treat them properly.
Updated on Friday, June 06, 2014
Cost of storage service in Mumbai for household goods
Although it's really difficult to guess about the cost of storage service in Mumbai, I am going to try and give you a good idea of the cost for storage service in Mumbai is calculated and what are the key parameters that affect the cost of storage service.
There are various types of storage facilities e.g. share storage and private storage. Shared storage facility is one where goods and articles from different customers will be stored in one shared storage space. Private storage facility is also available where you and only you will be storing your goods and no one else will have any access to that space. Obviously the latter is costlier but shared storage is also good enough for storage of household materials in Mumbai.
Cost of storage services may also depend on one or all of the following:
Volume of goods which is to be stored.
Types of items that is being stored in a warehouse.
Nature of packing which is to be done before storage.
Distance between your house and the storage facility.
Costs of labor to load and unload your goods. So if you are on 5th floor without any lift, then the cost will naturally will go up.
Most importantly, length of time for which you are storing your goods.
Which service provider you are dealing with i.e. credential of the storage service provider.
Facilities available at the storage facility
In a nutshell, it's not all that easy to find cost of storage services because it's very much specific and the cost of storage and warehousing services will vary depending on case to case basis.  But it's not all that hard to find storage service provider in Mumbai who offer safe and affordable storage services in Mumbai and Navi Mumbai.
Here's how to hire a service provider and find cost of storage service in Mumbai
As promised in the beginning of this post, we are going to discuss the best possible ways of finding and hiring a storage service provider. Storage service providers are widely available in Mumbai, Navi Mumbai and Thane who manage and maintain various storage facilities. In India, household storage facility is available with movers and packers companies. They offer full service e.g. dissembling, cleaning, packing, transporting and then storing it in their storage facility, so that your goods remain in sound and usable condition.
But before you start searching for storage facilities in Mumbai, let me tell you that you should compare rates and profiles of the service provider before you decide to hire one.
Why, you may ask?
Because when you compare prices from different storage and warehousing companies, you get to know about the process and associated costs. Also when you have time and get the opportunity to compare, you can negotiate with the storage companies and bargain for a better and attractive deals.
You may either search for the storage companies in Mumbai on the internet or use ServiceSutra to get matched with top three storage and warehousing companies in Mumbai in just one click. Whichever way you like to do it, you should speak with at least three different storage facility service providers in Mumbai. Discuss your storage requirements with these storage companies and ask for their best price offers. Once you have the offers on the table, you can evaluate them all based on following parameters:
Which storage company is oldest in the business?
What's the capacity of their storage facility?
Do they have all sorts of security measures in place?
Do they have adequate insurance in case anything goes wrong?
Who offers free add-on services like costs of transportation (either ways or one way)
Go and take a good look at the facility yourself. Evaluate everything before you take a decision.
And most importantly who looks credible and cost effective.
Conclusion
Storage facility in Mumbai can be used to store all types of domestic household goods and appliances. Uses of such storage facility are good when you are moving out and want to keep your goods stored safely for a few months. There are shared and private storage facilities available and you can store your goods in either of the facility.
Cost of storage service in Mumbai will depend on multiple factors e.g. volume of goods, kind of packing, costs of transportation from your house to the warehouse and so on. When choosing a storage service provider, you should always compare prices of multiple warehousing and storage service providers in Mumbai. Once you are fully satisfied with the cost of storage services and security measures in place, you should take a decision.
You can compare rates of storage facilities in Mumbai at ServiceSutra in just one click. Once you post your storage requirements here, you can expect to speak with three of the best storage companies over the next 15 minutes sharp.