Cleaning an Indian kitchen is a very challenging task, especially for working couples. In India, we use lots of spices, cook curries and several other dishes that may result in stain and grease all around the kitchen. Not all of us have chimneys in our kitchen and that's why it takes lots of effort to clean Indian kitchen. The spices used in Indian foods are really colorful, which can no doubt improve the taste of the food, but also creates lots of stains and spot in the kitchen. So, to clean Indian kitchen you need to work really hard, and deal with stains and spots of oil and spices. Oil stains are as common as spice stains, and hence you have to use different kind of cleaning techniques to clean Indian kitchen having these stains.
No matter how deep the stains are, it's possible to get rid of these stains off your kitchen using right cleanser and techniques. In fact, now a day, you can easily find a cleaning agency who offers deep cleaning services for kitchen and rest of the house. They will not only clean the kitchen and make it look tidy, but they will also disinfect it, because they use special equipment and other cleaning chemicals, that can work for two-in-one purpose.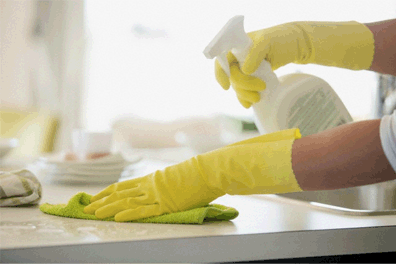 But that's for occasional deep cleaning to ease your cleaning efforts. It may not be practically possible to call a cleaner every month. And hence I am sharing some amazingly simple but very effective kitchen cleaning tips that you can use to keep your kitchen perfectly cleaned on your own.
How to clean Indian kitchen easily and effectively
If you and your husband are a busy working couple, and hardly get anytime to clean your kitchen, then just keep calm and follow the below-mentioned ways to clean your kitchen thoroughly on your own. Here are my top five cleaning tips to clean Indian kitchen that I have been using successfully.
Plan it instead of cleaning randomly
Before you start cleaning your kitchen, plan it well. If you have a plan in hand, you'll be able to easily deal with the kitchen cleaning task. But, if you don't have a plan, you'll not be able to deal with the cleaning task smoothly, and will ultimately land up messing everything. Therefore, it would be wise if you plan it really well. For instance, you need to plan about the part from where you would start cleaning the kitchen; the ceiling or the floor, the cupboards or the backsplashes. So, plan it well to avoid hassles.
Divide the task
Since couples are working together to clean Indian kitchen, then the task must be divided in a fair and square manner. For example, one will do the task of brooming and mopping, other will do the task of cleaning the dishes, cupboards, and countertops. And do remember to divide the work according to the strength of your partner.
Don't overload the cleaning task
If you try to clean Indian kitchen in a day, then you'll be in deep trouble. One reason is that, you'll feel stress physically and mentally; and second reason is that, you will surely create a mess in the kitchen. Therefore, it is wise if you relax and clean Indian kitchen instead of hurrying. Take your time and clean Indian kitchen. Wondering how would you relax and clean Indian kitchen? The best way to clean the kitchen in a relaxed mode is by dividing the work on daily, weekly or monthly basis. Here's how you can divide the task for cleaning:
Daily kitchen cleaning: Under the regular cleaning routine, try to include dish washing, floor brooming and mopping, and also cleaning the counter tops.
Weekly kitchen cleaning: Under the weekly cleaning routine try to include everything you do in the daily routine, plus add some more tasks such as cleaning the backsplashes, the sink and the cabinets.
Monthly kitchen cleaning: In the monthly kitchen cleaning routine, include every cleaning task involved in the daily and weekly kitchen cleaning routine. And along with that, clean up all the kitchen appliances such as chimney, refrigerator, and microwave.
Yearly kitchen cleaning: Yearly cleaning task is almost like a deep cleaning task, which involves every single task of daily, weekly and monthly kitchen cleaning. But the yearly task involves few more difficult cleaning tasks such as cleaning the walls, ceilings, windows, exhaust fan and etc.
Cleaning Indian Kitchen using natural cleansers
Since you are a busy couple, you might sometimes forget to buy the cleaning solutions to clean your kitchen floors, dishes, and other stuff. But there's nothing to worry about, because your kitchen has certain products that can help you in cleaning the kitchen and making it squeaky-clean. Want to know those natural cleaning agents? Here they are:
Vinegar: You must be having vinegar in your kitchen right? Then you can easily utilize it to clean many things. If you mix equal parts of distilled vinegar and water, then you'll be able to clean many stuff such as the walls, wooden cabinets, all the appliances, and steel vessels.
Lemon: Lemon is another thing which can clean many things in your kitchen, and that to easily. For instance, you can use lemon juice to clean the sink, oil stains, to remove food odor from dishes, stove top, windows, and even the sink. So, isn't lemon a very useful natural cleaner.
Baking soda: Baking soda is perhaps the best natural agent to clean Indian Kitchen, because it is versatile and can clean almost everything in a kitchen. For example, baking soda can be used to clean rubber, plastic, wood, countertops, pans and other cookwares, floor, oven and stoves, coffee and tea stains, it can ease clog in sink pipes, can clean fridge and freezer.
So from now onward, if you forget to buy chemical cleaning solutions, then just go for a greener option to clean the kitchen, by using natural cleaners. You can use natural cleaners even if you have chemical cleaners, because natural cleaners can't cause any accidents such as burns or roughness of palms, which the chemical cleaners may do.
Take professional help
There are professional home cleaning companies that offers end to end cleaning services for home and office. From deep cleaning of kitchen to sofa and carpet cleaning, they can help you with all types of cleaning needs. It's a good idea to hire their services once or twice every year for full house cleaning so that they get rid of any hard stains and spots easily.
Over to you
Home cleaning is not a onetime thing. You ought to spare your time and stick to a cleaning schedule. If you start ignoring, the dirt and stains will simply multiply and the older it gets, harder it become to clean it. Diwali is over and I am sure you have already done the Diwali cleaning. It's the right time to create a good cleaning schedule and stick to it.
What else do you think one can do to keep an Indian kitchen near cleaned?