Are you struggling in finding ideas and ways to decorate your home and make it look stunning and extremely attractive? There are many ways to decorate your home and you may not necessarily need to hire an interior decorator for that. In fact the idea of hiring interior decorators for every small little thing may not be possible all the time and secondly there is a cost associated to it.
So if you looking to decorate your home all alone without hiring any decorator then I am all the way with you. I like to take things on my own control and try various ways to decorate my home without spending much and I am happy to share some of those decorating tricks with you.
But let me tell you by not hiring an interior decorator, you may not save a lot, rather chances are you may make mistakes in sourcing materials to decorate your house. But one thing can help you save your money, and that is your 'imagination'. "Imagination is everything. It is the preview of life's coming attractions," said the legendary Albert Einstein, and don't you think his words are true? So, always start imagining about the ways in which you would decorate your new apartment.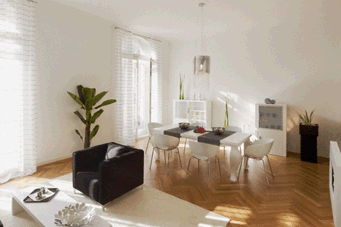 Imagination will not only help you to decorate your home, but will also help you to do it within the cheapest budget possible. Sometimes, there are plenty of raw materials you already have, but you don't have a clue to utilize them in order to change the look of your home. So, try refreshing your brain and imagination, and always try to do something out of the box and creative. When you think creatively, you can easily find many ways to decorate your home.
Inexpensive ways to decorate your home
There is a misconception when it comes to home decorating and that is you have to spend money on highly expensive and imported decor items. Obviously when you pay the price, you get the value out of it, but that does not mean you can decorate your home for less. All it takes is to be creative and utilize stuff that is already available in creative ways to decorate your home. Here are a few tricks I try at my home
Mismatch things: Most of the people think that, every element of a room whether it's tiny or huge, has to be matched. Either the patterns has to be matched, or the colour, or any other criteria. But this is absolutely wrong! Matching things up is almost a myth, and it makes things look very outdated and boring. That's why it is advisable to mismatch things, because it always grabs attention by simply being so surprising. And of course, mismatching is super affordable because you can just find vintage or free pieces to throw together to create a look, without having to pour money down on a full matching set.
Creating a contrasting wall: These days most of the people start creating an accent wall by painting it with a colour that's different from the rest of the walls of a room, or by creating a completely different design with paint itself. But this costs a lot. Instead, you can opt to decorate a wall with whatever you have, this would save money. Frame all the photos that has captured all your pleasant and ecstatic moments, and then hang it on a wall which you want to portray as the 'wall of memories'. You can also hand paintings on the wall after getting them framed. Even the cheap and weird paintings can look awesome when bunched together, and you can always add up your owndetails if you want to. Isn't this a smart money saving idea?
Spice up ceiling: Anything you do to a ceiling will grab attention, and instantly add a wow factor. The new trend is to paint the ceiling instead of creating an accent wall, or to use wallpapers on the ceilings instead of the walls. But, this can be quite heavy for your pocket, so it's better to buy some hangings that can be hung up on the ceiling. This will easily save you money, which would have been spent upon the buckets of paint, as well as on the labours.
Use unusual-mirror: Mirrors are an excellent item for decoration. While decorating a house, people have a tendency to buy mirrors that are plain and simple, whether it's for a living room décor or for a dressing table, or even for the bathroom. But that makes it look common. If you are willing to spend much money, then always try buying an unusual mirror, which has a frame that adds a dramatic quotient. Or else, if you want to save money, experiment with the plain mirror that you already have. Just buy and hang or mount a frame to your mirror in order to add more drama.
Install floating shelves: The usual furniture or standing shelves will definitely cost more, and will consume a lot of floor space. Hence, it's wise to buy floating shelves, it is comparatively cheaper. The floating shelves offer storage space without the bulkiness of the chests, bookcases, and armoires.
Use fabric: Fabric is an easy and inexpensive way to combine all the elements of your room. Have fun by combining patterns, styles and different textures of fabric in everything from window treatments to accessories, and even furniture.
Floor makeover: Just like walls, the floors need your attention too. The most expensive method of changing the floor's look is by replacing the old carpet with new tiles. But if you want to save money, then as a quick fix add an area rug instead of spending on the tiles and marbles. Rugs would cost much cheaper than installing new tiles to the floor.
Over to you
Always try to play with your imagination, and you'll see that you have found amazing ways to decorate your home. Don't hesitate in trying different ideas and experimenting with them while decorating. We have discussed some of the best ways to decorate your home for less, but feel free to try the ones you feel like. And if you think your imagination isn't working out well, then hire an interior decorator who can help you with home decorating. You can also request for interior designing quotes in our website, and we'll help you connect to three efficient interior decorators from your city, within 15 minutes.