So, you've all planned to relocate to a new house as soon as possible. Needless to say, you're pretty excited about it. Although to feel thrilled is no wonder, putting this entire plan into action is easier said than done.
As a homeowner, you want that from start to finish, everything takes place smoothly and without any fuss. However, you need to know that you have to do your fair share of hard work for that.
It's easy to feel stressed and fatigued when having to shift often. Better not take so much pressure. Think and sort out everything with a calm and peaceful mind and guess what?
You can easily turn your shifting spree into the most enjoyable activity ever. We all want the moving to take place without inflicting our physical as well as financial health. Who wants that? To make things easier, we have put together everything for you in this guide. Hopefully, after reading it, migrating and settling down to a new place will become a piece of cake for you.
Here's how to get it right
Starting from labor and cost curtailment to packing and unpacking the stuff, you will get laid to every aspect of the cycle. So, without delaying anymore, let's get started!
Do your homework
Some of you might find relocating to a new home quite hectic and tiring too. But it doesn't have to be when premium packers and movers services in Bangalore are there at your disposal. Apart from that, you need to make a checklist, noting down the activities you are going to implement consecutively.
Keep the time-frame in mind within which you have to move. Based on that, you need to do all the arrangements accordingly. Say for instance, you may have to depart your old house in less than two weeks.
Likewise, the period can be as long as two months as well. In case you are feeling a bit perplexed, make sure you devise a systematic checklist of all the belongings that you need to move imperatively.
Subsequently, start executing this plan and everything jotted down there according to their order of importance. Doing so will allow you to carry out the whole task smoothly and without feeling burdened.
Plus, you can also keep an eye on the constant progress of your packaging and moving agenda.
Reach out to professional packers and movers
Packing and moving one's valuables and belongings and shifting them elsewhere. For some, it's easy whereas for others it's way too onerous.
If you fall in the latter category then hiring a professional packers and movers company can be a feasible choice. The experts there will take the burden of packing, loading, unpacking, unloading and lastly delivering the items off your shoulders.
So, start searching online from today itself in case you are running out of time. There are many reputed packers and movers companies that are out here to offer second-to-none packaging and transportation services to their customers.
A specialist team will be at your beck and call from beginning till end. Their years of experience will allow them to pack brittle and other delicate items safely without an iota of breakage or damage.
Furthermore, they'll take the onus of loading your belongings on some high-end vehicles so that they are not harmed even during the journey. Hold on as this is not the end. Finally, they'll unpack and deliver all your possessions safely to your new home.
Also, do feel the need to get a free quote from them as it will give you an idea of how much you need to spend on your shifting bout. Apart from that, you will see a lot of FAQs that their previous customers might have asked them as a matter of curiosity.
Go through each of their answers to clarify all your doubts and queries beforehand. As you do this, rest assured that you are one step ahead. The greatest advantage will be that, on the day of your shifting, you can do everything worry-free and with absolute peace of mind.
Plan a relocation budget
Splurging on your packers and movers services in Bangalore unnecessarily doesn't make it sense. So, you must plan your own budget in advance taking into consideration all the aspects regarding your shifting. It's even better if you can specify it to your packaging and shifting specialists and they will devise a customized relocation spree tailored to your needs.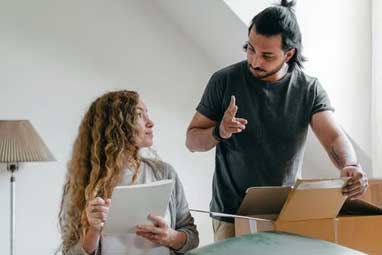 Now, you may ask why do all this? Because dreading the sight of an astronomical invoice after the shifting is done is the last thing you want. To make this process even more seamless, you can use any of the online moving cost calculator available out there. This will get you an idea about the approximate sum of money you will be spending on your packers and movers company.
Get rid of all the redundant items
As soon as you are done with your preliminary preparation, consider disposing off all those stuffs that are unreasonably bothering you. Donate everything that you think has become out-of-fashion, lousy and scruffy at the same time.
You can also contact any charitable trust and donate them your old rugs, curtains and furnishings that are not fit for your new abode. Depending on the load and intensity of the items, they'll make all the necessary transport-related arrangements accordingly.
By doing so, you are not only aiding the downtrodden but getting rid of those pesky furnishings and gadgets as well.
Here's a comprehensive guide on how to sell household items in best possible way while relocating that you may like to check.
Jot down your favorite suppliers' list
Now that you've already decided to avail professional packaging and transport services, it's time to select your pertinent service provider. You will find a plethora of companies claiming their packers and movers services to be the best.
However, not all of them are the same. In this case, you need to use your grey matter and discretion as effectively as possible. To choose only the top packers and movers company, you need to create a checklist comprised of at least the best ten suppliers out there.
Evaluate each of these companies in terms of their expertise, proximity, experience, skills and most importantly trustworthiness. After you are done, select the one that best fits your budget and needs.
Move your goods worry-free!
Shifting your possessions to a different state or city is now a no-brainer. Simply implement the hacks given above and you are all done. Alternatively, you can seek professional assistance regarding the same by hiring a professional packers and movers company. You can use our free quote request form to get free moving quotes from movers near you to compare and choose from.
If you have any other question then feel free to ask in comment.