The process of packing can often be overwhelming, even when you have done this several times in the past. Whether you are a frequent traveler or you just pack your bags once in a long time, you know how overwhelming the process can become at times. And when it comes to packing and moving the entire house, you are up for a tiring and tedious task. Luckily, you can use some of the packing and moving hacks used by the professional movers and packers to make the process safer, easier and less stressful. If you are gearing up for an upcoming house move and you are overwhelmed by the process then I have got you covered. Today in this post, I am sharing a few of the best and most clever packing and moving hacks that will make your house move safer and much easier.
Three of the major concerns while moving a house are:
Safe and secured packing of all the household items
Careful handling e.g. loading, unloading and unpacking
Timely and cost-effective transportation of goods
Irrespective of how well you plan, you will be up for many uncertainties during the move.
But, you can make the process of packing and moving a house much easier, safer and cost-effective by using some of these clever hacks used by the professionals movers packers companies worldwide.
Luckily, you can use these smart and clever packing and moving hacks to reduce the work and make the process easier and safer.
So, are you ready?
Let's dive in.
33 Clever Hacks to Prepare for a Safer House Move
Although uncertainties and surprises are part of the house moving process, you should plan and prepare to deal with it efficiently. One of the most important things to do while moving a house is to prepare well for the move.
Sorting out inventory, procuring packing supplies and packing of goods will come later. But there are a lot of things that need to be thought out well before that.
Listed below are the best clever moving hacks that'll help you prepare well. Tick off the list below to get prepared for a safer house move.
Fix the dates – Knowing when to move can help plan the entire relocation. So, pick the dates for packing and moving the moment you decide to move. When you know the dates of moving, you can plan the entire move accordingly.
Update your subscriptions – whether it's door-step milk delivery or newspaper and magazine subscription, utility connections or something else, just make sure to update them about your relocation.
Find a mover to help you – Unless you are moving locally within the same city, you will need help from a professional moving company. As the hiring moving service can take a lot of time, it's better to get it out of the way early on. Hiring movers at the last minute may turn out to be costly and therefore the early you decide and hire the better for you.
Work out logistics – if you decide to not full move service, then you may have to work out the logistics arrangements. Most of the mover packer companies offer full move service, and only a few of them may offer man and van. So, whatever you decide, make sure to find, negotiate and book the service well in advance.
Know your relocation expenses – Relocating can often get expensive, especially when you are moving to another state or country. So, figure out the overall relocation expenses, including the costs of moving your goods, family members, property lease costs etc. and make a budget.
Make appropriate travel arrangements – Whether you plan to drive or travel by train or flight, make appropriate travel arrangements for your family. Booking tickets early on can sometimes help save the costs and avoid the last minute rush and hassles.
Finish eatables that can't be moved – We often ignore planning for the foods and other eatables and then discard it at the last moment. When you know you have to relocate on a particular date, make sure that there are not many eatables and consumables left. You don't really want to move these items and therefore if by any chance, there are leftover edible and consumable items, you should donate or give it away.
Clever Hacks to Get Rid of Extra Household Stuff
If you have ever moved our house in the past, you would know that packing and moving a house becomes much easier and cost-effective when you have fewer items to handle. Among many other cost heads of moving a house, number of items or the size of the house is one major factor that can make your move expensive and complicated.
Fortunately, you can get rid of all the extra household items well in advance and downsize your move. By downsizing the move, you don't just make your move less expensive, but it will become much easier and hassle-free.
Here's how you can get rid of anything extra and make your move less expensive and easier to manage.
Extra clothes – As a human being we feel attached to some of our clothes. Even though some of the clothes have gone out of fashion, do not fit well, or need repairing, we continue to keep it with us. However, as you are gearing up for a move, it's better to get rid of some of your used clothes that you are not wearing or can't wear. If you have not used a pair of clothes since the last couple of years, there is a high chance that you won't wear this pair in the future as well. So, it's better to get rid of all such used old clothes and this applies to every family member.
Other household items – if you take a closer look, you may find many old items that need some sort of repair before you can use those items. It can be furniture, an old bicycle, a gadget or anything. Some of us like to keep even the damaged items in our homes hoping that we'll get it repaired and use it later. Take a closer look, identify these items and recheck if you want to move such items to your new home. However, you can use this as an opportunity to get rid of such items and downsize your move.
Consider temporary storage – If there are items that you are not sure about and want to keep it then you can move it with yourself. However, if moving cost is a concern, then you may consider short term storage and warehousing alternatives. Storage and warehousing facilities offer safe and cost-effective short and long term storage service for all types of household articles including furniture and appliances. You can make use of one of these storage units to store your goods for a few months.
Sell or donate extra stuff – Now that you have identified extra items you want to discard, you can either sell it out or give it for free. Whatever you decide to do, do it fast to free up the space for packing and moving the other important and essential goods.
Best Packing Hacks to Move Your Goods Safely
Safe and secured packing is integral to moving your goods without damaging them. However, packing each and every item safely on your own can be tiring and the most consuming task you would have during the move.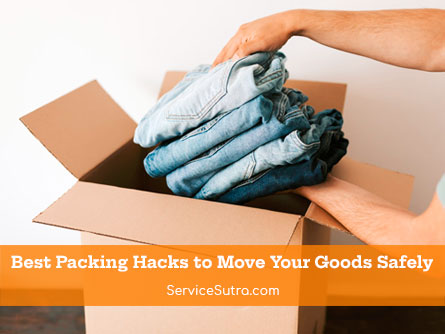 Luckily, you can simplify the packing process by using some of these clever packing and moving hacks as listed below.
Wraps the fragile items carefully – the one most important secret hack to packing anything safely is to wrap it properly. By wrapping and creating proper cushioning, you can minimize the chances of damage to a great extent. So while packing any of the fragile and breakable items, make sure to wrap it properly and create a cushion while keeping the box.
Pack your clothes – Packing clothes should not be an issue for most of us. However, if you start packing your clothes haphazardly, you will end up wasting a lot of space. So, sort out the similar clothes (in terms of fabric, type and size) and then fold and stack them well in moving boxes.
Pack dresser drawers instead of vacating- Instead of vacating the dresser drawers, you can pack the smaller clothes inside the drawer itself. As there will be just a few smaller items inside the drawers, wrapping and sealing the drawers with packing tape should do the trick. This simple packing trick can help create an extra box of clothes for every dresser in your house.
Pack new costly clothes in suitcases – You have been using suitcases and briefcases to pack clothes and other essentials. Even though you are not packing for a trip, you can use a suitcase and briefcase to pack the best of your clothes like the formals and all to move it safely.
Use garbage bags – Did you know that you can use the garbage bags to pack your clothes when moving a house? Well, that is a very clever and a smart hack. Group all the hanged clothes together and pack into a garbage bag to move it safely without using any special packing supply.
Use clothes as wraps- Buying bubble wraps may be costly or not possible at times. However, you can use some of your clothes like bed cover, curtains, bathroom towels and other such clothes as a wrap to pack and protect other fragile items.
Use a bucket to pack loose items – There will be many loose and fragile items which can easily be packed into the buckets. The bucket can be cleverly used as a moving box. Put all such items (preferably the similar ones) into small poly packs or wrap them in paper and stack carefully in the bucket to move it safely.
Tighten the lids – if there are items with a lid, like toiletries, shampoo etc then make sure to tighten the lid carefully before packing. For bigger jars, you can even consider wrapping the lid with plastic to stop spilling.
Pack an emergency bag – An emergency essential bag is one in which you would like to pack anything and everything that can help in an emergency. For instance, an extra pair of clothes, baby foods, first aid box, daily use medicine, torch, keys of your new home etc can be packed separately in one or two bags. Label this as the essential items and make sure to carry it with yourself.
Double check the weight – You don't want to get into a situation, where the box or the bag gets overstuffed. Just double check the weight of the box or bag and make sure that the weight is well below or as per the capacity of the container. Otherwise, it may get damaged and that's the last thing you want during the move.
Label and seal the boxes – Now that items are stacked and weight is checked, you are good to put detailed labels on each of the boxes (and bags may be). Putting appropriate labels can help greatly at the time of unpacking. If you move those many items and boxes without any labels, you will get crazy in finding items in your new house. So label each of the packed boxes, and then seal it to complete the packing.
Count the number of packages – Professional movers make a detailed packing list. The list has all the details of the number of packets, and major items being packed inside the box. This list helps ensure that whatever items and the total number of boxes they picked. And they match the number of boxes on delivery to ensure none of the boxes has gone missing in transit. Ideally, you should make a packing list like that and keep track of the total number of boxes, bags and packages easily.
Moving Hacks That Can Help Save Money
Apart from being tiring and consuming, packing and moving a house can often be expensive. Besides, when you are moving to a bigger house, and moving to another state, the moving costs and expenses can sometimes be very high. Keeping that in mind, I am sharing these moving hacks that can help save money during the move.
Hire move in advance – Moving companies in general do not have a fixed tariff. The rates and charges can well vary on every moving assignment they take. However, when you find and hire a mover well in advance, you get the opportunity to peacefully enquire and negotiate for better bargains. So, don't keep it till the last minute, find and fix the moving service early on.
Compare quotes and negotiate well – When you compare quotes and charges from at least two or three local moving companies near you, you get a better understanding of the process and price. So, don't hesitate to compare and bargain to get a better deal.
Avoid value added services – Mostly, the moving companies offer complete and end to end packing, moving and storage services. However, each and every service has a cost. However, unless you need all the services, you can avoid any value added service to cut down the overall moving costs. Unpacking, re-arranging and storage for instance can be done on your own, and so you can leave these services.
Get free moving boxes – although you can't get all the packing supplies for free, you can look for free carton boxes from your neighborhood grocery store. You can even get free used moving boxes from someone who might have moved in your society.
Do part packing on your own – You can also save money by packing some or all of your goods on your own. Although this may not work well for most of us, it's worth considering and evaluating this option when you have non-fragile items to move.
Hacks for Unpacking After Moving
Now that your goods have finally arrived at your new home, it's time to unpack and re-arrange items and get settled. Packing definitely is one of the most consuming tasks of the entire moving process. However, unpacking can be equally tiring. But, you can try these moving hacks to simplify the process of unpacking.
Avoid unpacking randomly – If I can share just one hack to unpack your goods after a move that can save you plenty of time and effort, it has to be this. Don't unpack the boxes randomly in your new house.
Move the boxes at its place – The idea is to move the boxes closer to its designated place. That means, all the boxes with kitchen items can be kept closer to the kitchen. And ditto, for other spaces and rooms.
Unpack and arrange the kitchen – Start by unpacking the kitchen items first, as you may need it the first. It's okay to only unpack the major items first, and then unpack smaller ones as you progress and get settled.
Proceed to the bedroom – Once the kitchen is unpacked and set to an extent, you may like to unpack and set the bedroom, followed by other rooms and spaces.
Go slow – You may not need all the items the next day, and therefore it makes no sense to do it all in one day. So, instead of trying to unpack all the boxes in one go, it's okay to go slow and unpack as you settle in your new home.
Last but not the least, you have to discard all the moving boxes and used packing supplies carefully. One of the easiest options is to take it to the recycle plant. But, you can give it away to the garbage collectors who will then get it recycled for you.
Conclusion
Packing and moving a fully furnished house to a new state or country is no easy task. It involves a lot of planning, coordination, efforts and costs money. However, with proper planning and using the right moving hacks, you can simplify the process to a great extent.
I have already shared a few of the best moving hacks that'll help make your move a lot safer and easier. We talked about:
How to plan and prepare for a safe and hassle-free move
How to pack your household goods safely
Tips to help you save money ding the move
Hacks for easy unpacking after move
By using some of these hacks well, you can make your move a lot safer and easier. However, know your limits before taking any chance with your goods. If you don't have a helping hand and other resources like moving boxes, wraps, tapes etc. Unless you are double sure to pull it off, it is better to leave it to the professionals. They can take care of everything and help you relocate safely without hassles.
If you have any other questions or concerns, then feel free to ask by commenting below.
Happy house moving!